#844: Doncha' Think It's Time by Elvis Presley
Peak Month: April 1958
4 weeks on Vancouver's Red Robinson chart
Peak Position #3
Peak Position on Billboard Hot 100 ~ #21
Youtube.com: "Doncha' Think It's Time"
"Doncha' Think It's Time" lyrics
Elvis Aaron Presley was born on in a two-room house in Tupelo, Mississippi, on January 8, 1935. His twin brother, Jessie Garon Presley, was stillborn. When he was eleven years old his parents bought him a guitar at the Tupelo Hardware Store. As a result Elvis grew up as an only child. He and his parents, Vernon and Gladys, moved to Memphis, Tennessee, in 1948. The young Presley graduated from high school in 1953. That year he stopped by the Memphis Recording Service to record two songs, including "That's When Your Heartaches Begin," song #1062 on this Countdown. Elvis' musical influences were the pop and country music of the time, the gospel music he heard in church and at the all-night gospel sings he frequently attended, and the black R&B he absorbed on historic Beale Street as a Memphis teenager. In 1954, Elvis began his singing career recording "That's All Right" and "Blue Moon Of Kentucky" at Sun Records in Memphis.

In late 1955, his recording contract was sold to RCA Victor. In 1956 he had his first #1 record titled "Heartbreak Hotel." He had a sound and style that uniquely combined his diverse musical influences and blurred and challenged the social and racial barriers of the time. Bill Haley & His Comets ushered in the rock 'n roll into mainstream culture in 1955 when "Rock Around The Clock," appeared in the film about juvenile delinquents and anti-social behavior in an inter-racial school. The song became an anthem for teenage rebellion. However, it was Elvis in 1956 who ensured rock 'n roll was here to stay with his swiveling hips and R&B infused songs with sexually suggestive lyrics.
According to author, Robin Brunet, in his book Red Robinson: The Last Deejay, local Vancouver DJ, Red Robinson, began playing rock 'n roll records on November 12, 1954, on his Theme for Teens show out of the Grovenor Hotel basement at 840 Howe Street on CJOR. This introduced Vancouver audiences to rock 'n roll. Though Robinson had weekly charts for the songs he played on his program, in 2017 they are nowhere to be found prior to his Teen Canteen show from September 14, 1956. This includes any verifiable record of likely number one hits Elvis Presley charted earlier in 1956 such as "Heartbreak Hotel," "Don't Be Cruel" and "Hound Dog." From mid-September 1956 into the spring of 1958 Elvis Presley had twelve number one hits on the local pop charts in Vancouver. The twelfth #1 hit was "Wear Your Ring Around My Neck," climbing to number one on April 18/58. The B-side of the disc was "Doncha' Think It's Time" which charted independently to peak at #3 on the Teen Canteen Chart from Red Robinson. The single was released in America with some confusion, as some of the pressings rendered the songs' title as "Doncha' Think It's Me."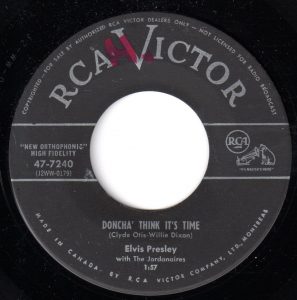 "Doncha' Think It's Time" is a song cowritten by Willie Dixon and Clyde Otis. Willie Dixon was born in Vicksburg, Mississippi, in 1915. When he was four years old Willie sang a song at the Springfield Baptist Church. At the age of seven, Dixon was fascinated with a band that featured pianist Little Brother Montgomery. It was while Dixon he served a sentence at a prison farm in his early teens, in Mississippi, that he first heard the blues. At the age of 21 Willie Dixon moved from Mississippi to Chicago. As a young man, Willie Dixon was 6'6″ and over 250 pounds. He learned to box and won the Illinois State Golden Gloves Heavyweight Championship in 1937.
Dixon learned to play the upright bass and the guitar. However, Willie Dixon's growth as a musician stalled when he became a conscientious objector and refused to serve in the U.S. Marines. For this he and was sent to prison for a ten-month sentence. Dixon objected to serving in the U.S. military because he would not defend a country with Jim Crow laws and systemic prejudice against African-Americans. At the conclusion of World War II, Willie Dixon got a recording contract with Columbia Records. A few years later he switched to Chess Records in 1948. However, by 1951 he was a working as an employee with Chess, tasked with being variously a producer, talent scout, session musician and staff songwriter. In addition, Dixon also produced in the studio for the Chess subsidiary Checker Records.
Among the songs Willie Dixon wrote that were popularized by other recording artists are "I Can't Quit You Babe" (Led Zeppelin, Otis Rush), "Back Door Man" (The Doors), "Little Red Rooster" (Sam Cooke, Rolling Stones), "My Babe" (Little Walter), "Seventh Son" (Johnny Rivers), "Spoonful" (Cream), "Whole Lotta Love" (Led Zeppelin) and "You Shook Me" (Led Zeppelin, Jeff Beck Group).
The other co-writer of "Doncha' Think It's Time" is Clyde Otis. He was born in Prentiss, Mississippi, in 1924, growing up in a family that couldn't afford a radio. He served in the U.S. Marines during World War II and met the songwriter of "Route 66," Bobby Troup, in 1946, opening up a world of music. From then on Otis pursued a songwriting career. His notable compositions include "Baby (You've Got What It Takes)" and "A Rockin' Good Way" recorded as duets by Brook Benton and Dinah Washington; "This Bitter Earth" for Dinah Washington, "The Stroll" for The Diamonds, "Kiddio," "It's Just A Matter Of Time" and "The Boll Weevil Song" for Brook Benton. He penned "Looking Back," a big seller for Nat King Cole in 1958. Otis also produced "Broken Hearted Melody" for Sarah Vaughan, "What A Difference A Day Makes" for Dinah Washington and "Hurt" for Timi Yuro. Over his songwriting career Clyde Otis wrote over 800 songs.
"Doncha' Think It's Time" is a straightforward song about someone who's noticing all the early signs of romantic interest. And so the singer suggests the time has come to set aside other guys who are paying attention to her and tell him that she's his and his alone. As a B-side, "Doncha' Think It's Time" was a perfect compliment to the A-side, "Wear My Ring Around Your Neck." As the A-side was equally concerned with getting serious as noted in the chorus: "Won't you wear my ring around your neck/To tell the world I'm yours, by heck/Let them see your love for me/And let them see by the ring around your neck."
In life we can have good timing, knowing when to seize the moment and not let something that may contribute to our wellbeing and happiness pass us by. If we sense, or hunch, that something beautiful is developing with someone else there is no benefit in keeping it a secret. Let the other person know your feelings. They may say no, having masked a lack of interest with politeness. Or they may be hesitate for other personal reasons, including being afraid or having an idealized notion of what Mr. Right looks like. However, they may also express mutual interest. In "Doncha' Think It's Time" the singer is hoping their love interest will respond positively.
While "Wear My Ring Around Your Neck" b/w "Doncha' Think It's Time" was released in early April, 1958, it was recorded on February 1, 1958. This was in the middle of Elvis Presley's 60-day deferment to begin training in the U.S. Army, after he was drafted. His recording session took place in the middle of the filming of the movie, King Creole.
Local author of Vancouver's Charted Songs '56 to '78, Brian Tarling, notes a curious detail regarding distinct versions of "Doncha' Think It's Time"that were released from different takes of the recordings on February 1, 1958. "The version of this song that appeared on Elvis' Gold Records Vol 2 was not the same as the single. I have both the original single and the LP. …in the good old days I often thought that they didn't seem to be the same. But I, nonetheless, assumed they must be, given the album was for the Gold Records and the remaining 9 tracks were all the same… However I eventually realized they were different. The single was a splice of Takes 47/40/48 whereas the album version was a splice of Takes 40/39." The difference in the splices of these takes that resulted in one version of the single in 1958 and another version on the Gold Records collection is subtle. There are unique choices made in the instrumental accompaniment, background vocals and a few notes Elvis sings on these different takes.
Over his recording career Elvis Presley earned 14 Grammy Award nominations including for Record of the Year with "A Fool Such As I" (1959) and "Are You Lonesome Tonight" (1960) and won six Hall of Fame Awards. After his comeback tour in 1968 Presley had continued to tour extensively, with 168 concerts in 1973 alone. He kept up this pace through the mid-70's. By 1976 he was suffering from multiple ailments: glaucoma, high blood pressure, liver damage, and an enlarged colon, all believed to be related to prescription drug abuse. He died on August 16, 1977, and a funeral was attended by over 80,000 mourners.
Presley starred in 33 successful films. He made history with his television appearances and specials, and knew great acclaim through his many, often record-breaking, live concert performances on tour and in Las Vegas. Globally, he's sold over one billion records, more than any other recording artist. His legacy continues to live on. There were also numerous sightings of Elvis including around the 40th anniversary of his death in 2017.
December 15, 2017
Ray McGinnis
References:
Robin Brunet, Red Robinson: The Last Deejay, Harbour Publishing, Madeira Park, BC, 2016.
Danny Collins and Sophie Roberts, Found Dog? Why Do People Think Elvis Presley is Still Alive, Where Have the Latest Sightings Been and When Did The King Die?, The Sun, London, UK, November 7, 2017
Willie Dixon Biography, Willie Dixon.com
Carolyn Johnson, History Sings On: The Life and Legacy of American Songwriter and Producer Clyde Otis, Nanuet, NY, February 23, 2012.
Elvis Presley Biography, Graceland.com
Brian Tarling, email to Ray McGinnis (Tarling is author of Vancouver's Charted Songs '56 to '78)
For more song reviews visit the Countdown.