#68: (B) I Must Be Dreaming by Neil Sedaka
Peak Month: July 1961
7 weeks on Vancouver's CFUN
Peak Position #11
Peak Position on Billboard Hot 100 ~ did not chart
This song is the B-side to the A-side of the disc that will be reviewed later.
In 1939 Neil Sedaka was born in Brooklyn and grew up in Brighton Beach beside Coney Island. His paternal grandparents immigrated to America from Constantinople, Ottoman Empire, in 1910. His fathers side of the family there were Sephardi Jews and his mother's side Ashkenazi Jews from Russian and Polish background. When Neil was eight years old he listened to a show on the radio called The Make-Believe Ballroom that opened his world to appreciation for music. Within a year Neil had began learning classical piano at the Julliard School of Music. His progress was impressive and Arthur Rubinstein voted Neil as one of the best New York High School pianists after he turned 16 years old.

At Abraham Lincoln High School Sedaka began playing rock n' roll in addition to his classical studies. He created a doo-wop group called The Tokens, who had a number one hit in 1961 called The Lion Sleeps Tonight. When he was 13 a neighbor heard Sedaka playing and suggested that he meet another teen with a musical ear down the street named Howard Greenfield. The two formed a songwriting partnership that would earn sales of over forty million records between 1959-1963. Soon Sedaka and Greenfield were signed with Don Kirshner and Al Nevins of Aldon Music. With this signing the two became one of the original creators of the "Brill Building" sound in the late fifties and early sixties. Aldon Music signed other successful singer-songwriters including Neil Diamond, Carole King, and Paul Simon. In the Brill Building a musician could find a publisher and printer, cut a demo, promote the record and cut a deal with radio promoters, all within this one building. The creative culture of the independent music companies in the Brill Building and the nearby 1650 Broadway came to define the influential "Brill Building Sound" and the style of popular songwriting and recording created by its writers and producers.
At the age of 19, Sedaka had a Top 20 hit recorded by Connie Francis in 1958 called "Stupid Cupid." She later recored the theme song for the theme song for the movie Where the Boys Are. Sedaka began releasing singles as a solo recording artist after he signed with RCA Victor. He was successful in the USA, but often even more successful on the charts in Vancouver. "Stairway to Heaven" peaked at #9 on the Billboard Hot 100 and #1 in Vancouver. Other examples are "Happy Birthday Sweet Sixteen" which peaked at #1 in Vancouver and #6 on the Billboard charts in the fall of 1961. Earlier that year Sedaka had a string of number one hits in Vancouver with "Calendar Girl" (#4 on the Billboard Hot 100) and "Little Devil" (#11 on the Hot 100). Sedaka's recordings were set apart due to the unique multi-tracking of his own voice.
As "Little Devil" was at the end of its chart run the deejays on CFUN were getting requests to play the single's B-side, "I Must Be Dreaming". With instrumentation by Stan Applebaum and his Orchestra, Neil Sedaka hoped he'd have a double-sided hit.
The song evoked the experience of someone who's ecstatic to discover that the person they've been in love with for so long loves them back. Though "I Must Be Dreaming" peaked at #102 in the USA, it spent seven weeks on the CFUN charts peaking at #11 in Vancouver.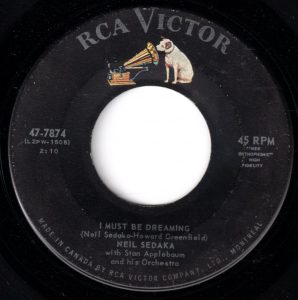 All my life I've been in love with you,
now you are here, I can't believe it's true.
I must be dreaming
when you say that you're in love with me.
In my dreams I've kissed your lips of wine,
now all at once I find you're really mine.
I must be dreaming
when you say that you're in love with me.
The way that I feel is so heavenly,
too good to be real, when you're next to me
I'm so afraid that I'm fast asleep
so don't wake me up,
let me dream if I'm dreaming.
Oh my love, each time I hold your hand,
everything is just the way I planned.
I must be dreaming
when you say that you're in love with me.
Sedaka recorded an Italian version of "I Must Be Dreaming" as "Un giorno inutile". Together with an Italian version of "Little Devil" ("Esagerata") the single was a Top Ten seller in Italy.
Similarly in Germany "I Must Be Dreaming" was also a hit where it was recorded as "Heute Sind Es Träume". If you choose to listen to the linked versions you can decide if you prefer "I Must Be Dreaming" in English, Italian or German. The Stan Applebaum orchestration was the same for each versions with Sedaka making one studio recording for each of his foreign language versions. In 1961 love was in the air. The movie adaptation of the Broadway production of West Side Story kept the themes of first love and young love in their idealized forms on people's radar. Neil Sedaka's "I Must Be Dreaming" was all part of this trajectory.
That same year Steve Lawrence recorded his hit "Portrait of My Love". The lyrics similarly speak of dreaming as a way to metaphorically express the impact of coming to terms with the gift of romantic love.
There could never be a portrait of my love
For nobody could paint a dream
You will never see a portrait of my love
For miracles are never seen…
For more song reviews visit the Countdown.