#1280: I Been Moved by Andy Kim
Peak Month: August 1971
5 weeks on CKLG chart
Peak Position #15
Peak Position on Billboard Hot 100 ~ #97
YouTube.com link" "I Been Moved"
"I Been Moved" lyrics
Billboard Magazine, Cashbox Magazine and other trade papers to see which record companies had hits on the pop charts. Kim recalls in an interview with Entertainment Week, September 21, 1974, "I figured those were the companies I would go to. I went to the A and R department of Paramount Records. I told the receptionist I had a meeting that afternoon but I just came by that morning to see the A and R man. She asked if I had a demo and I said yes. She sent me down a corridor to this man and I said 'I'm sorry, but I don't know what a demo is.' He asked if I wrote songs or played an instrument. (I said) no. He said what the business involved and I should not trick my way into places."
Andy Kim began to experiment with songs taking an uptempo tune and making it a ballad. "I'd rearrange songs figuring it would change the personality of the song. I would look up publishers and ask for songs from their top writers. I didn't get them (the songs from the top writers, so) I decided to write songs too. I discovered a talent I didn't know I had." He got his first record released in 1963 with "I Loved You Once" on United Artists Records. He had two more non-charting singles on two other record labels in the mid-60's. But when Andy Kim signed with Steed Records in 1968 his first single release, "How'd We Ever Get This Way," was a Top 30 hit. It would be the first of eleven releases with the record label between 1968 and 1971.
The fourth single release on the Steed label was Kim's most political, "Tricia Tell Your Daddy". In May 1969, as "Tricia Tell Your Daddy" was climbing up the record charts in radio markets across Canada, a song Andy Kim co-wrote was released. It would become the number one song of the year. That song was by a cartoon group named The Archies and was titled "Sugar Sugar", the polar opposite of a social commentary song like "Tricia Tell Your Daddy". Also in 1969, Kim charted his first song into the Top Ten on the Billboard Hot 100 called "Baby I Love You".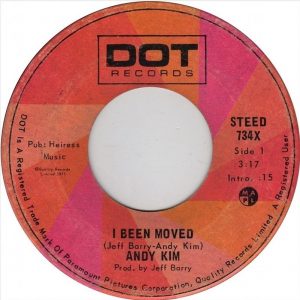 "I Been Moved" is a song about falling head over heels in love. The guy in the song has opened up his heart to his sweetheart and his heart is aching to be with her. He's also got lots of physical signs that he is sexually attracted to her since every time she moves her body he feels like he wants to die (in this case a good thing, as in died and gone to heaven). The thrill of finding someone to love who loves you back, especially after a drought in romantic involvements, can brighten ones life. And in Andy Kim's song, this is the case for the lucky guy who's been moved and is certain he's in love.
Between 1968 and 1975 Andy Kim charted 13 singles into the Top 30 in Vancouver. His biggest hit was "Rock Me Steady", a #1 hit in the USA. It was seen as a come-back record. However, Andy Kim felt since his hit-making status had not been significant in terms of sales, especially in the USA, there was not much to come back from.
In the 80's Kim recorded several albums under the pseudonym Baron Longfellow. Since the 90's Andy Kim had regularly performed in concert under his familiar hit-making name. Since 2003 he has added three more studio albums to his resume, for a total of eight. He continues to perform in concert.
July 22, 2017
Ray McGinnis
References:
Andy Kim, Canadian Bands.com
About Andy Kim, Andy Kim Music.com
Martin Melhuish, Andy Kim: 2016 Inductee to Canadian Music Industry Hall of Fame, FYI Music News, October 27, 2015.
Brad Wheeler, Andy Kim and Kevin Drew: Musical Romantics, Globe and Mail, Toronto, December 13, 2011.
For more song reviews visit the Countdown