#1270: The People In Me by Music Machine
Peak Month: March 1967
5 weeks on CKLG chart
Peak Position #11
Peak Position on Billboard Hot 100 ~ #66
YouTube.com link: "The People In Me"
"The People In Me" lyrics
Thomas Harvey "Sean" Bonniwell was born in San Jose, California, in 1940. After hearing The Platters sing "Only You" in 1955, he formed a high school doo-wop group. After high school he formed a folk-pop group which, by the time he was still in college in 1961, had morphed into a folk quartet called The Wayfarers. The group got a contract with RCA Victor and recorded three albums between 1961 and 1964. Along with Bonniwell on guitar was Dick Bailey, rounded out with bass player Tom Adams and Ray Blouin on banjo. Their debut album was Come Along with the Wayfarers, followed by two live albums, The Wayfarers at the Hungry i and The Wayfarers at the World's Fair. Their material spanned traditional folk tunes such as "This Land is Your Land" to the whimsical "Crabs Walk Sideways," a tune later performed on The Smothers Brothers' TV show by Tom and Dick Smothers. It was penned by Hylton Sacher and Jim Patton, some in collaboration with the group's members. There were a few singles: Woody Guthrie's often-recorded classic "This Land is Your Land", Revolutionary War narrative "Ticonderoga" and the mildly humorous Jeff Barry-Art Resnick ditty "Crabs Walk Sideways", a song better known as part of The Smothers Brothers' act.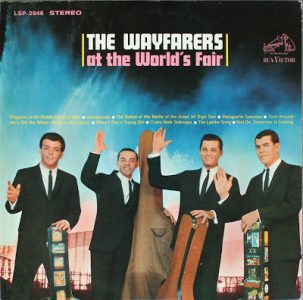 While they got some breaks, The Wayfarers were not trailblazers in the folk music scene. The Kingston Trio, The Brothers Four, The Highwaymen and Peter, Paul and Mary all had a more original sound and impressed at the record stores. However, The Wayfarers sounded like everyone else who was making folk music at the time without any distinctiveness, aside from a tight, disciplined performance in concert. After the quartet split up in 1964 it was only Sean Bonniwell who remained in the music business. Bonniwell had a new idea for a garage rock band drawing on influences from The Beatles, The Kingsmen and other innovative bands making it big on the charts in 1964.
While he was in The Wayfarers, Bonniwell had been introduced to a bass player named Keith Olsen and drummer Ron Edgar. By 1965 the trio had formed an LA band called The Ragamuffins. They played cover versions of songs on the pop charts, first appearing in dingy bars and bowling alleys and then in front of audiences where the hipster set hung out at Hollywood nightclubs. Consequently, they found themselves in concert line-ups with a new band called Love and the folk-rock band, The Byrds.
In 1966 The Ragamuffins added Mark Landon on guitar and Doug Rhodes on organ. Sean Bonniwell got inspired to give the band an image that would be memorable. He convinced his bandmates to dye their mop-top's black, and to give a bad boy-vibe, all of them wore a single black glove while performing on stage. As the band was gaining a reputation for high energy and performing nonstop without breaks between songs, they changed their name to the Music Machine. They got introduced to local DJ Art Laboe who got them a recording session at a studio on Sunset Boulevard with RCA. With the first-hand experience that Bonniwell had recording with The Wayfarers, he got the guys in The Music Machine to be ready to nail their tracks in the studio in just one or two takes. They recorded their debut album in just a couple of hours.
Their debut single, "Talk Talk" concerned the "in" notion of being a social outcast with lyrics that included "my social life's a dud, my name is really mud!" The rocker climbed to #1 in Santa Barbara, #3 in Phoenix, San Jose, Burbank, Modesto and Fresno, #4 in San Bernardino #5 in Los Angeles and #6 in San Francisco. The debut single went on to peak at #20 nationally in the USA and #10 in Vancouver. Pop music magazines wrote of the "five black-clad, page-boyed men from California" and compared Bonniwell's singing to the lead singer with Love, Arthur Lee. So far, so good…time for the Music Machine to start crankin' out more hits!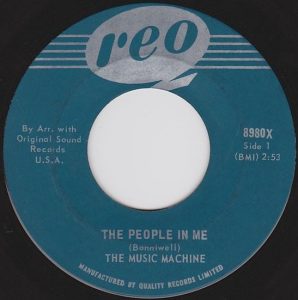 Sometimes dreaming' I'm in here schemin' on you.
Collectin' headers with nothin' better to do.
Memory is everywhere,
love and you is in my hair, and eyes.
Maybe with the time and place,
a look will come upon your face, of surprise.
When you see the people in me
minus you what will you do.
When you see the people in me
minus you it's overdue.
While I'm cryin' I'm rectifyin' the cause,
friends are cheering' and I'm hearin' applause.
The train is here you better run
Don't call me I'll never come, unto you.
They're over now the games you play
just what you'll do, just what you'll say, uh, oh you.
Memory is everywhere,
love and you is in my hair and eyes.
Maybe with the time and place,
a look will come upon your face, of surprise.
When you see the people in me,
minus you, what will you do?
When you see the people in me
minus you, it's overdue.
"The People In Me" is a song about a relationship that has run its course. While there are memories of the woman he loved, filling his gaze and the scent of her still in his hair, something has to change. His friends are applauding his choice to cut her loose. There is a train she's got to catch to get her out of his life. He anticipates she'll be surprised by this turn of events. Sometimes when a relationship comes to an end one of the former partners tells their friends "I just didn't see it coming." One moment things seemed fine, the next your partner or spouse is asking you to pack your things, grab the next train (or plane) and leave behind the life they knew. In the case of this song's lyrics there is some ambiguity about what is meant by "when you see the people in me, minus you, what will you do?" It could be she's being told things are over as a wake-up call and he hopes once she realizes he can get along without her, then she'll switch up her way of relating to him and stop playing her "games." But more likely he means for her to learn some lessons from losing him. In time she may become more mature. The song may have resonated with any combination of couples back in the spring of '67 who were tiring of the partner they were shacked up with. It stalled on the Billboard Hot 100 in the USA at #66, but climbed up to #11 in Vancouver.
In the spring of 1967 The Music Machine released their next single, "The Double Yellow Line". It made the Top Ten in Los Angeles and Redding, California, as well as Tucson, Arizona, but failed to chart elsewhere. A subsequent release in June, "The Eagle Never Hunts The Fly" only made the Top 20 in San Bernardino. And the trajectory of the band was looking pretty grim. A second album, Bonniwell Music Machine, failed in 1968 to make the Billboard 200 album survey. Before the album was recorded most of the band had split and Bonniwell had to hastily get new musicians to fill their places. Tracks like "Bottom of the Soul" offered up some trendy psychedelia, but wasn't suitable for a single release.
Bonniwell switched to Bell Records to release one final Music Machine single titled "Advise and Consent." But it was a commercial flop. In 1969 Capitol Records recorded a various artists album, The Capitol Disc Jockey Album, that featured two tracks by T.S. Bonniwell. A final effort was recorded by Bonniwell under the billing of The Friendly Torpedoes with a novelty tune titled "Nothin's Too Good For My Car". It was also a commercial flop. In 1970 Sean Bonniwell left the music scene.
Of the five members of Music Machine it was Keith Olsen who became a big name in the world of recording. He met Clive Davis, an A&R (artists and repertoire) man for Columbia records who had signed Janis Joplin, Santana, The Chambers Brothers, Bruce Springsteen and Earth, Wind and Fire to the label. At the time Olsen was working a recording engineer and producer. Even back when he was with the Music Machine, Keith Olsen was teaming up with producer Curt Boettcher and co-producing "Cherish" and "Along Comes Mary" for The Association, and "Sweet Pea" and "Hooray For Hazel" for Tommy Roe. All these songs were Top Ten hits in 1966, with "Cherish" climbing to #1.
Around 1974 Clive Davis got Keith Olsen to go to San Jose to hear a band named Fritz. Lindsey Buckingham and Stevie Nicks were part of the group. Olsen went on to produce the self-titled Fleetwood Mac album in 1975 with the hit singles "Rhiannon", "Over My Head" and "Say You Love Me". After that, Olsen worked with recording acts like Foreigner, Whitesnake, Pat Benatar, Joe Walsh, Santana, the Grateful Dead, and Ozzy Osbourne. Concurrently, Olsen produced soundtracks for the hit films Footloose, Top Gun, Flashdance, and Tron. As a recording engineer/producer, Keith Olsen has been on the credits of album sales exceeding 110 million. He has also won six Grammy Awards.
July 11, 2017
Ray McGinnis
References
The Music Machine – Talk Talk, Wayback Attack.com
Timeline, Bonniwell Music Machine.com
Mitch Gallagher, Studio Legends: Keith Olsen, Premier Guitar.com, November 5, 2012.
Tom and Dick Smothers, "Crabs Walk Sideways," The Smothers Brothers Comedy Hour, CBS, 1967.
For more song reviews visit the Countdown.