#1274: I'll Remember Carol by Tommy Boyce
Peak Month: October 1962
6 weeks on CFUN chart
Peak Position #13
Peak Position on Billboard Hot 100 ~ #80
YouTube.com link: "I'll Remember Carol"
"I'll Remember Carol" lyrics
Sidney Thomas "Tommy" Boyce was born in 1939 in Charlottesville, Virgina. He was one half of the pop duo with Bobby Hart. The two wrote numbers of songs for other recording artists including The Monkees, Jay and The Americans and Little Anthony and The Imperials. Boyce was separately pursuing a career as a singer. After being rejected numerous times, Boyce took his father's suggestion to write a song called "Be My Guest" for rock and roll star Fats Domino. He waited six hours at Domino's hotel room to present him with the demo, and got Domino to promise to listen to the song. In 1959 the song hit #8 in the US and #11 in the UK, becoming Domino's biggest hit there in several years, and sold over a million copies.
In 1961 Boyce wrote and recorded "Along Came Linda", a sort of musical fusion of two pop tunes from '61, Del Shannon's Runaway and Bobby Vee's Rubber Ball. While the song didn't crack the Billboard Hot 100 in the USA, it peaked at #7 in Vancouver. In 1961 Boyce also wrote "Pretty Little Angel Eyes" for Curtis Lee.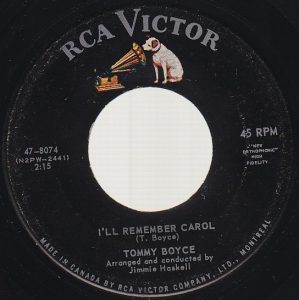 "I'll Remember Carol" is about a relationship born of Carol's quest to make mischief after her own broken-hearted break-up with a guy who told her lies. Now Carol is on the make to go steady with a new boyfriend, and no matter what he is like, Carol is determined to keep a vow to herself that she'll break the guys heart. Maybe Carol had drawn a conclusion about what all guys must be like. In any event, Carol succeeds. After she leaves her new beau he is still hung up on her and remembers her, broken-hearted as ever. Perhaps Carol wanted to experiment with a new dating relationship and set out to hurt someone before getting hurt: reel him in and then cut bate. Or Carol is dating a guy to prove to herself she can have anyone she wants and enjoy the power that comes with dumping someone. If the roles were reversed, a guy could have the same kind of inclinations as Carol and set out to date a girl only to leave her once she had fallen for him.
I asked Dr. Ingrid Sochting, Clinical Associate Professor in the Department of Psychotherapy at the University of British Columbia, what she might do with a client appearing in her office who presented like the Carol in Tommy Boyce's song. As a psychologist, Dr. Sochting commented "If a patient presented this situation to me, my mind would go to good old Freud's insight – and later validated by many non-Freudians – into one of several toxic relationship dynamics, the compulsion to repeat, or the repetition compulsion. This is a defence mechanism against anxiety and uncertainty and involves the person trying to gain a sense of mastery and control over an extremely hurtful or degrading experience by creating the dynamic in a new situation – without being fully aware of this…. In the case (of the character in this song) Carol is gaining some temporary sense of control over her pain by recreating the very same situation she was once a victim of but now gets to master. It is… a very primitive defense mechanism reflecting a psychologically immature person. But with a patient therapist and motivation for personal growth, there could be hope for (someone like) Carol if she commits to psychotherapy and becoming a better…person."
Of course, in 1962, radio listeners weren't likely dissecting the odd attachment Carol's broken-hearted ex-boyfriend is expressing now that his heart has been all torn apart by her. Nor were they likely analyzing Carol's behavior. Instead, radio listeners understood that the guy whose heart Carol broke was still clinging to the silver lining of having dated Carol for awhile before she dumped him. The song hung around on the local Vancouver CFUN charts for six weeks and climbed to #13. On the strength of peaking in the Top Ten in Baltimore and Chicago, the song got to #80 on the Billboard Hot 100.
In the mid-60's, with Bobby Hart, Tommy Boyce co-wrote "Last Train To Clarksville", "I'm Not Your Step-in' Stone", "Words"and "Valleri", all hits for The Monkees. They also co-wrote "Come A Little Bit Closer", a Top Ten hit for Jay and the Americans. While they were gaining attention for co-writing numerous hit songs for The Monkees, Tommy Boyce and Bobby Hart were invited to appear on numbers of TV shows in guest appearances. These included Bewitched, The Flying Nun and I Dream of Jeannie.
Boyce and Hart also wrote the theme song for the daytime soap opera, Days of Our Lives. When Days of Our Lives premiered in 1965, the show revolved around the tragedies and triumphs of the suburban Horton family. Over time, additional families were brought to the show to interact with the Hortons and serve as springboards for more dramatic story lines. In 2017, Days of Our Lives is in its 52nd season.
In 1968 Boyce and Hart campaigned to support Robert F. Kennedy in his run for the Presidency, and they spearheaded the "Let Us Vote", or "L.U.V." campaign, which ultimately helped to lower the US voting age to 18 from 21. That same year Boyce and Hart released two singles that made the Top 30, "I Wonder What She's Doing Tonight" and "Alice Long". The duo also were featured in a psychedelic Coca-Cola commercial in 1969 called "Wake Up Girl".
In 1975 Tommy Boyce and Bobby Hart collaborated with former Monkees bandmates, Mickey Dolenz and Davy Jones. The foursome made two albums and the following year 1976 went on a world tour to mark the 10 Year Anniversary of the Monkees as Dolenz, Jones, Boyce & Hart.
After a number of years living in the UK, Boyce returned to Nashville, Tennessee, in the 1980's and fell into a depression. A brain aneurysm added to his health troubles in 1993, and Boyce died by suicide on November 23, 1994. Meanwhile, Bobby Hart continues to perform in concert, sometimes with Peter Tork of The Monkees.
July 13, 2017
Ray McGinnis
References:
Caroline Boyce, Boyce And Hart's Passion For Change Made A Difference, February 16, 2013.
Kent Kotal, The Music of Tommy Boyce and Bobby Hart, Forgotten Hits.com
Chris Welch, Obituaries: Tommy Boyce, The Independent, London, UK, December 23, 1994
Wake Up Girl, Coca-Cola commercial, 1969.
Dr. Ingrid Sochting, Clinical Associate Professor in the Department of Psychotherapy at the University of British Columbia, Email to Ray McGinnis
Theme song – Days of Our Lives , NBC, 1965-present.
For more song reviews visit the Countdown.