#1284: You Are What I Am by Gordon Lightfoot
Peak Month: January 1973
6 weeks on CKLG chart
Peak Position #18
Peak Position on Billboard Hot 100 ~ #102
YouTube.com link: "You Are What I Am"
Gordon Lightfoot was born in Orillia, Ontario, on November 17, 1938. His parents, Jessica and Gordon Lightfoot Sr., ran a dry cleaning business. His mother noticed young Gordon had some musical talent and the boy soprano first performed in grade four at his elementary school. He sang the Irish lullaby "Too Ra Loo Rah Loo Rah" at a parents' day. As a member of the St. Paul's United Church choir in Orillia, Lightfoot gained skill and needed confidence in his vocal abilities under the choir director, Ray Williams. Lightfoot went on to perform at Toronto's Massey Hall at the age of twelve when he won a competition for boys who were still boy sopranos. During his teen years Gordon Lightfoot learned to play piano, drums and guitar.
In the years that followed Lightfoot performed in coffee houses in Toronto. He got work as a performer on the CBC's Country Hoedown and went to England to host the BBC TV Country and Western Show in 1963-64. At that time, Lightfoot's songs were recorded by numerous recording acts. These included "Early Morning Rain" by both the Kingston Trio and Judy Collins, and "Ribbon of Darkness" by Marty Robbins. The attention Lightfoot got as a songwriter landed him a record contract with United Artists in 1965. In 1966 he was commissioned by the Canadian Broadcasting Corporation (CBC) to compose the "Canadian Railroad Trilogy" for a broadcast on New Year's Day in 1967, the nations centennial.
Lightfoot had a number of album and 45 RPM single successes in Canada in the late 60's and early 70's, including "Bitter Green" and his cover of Kris Kristopherson's "Me And Bobby McGee". But his breakthrough in the USA was with "If You Could Read My Mind". He went on in the mid-70's to chart "Sundown" to #1 and "The Wreck Of The Edmund Fitzgerald" to #2 in the USA. (Both were #1 hits nationally in Canada). Between his initial breakthrough and later hits in the mid-70's, there were three songs that did well in Canada but less well in the USA. These were "Talking In Your Sleep", "Beautiful" and "You Are What I Am".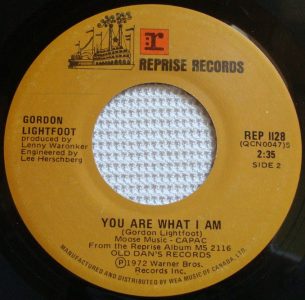 You make the time stand still,
you do it now and you always will.
You take me as I am,
you make me feel like a brand new man.
Every time that I fall down,
I never get stuck.
You got the combination gal,
to get me right back up.
'Cause you are what I am,
I'm lovin' you forever, if I can.
Think about the times we've had,
we never been blue.
You got the combination gal,
to keep me straight and true.
'Cause you are what I am,
I'm lovin' you forever, if I can.
You make the time stand still,
you do it now and you always will.
You take me as I am,
you make me feel like a brand man.
"You Are What I Am" is a song about a generous love that is shared by a couple. The singer pays tribute to the way love is expressed over and over again in an ordinary life. All he needs to be is himself since his lover takes him as he is. The woman in his life has the resourcefulness to not get enmeshed in difficult interpersonal dynamics. Instead, she finds a way to keep things flowing instead of getting stuck or bogged down. This is a woman of considerable emotional maturity who has her eye on the prize of making love lasting and real when she is in a relationship. She doesn't sweat the small stuff. In return her man feels brand new. In fact, we learn from the lyrics that they've "never been blue." In a world where many couples have rough patches, and depression just from sorting out their interpersonal baggage, the couple in Lightfoot's song are able to steer ahead to calm waters and sunny ways. Time stands still. Their days are carefree. The man doesn't want to fool around and he disciplines himself to remain straight and true. Bliss is theirs to enjoy day after day.
Donald and Vivian Hart were married in 1937 and their closest family members recently banded together to celebrate over cake and memories at the Pilgrim Manor in Grand Rapids. In a June 30, 2017, headline in New York City's Inside Edition, titled "Endless Love: Couple, Both 99, Celebrates 80th Wedding Anniversary," the couple are described as the longest-living married couple in Michigan. They have three sons, four grandkids, 14 great-grandchildren, and 15-great-great grandkids. "Donald said the secret to everlasting love is make sure the relationship is honest, try to do what's right in God's eyes," Andi Ripley, the couple's 28-year-old great granddaughter told Inside Edition. "They're really funny. They have an amazing sense of humor and I think that's one of the things that's kept them joyous through all their years together." Ripley believes that the secret to her great-grandparents' relationship longevity is forgiveness. "As in any relationship they have disagreements and squabbles, but they laugh it out, forgive one another and grandpa says they're stronger after each disagreement because they choose to love each other through it," she said.
Gordon Lightfoot's last charting single in Vancouver was "Daylight Katy" in 1978. Between 1966 and 2004 Lightfoot released 19 studio albums and 46 singles. In 1997, Gordon Lightfoot received the Governor General's Performing Arts Award, the top honor a recording artist can receive in the performing arts in Canada. A tribute album to Gordon Lightfoot was recorded by many Canadian recording artists in a special release in 2003. In 2012 he performed the "Canadian Railroad Trilogy" at the 100th Grey Cup football championship between the Toronto Argonauts and the Calgary Stampeders.
Between July 1, 2017 and November 11, 2017, Gordon Lightfoot has 44 concerts on his schedule including in 15 states in the USA and 5 Canadian provinces.
July 26, 2017
Ray McGinnis
References:
Gordon Lightfoot, Canadian Bands.com
Gordon Lightfoot – The Man And His Music, Gordon Lightfoot.com
Endless Love: Couple, Both 99, Celebrates 80th Wedding Anniversary, Inside Edition, New York, NY, June 30, 2017.
For more song reviews visit the Countdown