#1248: You're My People by Pepper Tree
Peak Month: October 1971
6 weeks on CKVN chart
Peak Position #16
Peak Position on Billboard Hot 100 ~ did not chart
YouTube.com link: "You're My People"
Pepper Tree was a band from Nova Scotia and was formed in 1967. They core members of the group were Tim Garagan (drums, vocals), Bob Quinn (keyboards), Jim White (guitar) and Chris Brockway (bass). Originally, Pepper Tree was a trio formed by the former Friends of the Family drummer Tim Garagan, who began to jam with former Lost Children bandmates Ritchie Richmond (guitar) and Lenny Brennan (bass). Another guitar player, Tony Argent, was added when his group, The Outcasts, split. Initially, they had a female singer, Bonnie Oulton, as lead vocalist. The Pepper Tree, as they were first known with a "The" before Pepper Tree, had their debut concert in Hubbards, Nova Scotia, some 30 miles south of Halifax. Soon Tony Argent was gone, replaced by keyboard player Bob Quinn. And Bonnie Oulton left the band and was replaced by Doug Billard on vocals. Developing an acid/psychadelic meets Partridge Family sound unique to the area, they were noticed one night by a talent scout who recommended they cut a demo and send it to Capitol Records. From 1967 to 1969 they toured clubs across Canada and got a record deal with Capitol Records in 1969.

They released a single titled, "Mr. Pride," which made the Top 30 on CHUM in Toronto, the Top 20 in Lethbridge, AB, and Top 40 in Ann Arbor, Michigan in the summer of 1970.The song was written by Tim Garagan. There were numerous changes in their lineup, but by 1971 their fellow bandmates were Joel Zemel (guitar), Matt Minglewood (guitar, vocals), Terry Hatty (vocals), Rick Edgett (guitar) and Paul Butler (guitar). Chris Brockway from Cornerbrook, Newfoundland, had earlier replied to an ad to fill an opening for bassist with Pepper Tree.
"Try," was the first single release from the band's debut album, You're My People. It charted in Vancouver (#20), Minneapolis/St. Paul (#32) and Cleveland (#28). As Canadian recording artists to get any attention south of the border was encouraging back in 1970. Capitol Records were hopeful for what the title track from the album would do as a single. "You're My People" hit store shelves in 1971.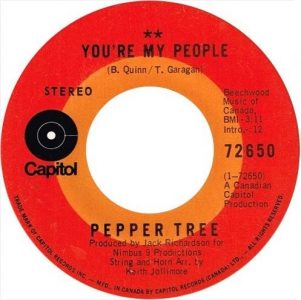 Bring your problems, the world's at my feet,
and bring your children before…(indecipherable)
Heaven help the poor men for they all shall be free,
and fill the prisons with evil and greed.
No more the stranger, for all shall know Him.
No more the blind man, the vision begin.
For I'm the king of all the things that will be,
and in my kingdom lies eternity.
You're my people, I'm your king.
You're my people, let love be your thing.
Stars above us shine every night,
they shine for each and every one.
But in the morning the sun will warm our land,
so stand with your brother and give him your hand.
You're my people, I'm your king.
You're my people, let love be your thing.
You're my people (x3)
I'm your king.
You're my people (x3)
I'm your king.
You're my people (x3)
I'm your king. (fade)
The You're My People album was recognized by music critics as a creative blend of folk, pop, psychedelic and hard rock. The band's musical skills showcased tight harmonies, solid organ, guitar, bass, drum and vocals. However, the album was not a commercial success. Neither was the single, "You're My People".
As for the single, "You're My People," it was one of a number of songs that were influenced by the Jesus Movement of the late 60's and early 70's. The song draws on Christian New Testament phrases attributed to Jesus of Nazareth. In the Gospel of John, chapter 18, verses 36-38a, there is a dialogue between Jesus and the Pontius Pilate, the prefect of the Roman province of Judaea from AD 26–36. The text reads: "My kingdom is not of this world. If my kingdom were of this world, then my servants would be fighting so that I would not be handed over to the Jews; but as it is, my kingdom is not of this realm." Therefore Pilate said to Him, "So You are a king?" Jesus answered, "You say correctly that I am a king. For this I have been born, and for this I have come into the world, to testify to the truth. Everyone who is of the truth hears my voice." Pilate said to him, "What is truth?" In the song by Pepper Tree, the people are the ones who all know "Him" and are no longer strangers to one another.
In "You're My People", the lyrics refer to the poor being free. In the Gospel of Luke Jesus of Nazareth is attributed with these words in his Sermon on the Mount: "Blessed are you who are poor, for yours is the kingdom of God." In the order of things that Jesus speaks about being king of, being poor is not a curse. The poor achieve a spiritual freedom that those who are evil and greedy do not know. In numbers of parables in the New Testament, Jesus of Nazareth is involved in miraculous acts of healing that give individuals who are blind new vision. By Pepper Tree alluding to these texts that would be well known to youth attending Sunday School or Youth groups, the band was offering a bridge across the secular-sacred divide. What youth in confirmation classes learned on a Sunday could be echoed in a pop song on the radio throughout the week. (Or for at least six weeks in Vancouver during the fall of 1971).
In the late 60's and early 70's some of the pop songs that evoked imagery from the New Testament were "Jesus Is Just Alright" by the Doobie Brothers, "Jesus Is A Soul Man", by Lawrence Reynolds and "Crystal Blue Persuasion" and "Sweet Cherry Wine" both by Tommy James and The Shondells.
More lineup changes in Pepper Tree took place over the next several years while Capitol Records released a string of singles that each missed the pop charts. Capitol got tired of promoting a band that wasn't catching on. By 1973, Pepper Tree was toast and individual members went on to join other recording acts including Rhinegold, Molly Oliver, Hanover Fist, Wrabit, Lee Aaron, Chilliwack and Headpins.
July 19, 2017
Ray McGinnis
References:
Pepper Tree, Canadian Bands.com
Gospel of John 18:36-38a, The Bible.
For more song reviews visit the Countdown