#721: Sign Of A Gypsy Queen by Hud
Peak Month: December 1972
9 weeks on Vancouver's CKLG chart
Peak Position #9
Peak Position on Billboard Hot 100 ~ did not chart
YouTube.com link: "Sign Of A Gypsy Queen"
"Sign Of A Gypsy Queen" lyrics
Lorence Hud was born in 1947. He signed with A&M Records in 1972 and released a self-titled album that year and in 1973 Dancin' in My Head. The single from his debut album, "Sign of the Gypsy Queen," was his most successful charting single at #16 on the RPM charts and #9 on CKLG. He would release seven more singles between 1973 and 1982. However, none of them cracked the Top 30. The Canadian band, April Wine, had a Top 40 hit in Canada with "Sign of the Gypsy Queen" in 1981.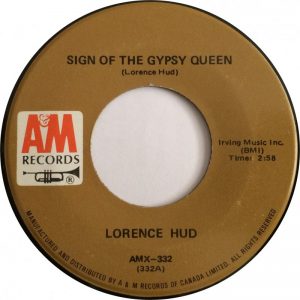 Lyrically, the song is about a gypsy queen who foretells what's in the future for a gypsy town: a hurricane, lightning, chaos and trouble, evil everywhere and a spirit that brings despair. Since ancient times, there have been people in societies who have predicted doom and tribulations for a community or even for the whole world. In Norse mythology, the story of Ragnorok describes a series of events that result in the end times. Civilized society believed that in the year 1,000 A.D. the world would end. There are regularly stories in the news about groups of people who believe that there are signs in nature or in the news that are indicative of the collapse of civilization and the world as we know it. The Express in London, UK, let readers know the world was expected to end on May 2, 2018, according to some interpreters of the Bible. Thankfully, as of June 15, 2018, the end of the world, as we know it, hasn't come to pass.
With a solid rock beat, "Sign Of A Gypsy Queen" got a lot of airplay across Canada.
Hud became a devout Christian in the early 1990's. In 2013-2015 he was pursuing a Canadian Charter Rights case against the Crown. His MP from the Nickle Belt riding, Claude Gravelle, sent a letter on Hud's behalf to Prime Minister Stephen Harper. The letter requested that Prime Minister Harper meet with Lorence Hud to discuss the matter related to lower court rulings about his dispute regarding drainage on his property.
Since the 2015 Canadian federal election, Lorence Hud has written to Prime Minister Justin Trudeau to get him to meet with him. Hud has been involved with an American citizen named Sheila Yarnell since February 2017. Since the inauguration of Donald Trump as President of the United States in January 2017, Yarnell has written to the President. She has urged Trump to intervene on Lorence Hud's behalf to get Prime Minister Trudeau to meet with Hud. In the past Hud has tried, unsuccessfully, to sue the Canadian government for $28 million dollars. A standoff with police in July 2018, involved occupants at Hud's home. According to Sudbury.com, the persons suspected of being part of the 28 hour standoff with police in West Nipissing detachment were Sheila Yarnell and Lorene Hud.
June 15, 2018
Ray McGinnis
References:
Jim Owston, Lorence Hud: Sign Of The Gypsy Queen, January 29, 2010.
Darren MacDonald, Verner standoff has long, bizarre history, Sudbury.com, July 18, 2017.
Riley Winters, The Ancient Roots of Doomsday Prophecies and End of the World Beliefs, Ancient Origins.net, January 15, 2015.
Owen Gough, End of the world 2018: Will the Rapture end the world TODAY? SHOCK prediction says YES, Express, London, UK, May 2, 2018.
For more song reviews visit the Countdown.