Vancouver Pop Hits from '56 to '93
"What a great blog…! It's terrific!
Such good info in an easy-to-read style.
I grew up in Montreal,
so some of the Billboard "did not chart" songs
I've never even heard of ~ an eye-opener, for me,
that we didn't all listen to exactly the same stuff!" ~ Judy Hill
Like Judy Hill, you may have thought exactly the same songs were on the pop charts in every city across Canada and the USA. However, as the pop song reviews on this website reveal, we didn't all listen to exactly the same stuff. There was lots of overlap. But there were also a lot of songs, at least here on the Canadian west coast, that charted well on local pop-rock AM stations in Vancouver. These same songs struggled to replicate their success here on the pop charts in America.
If you're interested in recalling some of the more distinctive popular songs on Vancouver's AM radio from 1956 to 1993 – the Classic Rock era – this website is for you. Each weekday a song that charted into the Top 20 of the pop charts in Vancouver is reviewed. Each review discusses a song that was much more successful in Vancouver than on the Billboard Hot 100 in America. A "Countdown" began here on this site with the first review on October 3, 2016. To search the growing list of songs reviewed on this site click this link: Countdown.
On November 1, 2019, an interview with Ray by longtime broadcaster, journalist, and author, Dennis Rimmer, was posted on his Saskatchewan based podcast, TalkingBooksandStuff. The interview is listed as Episode 26 on the podcast. Dennis asks Ray about how Vancouversignaturesounds.com got started and more. Click either of the links in this paragraph and give it a listen!
Each song is ranked on the Countdown according to its overall chart performance. The higher the song the better it performed on the local charts here in Vancouver. The songs you won't find reviewed on this website are tunes that performed relatively well both in Vancouver and the USA. The final song on this countdown will be reviewed by May 2023. Thereafter this website will serve as an archive of songs on Vancouver's AM pop radio that were part of the musical signature of the west coast sound in the golden era of rock 'n roll. There are also 280 "extra" songs reviewed that are "bubbling under the Countdown", resembling what Billboard does with songs that are "bubbling under the Hot 100." In total there are 1,410 songs (discs) that are being reviewed for this website project, a nod to CFUN 1410 on the AM dial.
This website was launched after a number of years of researching the chart performance of each charted song on record surveys of local Vancouver AM radio stations. These songs have been compared with their chart performance on the USA's Billboard Hot 100. The seed of this research emerged after years of conversations with friends in the 'States about songs we each remembered from our childhood, youth, twenties and thirties. In addition to songs we shared in common there were songs I'd mention these friends had a vague recollection of, or had never heard of before. Vancouver happens to have the largest ex-pat American population in the world. A 2016 study by the USA's Federal Voting Assistance Program (FVAP) estimates that Canada's third largest urban region is home to 183,155 eligible US voters, more than any other international city outside of the United States. It could be a conversation starter for local Vancouverites getting their new friends and neighbours, who've moved here from the USA, up to speed with the more distinctive sound of pop radio here on the west coast.
Radio station record surveys from DJ Red Robinson's Teen Canteen show, CFUN AM 1410, CKVN AM 1410, CKWX AM 1130 and CKLG AM 730 have been researched to create this Countdown.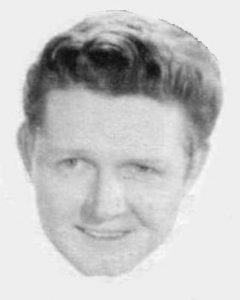 Red Robinson, in photo above (circa 1958), was a pioneer of rock 'n roll radio in Vancouver.
The Billboard Hot 100 is the American music industry's standard record chart in the USA for singles based on radio play and sales. The research for this website's countdown has involved researching the weekly Billboard Hot 100 charts between September 1956 and July 1993. The survey of records reviewed here roughly overlaps the classic rock 'n roll era and popularity of vinyl 45RPM single, which eclipse 78RPM sales in 1957. Though the 45RPM continued to be a promotional vehicle for sales into the late '80s, the vinyl album started to see its sales numbers plummet to 22 million in 1993, with the recent emergence of the CD in the mid-'80s.
The list of songs on Vancouver's AM pop radio on this Countdown are not compared with other radio markets in Canada (locally or nationally), such as the United Kingdom or Australia. Many of the songs appearing on this list had minimal chart success on the American Billboard Hot 100. There are some songs that made the Top 40 on the Billboard Hot 100. There are even a few songs that cracked the Top Ten on the Hot 100. But to crack the Top Ten on the Hot 100 and end up being listed on this Countdown, a song had to have a remarkable chart run here in Vancouver.
The length of the list is a tribute to CKWX AM 1130, one of the first stations that gave local DJ's a chance to play rock n' roll records for Vancouver listeners and record buyers. From 1956 to 1993 their was a significant shift from regional hits on local radio stations to an increasing homogenization of hit records common across all radio markets in North America. This has led to a decrease in a uniquely distinctive "sound" on local radio stations in Vancouver (and elsewhere). The songs to be reviewed on this website between 1956 to 1959 number 71 discs. Between 1960 and 1969 there are 653 individual 45 RPM singles that will be reviewed on this countdown. This contrasts with the final thirteen and a half years covered in this survey. Of the songs that charted between January 1980 to July 1993, there are 328 songs being reviewed on this site.
Over time there have been changing playlists of songs chosen for "Flashback Weekends" on pop music stations in Vancouver from the mid-60's to current playlists of songs on local "oldies" radio stations. One outcome is that many songs that were once hits here in Vancouver have fallen off the radar of oldies playlists in this city.
Songs reviewed here include recording artists from doo-wop, rockabilly, late 50s "gingerbread" teen idols, British Invasion, garage band, folk rock and psychedelic pop-rock from the 60's, singer-songwriters, glam rock and disco from the 70's, new wave and mainstream rock artists from the 80's and early hip-hop and indie artists into the 90's. An emerging picture of what Vancouver's musical tastes were as distinct from the buying habits in the USA may give some cultural anthropologists a basis for research proposals for years to come. For now, check the posts, present or past anywhere on the Countdown. Take a trip down memory lane (or discover a few tunes you've never heard before), turn back time to "the good old days," and get a glimpse of the remarkable changes in musical styles spanning these 37 years from 1956 to 1993.
Ray McGinnis
For more about the creator/author of vancouversignaturesounds.com click the "About" page.
This website is created for archival, non-commercial purposes only.