#1415: Runnin' Out Of Fools by Aretha Franklin ~ Bonus
Peak Month: October 1964
6 weeks on Vancouver's CFUN chart
Peak Position #15
Peak Position on Billboard Hot 100 ~ #57
YouTube.com:"Runnin' Out Of Fools"
Lyrics: "Runnin' Out Of Fools"
Aretha Franklin born in Memphis, Tennessee in 1942. Her family moved to Detroit when she was four years old. Her father was a Baptist minister and she was raised in the church and sang in the choir. In 1956, at the age of 14, she released an live album of sacred music titled Songs Of Faith. It was recorded at the New Bethel Baptist Church where she worshipped. Sensing a call to share the gift of her voice with a wider audience, Aretha asked for her father's blessing to go into the field of rhythm and blues and pop music. He told her he would do anything he could to support her, saying he wanted her to sign with a record label that could help her reach a wider audience. Aretha Franklin signed with Columbia Records in 1960. In 1961 she had a minor Top 40 hit on the Billboard Hot 100, a remake of the Al Jolson tune from the 1918 Broadway musical, Sinbad, titled "Rock-A-Bye Your Baby With A Dixie Melody". In 1962, Aretha was dubbed as the Queen of Soul by a Chicago DJ named Pervis Spann on WVON. The nickname stuck even though she was only twenty years old.

Aretha Franklin charted over 80 songs onto the Billboard Hot 100 between 1960 and 1998. She charted over fifty songs into the Top Ten on the Billboard R&B charts in the same timeframe. By 2014 she had over 100 songs make the Billboard R&B charts. Twenty of her single released went to #1 on the R&B charts. In November 1966, Aretha chose not to renew her record contract with Columbia. Instead, she signed with Atlantic Records. In January 1967, she recorded "I Ain't Never Loved A Man (The Way I Love You)". The song was recorded in the Muscle Shoals studio in Muscle Shoals, Alabama. It was backed by the Muscle Shoals Rhythm Section. The song went to #1 on the Billboard R&B charts, #9 on the Billboard Hot 100 and #6 on CKLG in Vancouver. Her follow up single, "Respect", became a #1 hit on both the Billboard Hot 100 and the Billboard R&B charts. The song became a women's liberation and civil rights anthem, and found broad appeal with listeners who valued mutual respect between people in personal relationships and the broader society. The song climbed to #4 in Vancouver. Other notable hits she churned out with Atlantic Records in 1967 include "Baby I Love You" and "Chain Of Fools".
Over the decades, Aretha Franklin saw many of her singles reach the Top Ten on both the pop and R&B charts in the USA. In most cases she charted better in the USA than in Vancouver. And because of her superior chart runs south of the border, her songs don't appear on this countdown. However, the closest she got to having a song that could make the list on this website is a song she recorded on her second album released in 1964, Runnin' Out Of Fools. Her jazzy title track was featured on several TV shows in the fall of 1964.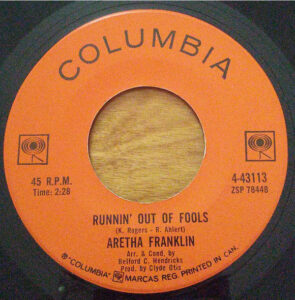 On the September 5th C-FUNTASTIC FIFTY, "Runnin' Out Of Fools" was listed as one of the Twin Pick Hits of the Week. It charted for the next six weeks on the CFUN chart peaking at #15. While on the Billboard Hot 100 the song stalled at #57. The song's best chart run in America was in Baltimore, Maryland, where it climbed to #4. The album made it to #84 on the Billboard album chart. Though the mathematical spread between #15 and #57 isn't quite wide enough for a song to qualify for this countdown, in tribute to the Queen of Soul, the song is listed as a BONUS review: song #1393.
"Runnin' Out Of Fools" is a song about a woman who's had their heart broken by a guy who dumped her. Since that time everyone in town has figured out what he's made of. His reputation as someone who plays people for fools has caught up with him. When he calls, she's ready to let him know that when he's run out of whatever he has to say, she's going to hang up on him. She lets him know she's learned her lesson and she won't let him break her heart twice. The lyrics conclude: "Have yourself a dime's worth of talking/And then I'm gonna hang right up on you/'Cause this time, you're not/You're not getting through to me/I guess you must be runnin' out of fools…" The confidence displayed in the song is a forerunner to the message she conveyed in "Respect".
In 1964, Aretha Franklin also appeared on the Steve Allen Show and played a series of songs. Her performance can be seen in the link to a Rolling Stone article listed in the reference section below.
Her debut single with Atlantic Records, "I Ain't Never Loved A Man (The Way I Love You)", there was a lyrical nod to "Runnin' Out Of Fools": "Some time ago I thought, you had run out of fools. But I was so wrong, you got one that you'll never lose."
In June 1967, "Respect" climbed to #1 on the Billboard Hot 100. In the original version by Otis Redding, the song was about a man asking his wife to understand that he's the breadwinner and give him more respect when he comes home from work. But when Aretha Franklin sang the song, the lyrics were altered. It became a Civil Rights and women's liberation anthem inviting a male partner to give the woman in his life respect. One of the lines in Franklin's final verse includes reference to her earlier song from 1964, "Running Out Of Fools." I get tired (just a little bit)/Keep on tryin' (just a little bit)/You're runnin' out of foolin' (just a little bit)/And I ain't lyin' (just a little bit)/(re, re, re, re) 'spect…
Aretha Franklin continued to have success under her new contract with Atlantic Records in 1967 with "(You Make Me Feel Like) A Natural Woman". The song climbed to #9 in Vancouver and #8 on the Billboard Hot 100. She made it to #10 with "See Saw" in 1968 and "Rock Steady" in 1971. Surprisingly, her #3 hit on the Billboard Hot 100 in 1985, "Freeway Of Love", stalled at #12 in Vancouver on CKLG. However, her last appearance in the Top Ten in Vancouver was a duet with George Michael in 1987 titled "I Knew You Were Waiting". The song peaked at #5 on CKLG and #1 in the USA.
Aretha Franklin performed "My Country 'Tis Of Thee" at the inauguration of President Barak Obama on January 20, 2009. In 2010, she received an honorary doctorate from Yale University. Though she had health challenges in her final years, she went on a multi-city tour in 2014. Her last performance was at the Cathedral of St. John the Divine in New York City on November 7, 2017. The occasion was the 25th Anniversary Gala of the Elton John AIDS Foundation. Over the course of her recording career, Aretha received seventeen Grammy Awards. She also received a Grammy Legend Award in 1991, a Grammy Lifetime Achievement Award in 1994 and a Grammy MusiCares Person of the Year Grammy Award in 2008. She also received an additional 14 Grammy Award nominations. Aretha Franklin died on August 16, 2018, in Detroit after several days in hospice care. She was 76.
Former President Barak Obama and former First Lady, Michelle Obama, released a statement on learning of the death of Aretha Franklin: "Aretha helped define the American experience. In her voice, we could feel our history, all of it and in every shade ― our power and our pain, our darkness and our light, our quest for redemption and our hard-won respect. She helped us feel more connected to each other, more hopeful, more human. And sometimes she helped us just forget about everything else and dance."
August 18, 2018
Ray McGinnis
References
Kory Grow, "Flashback: See Aretha Franklin, Age 22, Sing a Jazzy "Runnin' Out of Fools' in 1964," Rolling Stone, August 16, 2018
Erin Durkin and Ben Jacobs, "Aretha Franklin: Obama and Trump Pay Tribute – with Very Different Words," Guardian, August 17, 2018
Aretha Franklin, "My Country 'Tis Of Thee," Inauguration of President Barak Obama, Washington, D.C., January 20, 2009
Aretha Franklin bio, Aretha Franklin.net.
"C-FUNTASTIC FIFTY," CFUN 1410 AM, Vancouver, BC, October 3, 1964.
For more song reviews visit the Countdown.