#969: 100 or Two by Springfield Rifle
Peak Month: May 1967
9 weeks on CKLG
Peak Position #10
Peak Position on Billboard Hot 100 ~ did not chart
Seattle's Springfield Rifle was a band that formed in 1966 that evolved out of a group called The Dynamics. They comprised of musicians who played saxophone, trombone, trumpet, guitar, bass, keyboard and drums, and variously had between five and seven band members. These included Jeff Afdem (saxophone), Dennis Ashbrook (saxophone), Mark Bishop (organ), Sam Wisner (drums), Dave Talbot (bass), Mark Whitman (vocals, guitar), Larry Duff (trumpet, trombone) and Dean Quackenbush (trumpet).

In November 1966 the band released a tune called "The Bears" which was a Top 30 hit in Rolla, Missouri. The Springfield Rifle's biggest hit was their next called "100 or Two." It was a fusion of sounds as diverse as the Buckinghams ("Kind of a Drag") and the Outsiders ("Time Won't Let Me"). Their sound straddled garage band mid-60's punk and sunshine pop. Meanwhile, the horns gave them more of a hard-edged upbeat rock sound. The song was originally titled "High" when they first performed it as The Dynamics. In that earlier version the song had more of a garage band edge, having no horns, which were introduced when Springfield Rifle added them for their recording.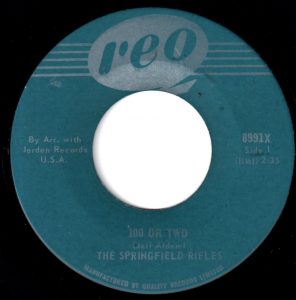 Got to be high on a hill to see 'em.
My oh my, gotta be a 100 or two.
Haven't got time to see each and every one.
Ain't that a crime, the way I do what I do.
Oooh, yeah.
I don't cry like everyone who needs me.
Tell you why and you better believe me.
I've got a girl whose got the love to show.
And if I loose one, there'll be a hundred more.
Got to be high on a hill to see 'em.
My oh my, gotta be a 100 or two.
Oooh, yeah. (fade).
"100 Or Two" concerns the kid-in-a-candy store awakening of a guy who is feeling sexy and attractive to the opposite sex. From a vantage point on a hill he can see over a hundred females. He may be at a beach, a park, a school playground. Whatever his hillside perch, he's got confidence that he could make it with any of the "girls" he sees. The song, written by saxophonist Jeff Afdem, resembles the sentiment in the traditional pop song from 1956 by the Four Lads called "Standing On The Corner." Afdem wrote most of The Springfield Rifle's songs released as singles.
"100 Or Two" climbed to #21 in Seattle, and to #10 in Portland, Oregon, and #10 on CKLG in Vancouver. But the song was confined to these three west coast cities and never got national exposure. Their follow-up hit was "It Ain't Happened" where they had their best chart performance in Aberdeen, Washington, where the single peaked at #12 in September '67. The song had a similar driving uptempo beat as "100 Or Two." In November '67 they had a Top 20 hit with "What Kind Of Day," in Medford, Oregon. The band released a cover of the Carole King-Gerry Goffin classic, "Will You Love Me Tomorrow," which climbed to #14 in Bellingham in March 1968. Their most successful single after "100 Or Two" was in the December 1968 called "That's All I Really Need." The mellow tune climbed to #9 in The Dalles, Oregon, #11 in Olympia, Washington, and #12 on KJR in Seattle. A year later The Springfield Rifle charted "Start At the Bottom" into the Top 30 in Seattle. The tune is available on The History of Northwest Rock, Vol. 3, Psychedelic Seattle. While "Angeline," the B-side of "Start At the Bottom," found its way into the Top 30 in Boise, Idaho.
In the late 60s The Springfield Rifle were entered in a number of the Seattle area's Battle of the Bands. Other bands they competed with included The Sonics, The Kingsmen, Don & The Goodtimes, Jack Horner & The Plums, Brave New World, The Breakers and The Bumps. The Springfield Rifle released two more singles in 1971 that went nowhere. Their eleven single releases between 1966 and 1971 were variously issued on the ABC, Jerden, Tower and Burdette record labels.
Lead vocalist, Mark Whitman began playing guitar in Walla Walla, Washington. Then he moved to Texas where he played in an inter-racial band called the Blue Flames. From there he joined Don & The Goodtimes, The King Biscuit Entertainers and the Springfield Rifle, the latter until it disbanded in 1975. In the 1980s Whitman formed the Sweet Talking Jones Band with Ron Ussery and Mike Rogers. He also conducted and arranged for The Seattle Women in Rhythm and Blues Show for three years. Whitman has played since the late 80s in over a dozen bands. In 2007 he had a stroke that sidelined his guitar playing. Nonetheless, he went on to win the Washington Blues Society's Best Male Blues Vocalist award in 2010.
For more song reviews visit the Countdown.