#1143: A Good Song by Valdy
Peak Month: March 1973
6 weeks on Vancouver's CKLG chart
Peak Position #15
Peak Position on Billboard Hot 100 ~ did not chart
Paul Valdemar Horsdal was born in Ottawa in 1945. Valdy was a member of the London Town Criers during the 1960s and subsequently joined Montreal band The Prodigal Sons. Prior to beginning his solo career, he was based in Victoria working with various artists, including Canadian country music singer Blake Emmons, the host of CTV show Funny Farm (Canada's answer to the CBS TV show Hee Haw).
Valdy has sold almost half a million copies of his 15 albums, and is remembered for "Rock and Roll Song", his bitter-sweet memory of finding himself, a relaxed and amiable story-teller, facing a rambunctious audience at the Aldergrove Rock Festival circa 1968. Valdy is the winner of two Juno Awards for Folk Singer of the Year and Folk Entertainer of the Year, and has received seven additional Juno nominations. Of Canadian folk artists in the mid-1970s, only Gordon Lightfoot was more popular.
Valdy has received high praise from music critics across North America. Here are a few quotes:
"Few performers are capable of achieving the kind of energy he generates on stage." – Globe and Mail
"…..name probably doesn't ring a bell with most Americans, but in Canada this singer and guitarist is a legend." – Anchorage Times
"…..unquestionably the most public performer in Canada today, and the most loved." – Macleans
"A Good Song" was Valdy's second single from his debut 1972 album Country Man, after his first single, "Rock and Roll Song". The lyrics offer parameters concerning who he understands himself not to be on a variety of continuums. Importantly, he is sings his song to clarify who he is in relationship to someone else he knows, and the potential for a more intimate connection.
I am not a free man but neither am I chained.
I am not a wise man but neither am I rearranged.
I not a new man but neither am I old.
I am not a rich man but I cannot be sold.
I am one you are another.
I have a family you have a mother.
I am not a good man no but neither am I cruel
I am not a learned man but neither am I a fool.
I am not an ordinary man but neither am I strange.
I am not your man but that can all be changed.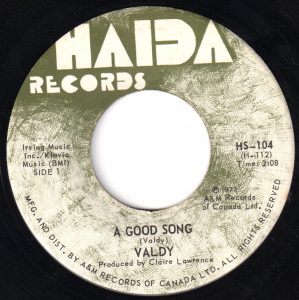 "A Good Song" spent six weeks on the CKLG chart peaking for three weeks at #15. It peaked at #19 in CHUM AM in Toronto, but didn't chart in the USA.
Valdy's music was featured in the 1972 Steve McQueen film The Getaway. Valdy also appeared on the CBC TV show The Beachcombers (1972-1990) as the environmental activist "Halibut Stu". He also managed to secure a part in the reunion production of The New Beachcombers performing a song he wrote, "It's The Water," as part of a jug band.
Valdy lives on Saltspring Island in British Columbia, in a lake front home with his wife Kathleen Mary Fraser Horsdal, who is his creative advisor and is also a sculptor, a painter, a hospice counselor, a high school teacher, a chef and a drama coach, and their three dogs and one cat. His daughter by Lindsay Whalen, Chelah Horsdal, is an actress. He also has two adopted sons (Theo and Yani) by a previous marriage.
His live albums include Family Gathering (A&M) recorded at Massey Hall in Toronto for 1974 release, and 2003's Viva Valdy: Live at Last (Rack-On-Tour). In 1986, Valdy made a special guest appearance as himself in the popular 1980's Canadian children's television show, Today's Special (episode entitled: "trash"). Valdy continues to regularly tour across Canada.
On November 21, 2005, Valdy was awarded the National Achievement Award by SOCAN at the 2005 SOCAN Awards in Toronto. He was appointed a member of the Order of Canada in June 2011.
For more song reviews visit the Countdown.