#856: Angelsea by Cat Stevens
Peak Month: December 1972
6 weeks on Vancouver's CKVN chart
Peak Position #6
Peak Position on Billboard Hot 100 ~ did not chart
Steven Demetre Georgiou was born in 1948 in the West End of London, UK. His father was a Greek Cypriot and his mother was Swedish and they ran a restaurant. Young Steven learned the piano as a child and added mastery of guitar by the age of fifteen. After public school, in 1965 he studied for a year at Hammersmith School of Art, hoping to become a cartoonist. Concurrently, he began to perform in public billed as Steve Adams. That year he got a publishing contract and wrote "The First Cut Is The Deepest." Georgiou hunched his name might not catch on with record buyers, so he decided on the stage name of Cat Stevens. A girlfriend had told him he had eyes like a cat, plus he thought the general public could relate to cats. In 1966, at the age of 18, Cat Stevens had a #2 single on the UK Singles chart titled "Matthew And Son." This was followed by a song concerning workplace violence called "I'm Gonna Get Me A Gun" which also made the Top Ten in the UK. In 1967 a song he wrote, "Here Comes My Baby," became an international hit for The Tremeloes.
Cat Stevens went on tour with the Jimi Hendrix and later with Englebert Humperdinck. In 1968 the combination of constant touring, media interviews and pop-star lifestyle resulted in a near fatal bout of tuberculosis which hospitalized Stevens for several months. Given time to reflect as he recovered from his illness, he began a process of inner reflection and meditation. This was a catalyst for a transformation in musical direction. He wrote some 40 songs and made fundamental changes to his lifestyle.
The period of 1970 to 1974 would see Cat Stevens ascend into the upper echelons of musical superstardom. His 1970 album Tea for the Tillerman, contained the classics "Wild World," 'Hard Headed Woman', "Where Do the Children Play?" and 'Father & Son'. However, it was his 1971 album, Teaser and the Firecat, that made him an international star. The albums' tracks included "Morning Has Broken," "Peace Train" and "Moonshadow." His songs of peace and unity reflected the yearnings of a new generation tired of war and racial prejudice.
His third album to garner major attention and sales in North America was Catch Bull At Four. Released in September 1972, it included a track that made its way on the pop charts on CKVN called "Angelsea."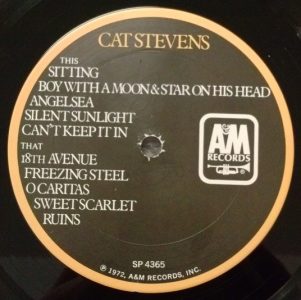 She moves like and angel, and seven evening stars
dance through the window of her universal house.
Her voice a crystal echo lies humming in your soul,
so patiently awaiting for your ears to behold.
She ripples on the water, leaves diamonds on the shore,
and fish from every distance watch her ocean cellar door.
Her breath a warm fire in every lovers heart,
a mistress to magicians and a dancer to the gods.
And a dancer to the gods.
Her clothes are made of rainbows, and twenty thousand tears,
shine through the spaces of her golden ochre hair.
Ooh my babe I want you, and on my life I swear,
my conscience will I follow you forever if you meet me everywhere.
Yes, if you if you meet me everywhere.
"Angelsea" is an ode to an angelic presence revealing new spheres of illumination and possibility in the quest to taste and touch life at its most sublime. Although an album track, "Angelsea" climbed the pop chart on CKVN to #6. Elsewhere in North America the song didn't chart on any Top 40 AM station.
In 1975 Cat had a life-changing event. While he was swimming off a beach in Malibu, California, the current started to take him out to sea. Afraid he was going to die, Stevens bargained with God that if he made it back safely to shore he would give his life to serving God. Waves helped bring him to shore and, after studying a copy of the Koran that his brother had given to him, Cat Stevens converted from Roman Catholicism to Islam in 1977. While studying Islam, he developed a fascination with the story of Joseph and adopted the Arabic variant as the first name of his new identity as Yusuf Islam in 1978. That year, after recording his eleventh studio album, Yusuf Islam left his music career behind and settled down to raise a family and begin to devote himself to charity.
It was after the violent events of September 11, 2001, in America, that Yusuf Islam spoke to the press against violence, fanaticism and war. He issued a plea for peace and unity. That fall and winter he started to perform "Peace Train" and other songs that had made him famous. In 2003 the International World Awards Jury in Germany gave him the World Social Award for "dedicating his life to aiding the needy and the ill." The following year Yusuf Islam was awarded the Man of Peace award by Mikhail Gorbachev who represented a committee of Nobel peace laureates for the work Yusuf had done "alleviate the suffering of thousands of children and their parents and dedicating himself to promoting peace, reconciling people and the condemnation of terrorism."
In 2012 Yusuf Islam created a musical titled Moonshadow which debuted in Australia. On April 10, 2014, he performed at the Rock & Roll Hall of Fame induction in New York. In the fall of 2016 his Cat's Attic tour included an itinerary of twelve concert dates across North America, beginning in Toronto and closing with two dates in Los Angeles. In September 2017 he released his fifteenth studio album, The Laughing Apple, billing himself as Yusuf/Cat Stevens.
For more song reviews visit the Countdown.