#957: Animal Crackers (In Cellophane Boxes) by Gene Pitney
Peak Month: April 1968
7 weeks on Vancouver's CKLG chart
Peak Position #9
Peak Position on Billboard Hot 100 ~ #106
Gene Pitney was born in 1940 in Hartford, Connecticut. He was a songwriter who became a pop singer, something rare at the time. Some of the songs he wrote for other recording artists include "Rubber Ball" for Bobby Vee, "He's A Rebel" for The Crystals and "Hello Mary Lou" for Ricky Nelson. Pitney was more popular in Vancouver than in his native America. Over his career he charted 14 songs into the Top Ten in Vancouver, while he only charted four songs into the Top Ten on the Billboard Hot 100. Curiously, only two of these songs overlap: "(The Man Who Shot) Liberty Vallance" and "I'm Gonna Be Strong." Surprisingly "Only Love Can Break A Heart," which peaked at #2 in the USA, stalled at #14 in Vancouver, and "It Hurts To Be In Love" stalled at #11 in Vancouver while it peaked at #7 south of the border.

Pitney fronted a doo-wop group in his teens at high school called Gene & The Genials and for his next group called The Embers. He was influenced by the doo-wop group, The Crows, and by R&B singer Clyde McPhatter who was the lead singer for The Drifters.
(Signed to songwriter Aaron Schroeder's newly formed Musicor label in 1961, Pitney scored his first chart single, which made the Top 40, the self-penned "(I Wanna) Love My Life Away," on which he played several instruments and multi-tracked the vocals. He followed that same year with his first Top 20 single, the title song from the film Town Without Pity starring Kirk Douglas. Written by Dimitri Tiomkin and Ned Washington, the song won a Golden Globe Award and was nominated for an Academy Award for Best Song, but lost the award to "Moon River." Pitney performed the song at the Oscars ceremony on 9 April 1962 (honoring the film year of 1961).
Pitney is also remembered for the Burt Bacharach–Hal David song "(The Man Who Shot) Liberty Valance," which peaked at No. 4 in 1962. Though it shares a title with a 1962 John Ford western with the same title, The Man Who Shot Liberty Valance, starring John Wayne, the song was not used in the film because of a publishing dispute between Famous Music and Paramount Pictures).
Pitney's highest-charting hit in the USA, "Only Love Can Break a Heart," was kept out of the #1 position by The Crystals recording of Pitney's composition, "He's A Rebel." While he enjoyed a string of Top 40 hits in both Canada and the USA between 1961 and 1965, his star began to fade. Pitney was very much identified with the Brill Building sound and increasingly seen as a pre-British Invasion pop singer out of step with the times. To remedy this perception, Pitney recorded the psychedelic pop song "Animal Crackers (In Cellophane Boxes)." The song was written by Alan Gordon and Garry Bonner. The songwriting duo had penned the #1 hit for The Turtles, "Happy Together," in 1967. Alan Gordon had also written three other Top Ten hits for The Turtles in 1967: "She'd Rather Be With Me," "She's My Girl" and "You Know What I Mean." He would later write "My Heart Belongs to Me" for Barbara Streisand.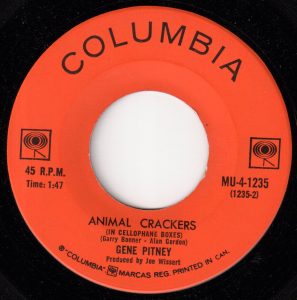 One day what did I see
Animal crackers keep me company.
Sunday with nothing to do
I opened up a box and I went to the zoo.
Elephants, kangaroos, monkeys in a pen
all live together in the same old place.
Reindeer, zebra, canary on a swing,
when everybody's happy everybody sings.
One day with nothing to do
I opened up a box and I went to the zoo.
Sunday what did I do
I learned how to live in a cellophane zoo.
Antelope, buffalo, tiger singing team,
all resemble one another
but their ways are not the same.
Koala bears are fury and camels have a hump,
but why is this ol' elephant come without a trunk.
One day with nothing to do,
I opened up a box and I went to the zoo.
Sunday what did I do,
I learned how to live in a cellophane zoo.
Billy goat, orangutan, eagle up a tree,
look at all the animals looking to be free.
Look at all the animals looking back at me,
I think that I should eat them 'cause I am getting hungry.
One day with nothing to do,
I opened up a box and I went to the zoo.
Sunday what did I do,
I learned how to live in a cellophane zoo. (repeat/fade)
In "Animal Crackers" Gene Pitney sings in a style that may have been intended to blow the minds of radio listeners as they considered all the animals inside an animal crackers box living happily together. Anyone who has opened a box of animal crackers knows that the boxes handling from warehouse to store to grocery bag often causes some of the animals to break off bits from their cracker. And so in Pitney's song an elephant comes out of the box without a trunk. In the song he mentions koala's, although the koala didn't actually appear in Barnum's Animal Crackers until 2002, though a more generic bear could be found back in those little boxes on grocery store shelves in 1968. Some listeners took from the song a metaphorical message: if all these animals can live together in a cellophane box, why can't we human beings live together happily? What a "triply" idea! Or so it seemed, as Pitney's takeaway from opening up his animal cracker box was "I learned how to live in a cellophane zoo."
In the late mid-19th century, animal-shaped crackers (or "biscuits" in British terminology) called "Animals" were imported from England to the United States and Canada. The demand for these cookies grew to the point that bakers began to produce them in the USA. Stauffer's Biscuit Company produced their first batch of animal crackers in York, Pennsylvania, in 1871. Other domestic bakeries, including the Dozier-Weyl Cracker Company of St. Louis, and the Holmes and Coutts Company of New York City, were the predecessors of the National Biscuit Company, today's Nabisco Brands.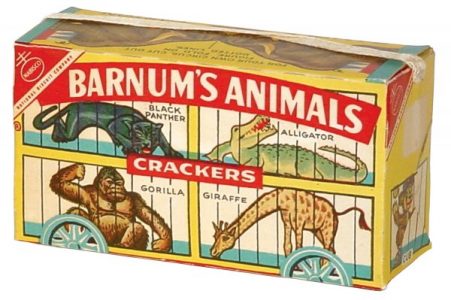 Animal biscuit cookies were made and distributed under the National Biscuit Company banner. In 1902, animal crackers officially became known as Barnum's Animals and evoked the familiar circus theme of the Barnum and Bailey Circus. Later in 1902, the now-familiar box was designed for the Christmas season with the innovative idea of attaching a string to hang from the Christmas tree. Until that time, crackers were generally sold only in bulk in a cracker barrel or in large tins. These small cartons, which retailed for 5 cents at the time of their release, were a big hit and are still sold in 2017.
The number and variety contained in each box has varied over the years. In total, 54 different animals have been represented by animal crackers since 1902. Currently, each package contains 22 cookies consisting of a variety of animals. The most recent addition, the koala, was added in September 2002 after being chosen by consumer votes, beating out the penguin, walrus and cobra.
In 1948, the company changed the product name to its current designation of Barnum's Animals Crackers. In 1958, production methods changed to improve the cookies' visual details. Until then, animal shapes were stamped out of a dough sheet by a cutter. This produced outlines with little sophistication. By installing rotary dies, bakers were able to engrave details onto each cookie, creating a more intricate design of each animal that stood out. The rotary dies are still used today.
Barnum's Animals Crackers are all produced in the Fair Lawn, New Jersey, bakery by Nabisco Brands. More than 40 million packages of Barnum's Animals Crackers are sold each year worldwide (in the United States and in 17 countries they are exported to).
Gene Pitney was not the first recording artist to sing a popular song about animal crackers. In 1935 child star, Shirley Temple, sang "Animal Crackers In My Soup" in the film Curly Top, where Temple plays one of the children in an orphanage.
Once Mother said "My little pet
You ought to learn your alphabet!"
So in my soup I used to get
All the letters of the alphabet
I learned them all from A to Z.
And now my Mother's giving me,
Animal crackers in my soup,
monkeys and rabbits loop the loop.
Gosh, oh gee! but I have fun,
swallowing animals one by one.
In every bowl of soup I see,
lions and tigers watching me.
I make 'em jump right through a hoop,
those animal crackers in my soup.
When I get hold of the big bad wolf
I just push him under to drown.
Then I bite him in a million bits,
and I gobble him right down!
When they're inside me where it's dark,
I walk around like Noah's Ark.
I stuff my tummy like a goop,
with animal crackers in my soup!
Animal crackers in my soup,
do funny things to me
They make me think my neighborhood,
is a big menagerie
For instance, there's our Janitor,
his name is Mr. Klein.
And when he hollers at us kids,
he reminds me of a lion.
The grocer is so big and fat
he has a big mustache.
He looks just like a walrus
just before he takes a splash!
Pitney had one more song Top 40 hit in 1968, "She's A Heartbreaker," that climbed to #16 on the Billboard charts and #5 in Vancouver. After that he faded from view, at least in North America. In 1974 he had a #2 hit with a song called "Blue Angel" in Australia (this was not a remake of the Roy Orbison hit from 1960). Pitney's last hit on the UK charts came in 1989, after an absence of 15 years, when he and Soft Cell singer Marc Almond recorded a duet version of "Something's Gotten Hold of My Heart" by British writers Roger Cook and Roger Greenaway. The song had been a UK No. 5 for Pitney in 1967. The duet brought him his first UK No. 1, in late January 1989. The single remained at the top for four weeks, and also went to No. 1 elsewhere in Europe.
Pitney died of a heart attack in 2006, at the age of 66.
For more song reviews visit the Countdown.