#833: Bend It by Dave, Dee, Dozy, Beaky, Mick And Tich
Peak Month: November 1966
7 weeks on Vancouver's CKLG chart
Peak Position #10
Peak Position on Billboard Hot 100 ~ did not chart
In the late 1950's there were a number of bands playing in Salisbury, England. Trevor "Dozy" Davies was in a band called the Beatnicks. He cross paths with Ian "Tich" Amey who was playing in a band called Eddy and the Strollers. Dozy got Tich to join the Beatnicks. Looking for new members for the Beatnicks, a bandmate with the Coasters and also the Big Boppers, named David "Dave Dee" Harman, was added to the Beatnicks. Then Tich suggested to his buddy from school days, John "Beaky" Dymond, to also leave the Big Boppers and join the Beatnicks. Soon the band was named Ronnie Blonde and the Beatnicks. But when Ronnie didn't appear for a gig, Dave Dee did the lead vocals. The performance went so well that Dave Dee became the lead vocalist. Meanwhile, Dozy met a bloke named Michael "Mick" Wilson while riding on a bus. Mick joined the band who soon changed their name to Dave Dee & the Bostons. By the end of 1961 most of the bandmates, who were painters and auto-mechanics by trade, quit their jobs to become musicians.
Dave Dee was a policeman. He happened to be the first policeman at the scene of the fatal crash on April 17, 1960, when taxi passenger and recording artist Eddie Cochrane died and Gene Vincent suffered serious injuries. Dave Dee had kept Cochran's Gretsch guitar at the Wiltshire police station for a fortnight prior to sending it to Cochran's family in America. Later in 1962 Dave Dee left his position when the band got steady work. From the bands official website, Dave recalls: "I went into the music business because it was a love – not for the money. It was something I always wanted to do. I used to get on the bus and travel 30 miles to Bournemouth to play a gig in a village hall. Eventually my mum and dad could afford a car, and we'd put the band equipment on the roof rack and go and do gigs for a fiver. Once, we went all the way from Southampton to Thurso in Scotland for 17 quid."
It was challenging making a living on gigs in England. However, Dave Dee & the Bostons were discovered by German clubs who wanted to bring English speaking rock 'n roll bands to Germany. As it was more expensive to bring bands from North America, German club owners were keen to hire bands from England. Dave Dee & the Bostons got well-paying gigs at The Storyville club in Cologne and Top Ten Club in Hamburg. According to the band's official website, "they had to perform a minimum of six hours a night, week after week – they had to play 50-minute sets with only a ten-minute-break. As long as people were drinking, they had to keep on playing! On holidays or weekends sometimes from 4pm till 4am or 5am in the morning." Dave said:"When you've been through your entire repertoire twice in one night, you have to start improvising. We even started singing in German!" The Top Ten Club in Hamburg was also a venue where The Beatles performed on a number of occasions in the early 60's.
Although it was exciting to get contracts to perform in Germany, all the band members were still living with their parents. None of them had a steady date and their yearly income was paltry. Meanwhile, the remuneration they received went toward paying the HP payments on their musical instruments. HP is short for "hire purchase," an arrangement where you don't own the goods until you have paid in full. Under an HP agreement, you hire the goods and then pay an agreed amount by installments. If the buyer defaults in paying the installments, the owner may repossess the goods.
All summer in 1964 the band was booked for six nights a week at the Butlins holiday resort in Clacton-on-sea. There one night off a week was Thursday. On one occasion they had a booking on their "night off" in Swindon to open a show for the Honeycombs who had a number one hit with "Have I The Right." The songwriters for the hit song, Alan Blaikley and Ken Howard, saw Dave Dee & the Bostons perform and were awed by their tight vocal harmonies and musicality. They persuaded the band to change their name to Dave Dee, Dozy, Beaky, Mick & Tich, which happened to be the respective nicknames for each of the bandmates. They got a record deal with Fontana Records. Deejays in the UK had trouble remembering the names in sequence and the band was sometimes just called "new group with that crazy name." They made several appearances on ITV's Ready Steady Go!
After several commercial failures the band made it to #4 with "Hold Tight" in both the UK and Germany and #8 in New Zealand. A tour backing Gene Pitney in March 1966 overlapped with their debut into the top ten singles charts. Their next single, "Hideaway," was an early summer hit peaking at #10 in UK and #2 in Germany.
For their next release, "Bend It," the group choose some Greek elements. Zorba the Greek had been an international box office smash in the winter of 1964 and through 1965. "Bang Bang," a hit for Cher in the spring of 1966, had Greek and eastern European influences. Dave Dee, Dozy, Beaky, Mick & Tich decided to try a song with these influences with "Bend It" which was given Latin percussions, a Russian balalaika, African drums and mandolin. The accelerating tempo of "Bend It" resulted mainly from experimenting with the mandolin during rehearsals.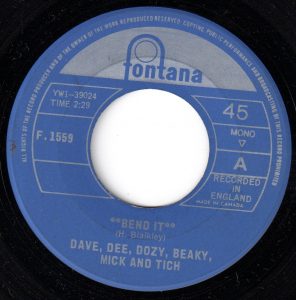 Bend it, bend it, just a little bit
and take it easy, show you're likin' it;
And lover, you know that we're gonna hit
the heights cause I'm sure that we're made to fit,
together just like pieces of a
jigsaw puzzle, what's the hustle.
Bend it, bend it, just a little more,
without you, baby, I'm so insecure.
But you can make me feel that I am sure,
I've got a sickness only you can cure.
So just relax, there's stacks of time, but honey,
please don't tease me – try to please me.
Oh-yeah, that's good, oh-yes, ah-yes
Bend it, bend it, just a little bit,
and take it easy, show you're likin' it;
And lover, you know that we're gonna hit
the heights cause I'm sure that we're made to fit,
together just like pieces of a
jigsaw puzzle, what's the hustle.
Bend it, bend it, just a little bit,
and take it easy, show you're likin' it;
And ahhh… Show me now, yeah that's right,
Ah, oh yeah, yeah that's right,
c'mon now, right right right.
"Bend It" was a regional hit in #2 in Boston, #3 in Toledo, OH, Durham, NH, and Lowell, MA, #4 in Denver and #6 in Providence, RI, (#6). However, Fontana and Imperial Records failed to secure US tours or TV appearances for the group. Without any exposure to the US record buying public, "Bend It," along with the other singles that sold well in Europe, failed to chart in the USA. The tune peaked in Vancouver at #10 and #16 in Grande Prairie, Alberta. The song was a big hit internationally, where it peaked at #1 in Germany and New Zealand, #2 in the UK and Austria and #6 in Australia. To obtain a bouzouki sound on the recording, an electrified mandolin was used. The combined UK and European sales were over one million. However, in October 1966, the British music magazine, NME commented that dozens of US radio stations had banned the record, because the lyrics were considered too suggestive. The group responded by recording a new version in London with a different set of words, which was rush released in the US, as the original single was withdrawn from sale.
"Bend It" offered up lyrics suggestive of a couple trying to fit their genitals together like a jigsaw puzzle. While this titillated listeners in the UK where it peaked at #2 and Germany where it climbed to #1, the song got the axe in most radio markets in the USA. Judged as lewd, the song was said to leave nothing to the imagination. But it wasn't censored here in Vancouver, Canada.
In the fall of 1966 Dave Dee, Dozy, Beaky, Mick & Tich went on a European tour with the Troggs and Spencer Davis Group, including in Germany where DDDBMT enjoyed their biggest fan base. They ended the year with a #3 hit in the UK titled "Save Me." In 1967 DDDBMT went on tour with Eric Burdon and The Animals to Australia, New Zealand, Singapore and Hong Kong. In March 1967 the German Youth magazine Bravo awarded the band with the Golden Otto. The magazine's readers voted Dave Dee, Dozy, Beaky, Mick & Tich most popular band, with other British bands the Kinks (8), Rolling Stones (5) and the Beatles (2) ranked behind them.
Between 1965 and 1968 Dave Dee, Dozy, Beaky, Mick & Tich sold 16 million records. They spent 141 weeks on the charts in this time period compared to the Beatles, who racked up 139 in the same timeframe. In 1967 they group made it to #1 on the Canadian RPM charts with "Zabadak!," a song that never charted in Vancouver. In late 1968 the group had a #1 hit in New Zealand titled "The Wreck of the Antoinette." It was the second #1 hit for them in New Zealand as "The Legend of Xanadu," co-written by Blaikely and Howard, had climbed to the top of the charts both in New Zealand and the UK early in '68, as well as #7 in Toronto and #10 in Calgary.
In Summer 1969, Dave Dee saw that the appeal of the band was waning. He was certain the musical concept of the band had been exhausted. So he chose to pursue a solo career and acting and announced this to the shock of fans and the press in July 1969. He quickly became a co-host of the German TV show Beat Club. He got a role in a movie in 1970 titled, Every Home Should Have One, acting alongside Marty Feldman.
Dozy, Beaky, Mick & Tich in the meantime decided to change their musical style to be more blues and rock oriented – and shortened the band name to simply DBMT. The group had a #3 hit in Holland that year, but elsewhere they failed to rack up commercial successes. In 1975 Tich left the group to be a bass player for The Troggs who needed a new bass player for their upcoming tour. An official website for DDDBMT records concert dates into 2010. Dave Dee died in 2009.
January 5, 2018
Ray McGinnis
References:
Every Home Should Have One ~ Trailer
Zorba The Greek ~ Trailer
DDDBMT website ~band bio
Dozy, of Dave Dee, Dozy, Beaky, Mick & Tich, dies aged 70, BBC, London, UK, January 15, 2015
Hire Purchase ~ Wikipedia
Tony Padman, Where are they now? Dave Dee, Dozy, Beaky, Mick & Tich, Express, London, UK, October 28, 2017
For more song reviews visit the Countdown.