#884: Brown Paper Sack/Spread It On Thick by The Gentrys
Peak Month: January 1966
8 weeks on Vancouver's CFUN chart
Peak Position #8
Peak Position on Billboard Hot 100 ~ #101/#50
The Gentrys were seven guys who all had attended Treadwell High School in Memphis, Tennessee. The group formed in May 1963 to play for local high school dances. They consisted of lead vocalist and guitar player, Larry Raspberry, vocalists Jimmy Hart and Bruce Bowles, trumpet player Jimmy Johnson, bass guitarist Pat Neal, saxophone and keyboard player Bobby Fisher and drummer Rob Straube. At the Mid-South Fair Talent Competition in September 1964, The Gentrys came in third and auditioned for and appeared on the Ted Mack Amateur Hour. That same year they won the Memphis Battle of the Bands. By the end of the year The Gentrys signed a record deal with Youngstown Records. They released their first single, "Sometimes," which became a hit in the Memphis radio market in January 1965.
All The Gentrys band members had parents who were very supportive of what they sons were doing. Consequently, their parents helped set the band up with some money, musical instruments and sound system. They even were driven to concerts outside of Memphis. In the fall of 1965 "Keep On Dancing" climbed to #4 on the Billboard Hot 100. This led to appearances on Hullaballoo, Shindig! and Where the Action Is. The band toured that winter with The Beach Boys and Sonny and Cher.
The bandmates in The Gentrys had all graduated from high school. Now they had been given a new Pontiac Bonneville to which they hitched a trailer. The seven band members would drive from town to town, chasing the bookings they could secure. As a band, they weren't much into drinking. Larry Raspberry recalls they were fairly responsible and could count on each other. There was some conflict among bandmates over what the papers said about their concerts and girlfriends. But it was an expansive time.
Guitarist and lead vocalist, Larry Raspberry, recalls in an interview in 2006 with Gary James, that the band had a different vision for itself than the producer, Chips Moman, who MGM Records teamed them up with. But Moman was unfamiliar with the music The Gentrys were doing. "Keep On Dancing" was a garage band hit with British influences. The band wanted to record the Righteous Brothers hit, "Latin Lupe De Lu" and a cover of "Gloria" by the British band, Them. Rasberry felt one song they recorded that was a track on their debut album had a lot of potential. "Brown Paper Sack" had more of a garage band sound with its pouty complaint about a female who treated a guy, as the song explained, like a brown paper sack. The tune was in the zone for building on the bands' appeal and getting traction from their debut Top Ten hit. But MGM decided to make "Brown Paper Sack" the B-side of their follow up single. The A-side was a non-album tune called "Spread It On Thick."
In Vancouver on CFUN DJ's chose to playlist both sides of the disc, which peaked at #8.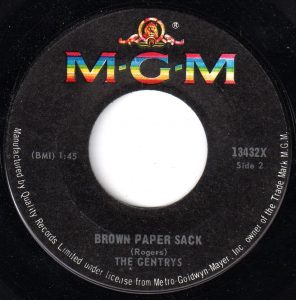 Hey, you, girl, you'd better not stay, girl.
Hey, you, girl, you'd better run away, girl.
You treated me so bad,
I might as well have been a brown paper sack.
You cheated me, you lied to me,
and so, girl, don't try to come back.
You know you rumpled all the sack.
Hey, you, girl, you'd better not stay, girl.
Hey, you, girl, you're gonna get hurt, girl.
I hope he breaks your heart for you in two
the way you broke my heart for me.
I hope he has you on your knees
pleading with him asking him to see,
but you said you wanna be free.
Hey, you, girl, you'd better not stay, girl.
Hey, you, girl, you'd better run away, girl.
You treated me so bad
I might as well have been a brown paper sack.
Like a brown paper sack, girl,
like a brown paper sack, girl,
like a brown paper sack, girl….
In "Brown Paper Sack" there's an ex-girlfriend who we find our has said she wanted to be free. According to the ex-boyfriend, she's treated him badly, like a brown paper sack. And she lied to and cheated on him. Now she's with someone new. The ex-boyfriend, who narrates this song, hopes the new guy in her life breaks her heart. Just like the way she broke the ex-boyfriends' heart. "Brown Paper Sack" made it into the Top 20 in Milwaukee, Wisconsin. But it charted very poorly in the few radio markets to appeared on in the USA.
While the tune had an edgy upbeat garage band sound, the lyrical content was a downer. Maybe that's why it didn't catch on in the USA. Perhaps, The Gentrys needed to write an additional verse to "Brown Paper Sack" that presented a happy ending for the guy in the song, perhaps bragging that he was getting some attention from other girls. Nonetheless, maybe there were a few guys in Vancouver who'd been dumped by their girlfriends over the Christmas holidays who the tune spoke to as they rebooted their lives in 1966.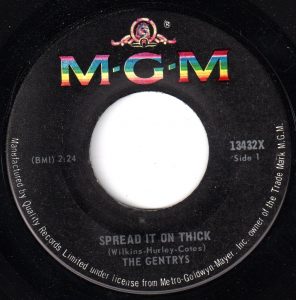 Spread it on thick,
Like peanut butter and jam.
Spread your lovin' on me, baby,
Anywhere, any time that you can.
Spread it on thick,
Like peanut butter and jam.
Spread it on me, baby,
And I'll show you what a lover I am.
Yeah…
Spread it on thick,
like honey on an old bumble bee.
Spread it and I'll show you,
what a lover I was brought up to be.
Spread it on thick,
like grass growing over the ground.
Spread it on me baby and I'll show you
What a lover you found.
Are you a man!
I'm the man!
Are you!
Listen to me!
Lay it on thick,
And I'll show you,
That I am your man!
Spread it on thick,
like peanut butter and jam.
If you have a half a chance,
won't you spread it all over again.
Spread it on thick,
like peanut butter and jam.
Spread your loving on me, baby,
and I'll show you what a lover I am.
Yeah…
Are you a man!
I'm the man!
Are you sure you're the man!
Yeah, I'm your man!
Spread it on me and I'll show you,
that I am your man!
Spread it on thick,
like peanut butter and jam.
Spread it on me, baby,
and I'll show you what a lover I am.
"Spread It On Thick" offers a simile for anyone who's ever had a peanut butter and jam sandwich or spooned honey on toast. It worked well enough to get this A-side of the disc to the #50 spot on the Billboard Hot 100. The Gentrys appeared in the flick, It's A Bikini World. But the A-side was less edgy than "Brown Paper Sack" and didn't have the excitement of "Keep On Dancing."
Jam recipes have been in cookbooks since the 15th Century in Europe. However, peanut butter was only introduced into the North American diet in the 1890's, and initially as a health-food for the well-to-do to enjoy when they went to a spa. The first year a recipe in a cookbook appeared for peanut butter and jam (or jelly) was in 1901. Julia David Chandler invited readers of The Boston Cooking School Magazine of Culinary Science & Domestic Economics, to include it at fancy parties and high teas. Chandler wrote: "For variety, some day try making little sandwiches, or bread fingers, of three very thin layers of bread and two of filling, one of peanut paste, whatever brand you prefer, and currant or crab-apple jelly for the other. The combination is delicious, and, so far as I know, original."
Back in 1917 Paul Welch had invented Grapelade for U.S. soldiers to spread on bread. This created demand for jam and jelly to be spread on sandwiches by soldiers and their families after World War I. But peanut butter paste easily went rancid. What to do? In 1922, Joseph Rosefield turned peanut butter into a saturated fat that didn't stick to the roof of your mouth. He called his product Skippy and added sugar to the ingredients. Peter Pan was another brand that began selling commercial peanut butter in the 1920's. Then in 1927 Otto Frederick Rohwedder made his invention of a bread slicer available commercially and it was shipped all over the country the following year. From 1928 onward peanut butter and jam, or peanut butter and jelly sandwiches have been a staple in lunch boxes for school children. During World War II American troops and peanut butter and jam sandwiches in their canteens. And back home, peanut butter was not rationed making it a less expensive option for getting protein during the war years. Wrapped sandwiches went into brown paper bags and the paper bag was invented in 1852 and sold by the Union Paper Bag Company.
On their second album, The Gentrys opening track on the A-side was titled "I'm Gonna Look Straight Through You." It reflected the feeling and vibe the band wanted to be known for. However, MGM decided The Gentrys follow up single would be a cover of the 1963 Steve Alaimo tune, "Everyday I Have To Cry Some." This reflected their producers' musical taste, not The Gentrys' musical taste. Aside from Birmingham, Alabama, and Honolulu, Hawaii, the song was pretty much a flop. It was a rather bland example of pop music and didn't reflect what The Gentrys were capable of.
Meanwhile, as the concert dates for The Gentrys persisted, some of their parents began to express concern about getting on with going to college. Other parents encouraged them to keep on doing concerts and returning to the recording studio. Larry Raspberry conceded that the band was focused more on making as much money as they could than considering what might be the best move to advance the bands' career. On one occasion they declined an offer to join a Dick Clark Where The Action Is tour. The tour paid just $300 a night and The Gentrys were required to pay for their own travel and accommodation. By the time they figured out how much their net income would be The Gentrys figured it was better to stay in the Deep South where the money was better. In states like Alabama and Georgia, The Gentrys were in high demand. They got paid between $750-$ 1,200 a night playing four nights a week down south. For the band, it was a no-brainer.
The Gentrys appeared in the 1967 movie It's a Bikini World. They were one of a number of bands in who had cameo appearances, along with The Animals, The Toys and The Castaways. Several months after the movie came our the group disbanded.
Jimmy Hart reformed The Gentrys in the late 60's. The band had a minor hit in 1970 with a cover of Neil Youngs'
"Cinnamon Girl." Hart moved on from being a rock 'n roll musician to the world of professional wrestling. Hart has managed many professional wrestlers, including Hulk Hogan, Bret Hart (no relation) and Jim Neidhart (The Hart Foundation), Greg "The Hammer" Valentine, Jerry "The King" Lawler, "The Million Dollar Man" Ted DiBiase, Irwin R. Schyster, The Mountie, Earthquake, Typhoon, Dino Bravo, the Nasty Boys, The Giant, and The Honky Tonk Man. Jimmy Hart was at one time AWA Southern Heavyweight Champion. Hart was nicknamed "The Mouth of the South" due to his loose-lipped style, often augmented by his trademark megaphone, which he used to instruct and encourage his protégés, to discourage and annoy opponents and announcers and also as a weapon.
One of the musicians who joined the reformed Gentrys in the late 60's was Larry Butler. Butler went on to become a producer. From the mid-1970s through the 1980s, he worked with Kenny Rogers. Many of his albums with Rogers went either gold or platinum and accumulated many millions of sales around the world. These albums include Kenny Rogers (1976), The Gambler (1978), Gideon (1980) and I Prefer The Moonlight (1987). In 1976 Butler won the Grammy Award for Best Country Song for "(Hey Won't You Play) Another Somebody Done Somebody Wrong Song" by B.J. Thomas. In 1980 Butler won the Grammy Award for Producer of the Year. Butler has also produced records for Charlie Rich, Mac Davis, Don McLean, Debbie Boone and John Denver.
Larry Raspberry went on to play with Alamo, who released a self-titled LP in 1971. He subsequently formed Larry Raspberry and the Highsteppers, releasing two albums in the mid-1970s.
October 20, 2017
Ray McGinnis
References:
Larry Raspberry Interview: The Gentrys, Famous Interview.ca.
It's a Bikini World, Trans American, 1967.
Sam Dean, History of the PB&J, from Spa Food to School Lunch, Bon Apetit.com, August 29, 2013.
Who Invented the Peanut Butter and Jelly Sandwich?, National Peanut Board.com.
For more song reviews visit the Countdown.