#1031: Can I Get to Know You Better by The Turtles
Peak Month: November 1966
6 weeks on CKLG chart
Peak Position #5
Peak Position on Billboard Hot 100 ~ #89
In 1947 two of the founding members of The Turtles were born. Howard Kaplan spent his first eight years in the Bronx and Manhattan. Then his dad got a job in Utica, in upstate New York, with General Electric. Several years later he moved with his family to the Los Angeles community of Westchester, just to the south of Santa Monica. Mark Volman was born in Redondo Beach and his family later also moved to Westchester. At Westchester High School both boys were in the Westchester High A Capella Choir. Mark was a first tenor and Howard was a second tenor. Kaplan and Volman's first band, the Crossfires, played instrumental music, but the arrival of the Beatles in 1964 encouraged a change of focus. Howard's vocal abilities made him a clear choice to be the frontman when the Crossfires evolved into the Turtles. In '65 Kaplan changed his surname to Kaylan. Other high school friends, Al Nichol, Don Murray and Jim Tucker were among the original Crossfires bandmates who made the transition to The Turtles. After several changes bass player Chip Douglas was in the Turtles' line-up by the spring of 1966.
The Turtles were more popular in Vancouver than even in the USA. Their first three singles peaked at #11 (It Ain't Me Babe), #10 (Let Me Be) and #9 (You Baby). By comparison, the Turtles peaked on the Billboard Hot 100 with these tunes at #8, #29 and #20. With their 1965 success of "It Ain't Me Babe," The Turtles opened to an audience of 50,000 at the Rose Bowl, headlined by Herman't Hermits. From there they joined Dick Clark's Cavalcade of Stars on tour.
Their third single, "You Baby," had been co-written by P.F. Sloan and Steve Barri. P.F. Sloan had offered the group "Eve of Destruction," but they turned it down and it subsequently became a number one hit for Barry McGuire. After an unimpressive fourth single that bombed, the group returned to the songwriting team of Sloan and Barri who offered them "Can I Get to Know You Better." It was another sunshine pop tune, much like "You Baby."
Sloan and Barri were making hits for other recording artists: "Secret Agent Man" (Johnny Rivers), "A Must to Avoid" (Herman's Hermits), "Where Were You When I Needed You" (The Grass Roots) and "Unless You Care" (Terry Black).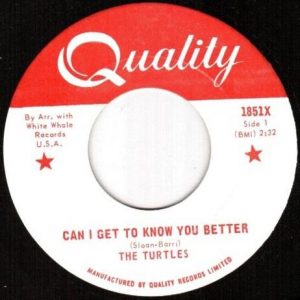 Everybody says "be strong," but I just can't take it.
Every time I look at you, I feel funny inside, yeah.
I've been meaning to ask you this
for such a long long time.
Can I get to know you better?
Got to get to know you better,
can I get to know you better tonight?
I know that you think of me as just a friend.
But you don't know how friendly I can be, yeah.
I want so much to prove my love,
baby, give me half a chance.
Can I get to know you better?
Got to get to know you better
Can I get to know you better tonight?
Now I don't think I can go another day without you (without you)
One little kiss will tell me what I wanna know 'bout you.
It ain't gonna hurt you, come on baby.
The song was a straight forward narrative about someone who has developed a crush on a friend of theirs. Things have gotten to the point that they want to kiss and find out if there is more in store for them than just a friendship.
The sunny tune promised to be another chart success for The Turtles. However, the tune had little chart success in the USA. The notable exceptions were Bakersfield, California, (#7), Oxnard, California (#7), Columbus, Ohio (#11) Boston (#7) and Green Bay, Wisconsin (#4). In Vancouver, the song peaked at #5 on CKLG. Songwriter Steve Barri later produced "Dizzy" for Tommy Roe, "Billy, Don't Be a Hero" for Bo Donaldson and the Heywoods, and Alan O'Day's 1977 hit "Undercover Angel".
Following "Can I Get To Know You Better," the Turtles had their most successful year in 1967. In Vancouver the group had four top ten hits: "Happy Together" (#2), "She'd Rather Be With Me" (#1), "You Know What I Mean" (#8) and "She's My Girl" (#4). In the case of the first of their hits from '67, "Happy Together" was kept in the #2 spot beneath "Penny Lane/Strawberry Fields Forever" by the Beatles. In the USA only the first two hits reached the Top Ten on the Billboard Hot 100. In all, the Turtles had eight Top Ten singles in Vancouver with another four singles in the Top 30, between 1965 and 1969. By the end of 1968 rhythm guitarist, Jim Tucker, left the band, leaving them with four members.
On May 10, 1969, The Turtles performed at the White House at the invitation of President Nixon's daughter, who was a big fan of their music. Howard Kaylan recalled later in his memoir the response the record company had when the Turtles initially declined the invitation: "We were deeply anti-war and deeply self-conscious. We weren't Nixonites, that's for sure. We were everything he stood against. So when the hand-engraved invitations to perform at Tricia's coming out party arrived at the Cosby office, we were none too thrilled. In fact, we flat out refused to play. They started to freak out. "What do you mean, you refuse to play?! Who the hell do you think you are?! This isn't a political thing. It's like a goddamned royal proclamation, you idiots! You play the White House because you're an American!"…. They shamed us into it. Not only that, but to add insult to injury, management now was requesting that we each go out and buy a classy new suit." The band's typically casual blue jean attire wouldn't cut it for a White House performance. Dressed in their best The Turtles, along with Tricia Nixon, made the cover of Parade Magazine. The band was given the Lincoln Library to use as a changing room. Also on the bill for Tricia Nixon and her friends were The Temptations.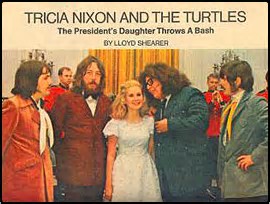 In the '70s, Mark Volman and Howard Kaylan joined up with Frank Zappa & the Mothers of Invention where they sang on nine of Zappa's albums and wrote and starred in the 1971 film, 200 Motels. In 1971 Volman and Kaylan provided background vocals for the T Rex hit "(Bang a Gong) Get It On."
Mark has written songs for children's television shows, such as the Care Bears and Strawberry Shortcake and received a Grammy nomination for these works. Mark has survived in the music business as an on-air radio personality, in radio syndication, record producer and writer for national music magazines and network television. In May of 1999 Mark graduated from Loyola Marymount University with his Masters Degree in Fine Arts in Screenwriting. In 2011, Mark co-wrote the music business textbook Off The Record: Your Ultimate Resource for Success in the Music Business.
Kaylan's two years with Frank Zappa were an education and a complete artistic upheaval. That time included the highlight of sharing the stage with John Lennon and Yoko Ono. The low point was watching the band's equipment burn to a crisp at the Montreux, Switzerland, casino fire on December 4, 1971, caused by someone shooting a flare gun at the casino's rattan ceiling. The fire later became the subject of the hit by Deep Purple in 1972 called "Smoke On the Water."
As the comedic-musical duo, Flo & Eddie, Volman and Kaylan recorded ten albums between 1972 and 2009. Among the songs they provided backing vocals for over the decades are:
"Hungry Heart" by Bruce Springsteen, "Love My Way" by the Psychedelic Furs, as well as tracks for Blondie, Alice Cooper, Jefferson Airplane, Duran Duran, John Lennon and the Ramones.
In 2013, Howard Kaylan had his biography published by Backbeat Books, titled Shell Shocked: My Life with the Turtles, Flo and Eddie, and Frank Zappa, etc.
For other reviews on this website visit the Countdown.