#1049: Carey by Joni Mitchell
Peak Month: September 1971
8 weeks on Vancouver's CKVN chart
Peak Position #12
Peak Position on Billboard Hot 100 ~ #93
Roberta Joan Anderson was born in 1943, in Fort Macleod, Alberta. Her father was a grocer and her mother a schoolteacher. After the end of World War II, her family moved to North Battleford, Saskatchewan. When she was 9 years old, Joni and her family moved 85 miles southeast to Saskatoon. She took piano lessons as a child. In her teenage years, since she couldn't afford a guitar, Joni taught herself to play the baritone ukelele which she bought for $36. In her teens Anderson listened to rock-n-roll radio broadcasts out of Texas where the radio signals were especially strong at night. She played at parties and also hung out at a local coffeehouse in Saskatoon called the Louis Riel. She later learned the guitar. In 1964 she began her professional musical career by playing clubs and festivals around Canada. Her repertoire consisted mostly of standard folk songs, many recorded by her idol, Judy Collins, until she began writing her own songs, starting with "Day After Day", which she wrote while on her way to the Mariposa Folk Festival in 1965.
In 1964 Anderson discovered she was pregnant by her college ex-boyfriend. In February 1965 she gave birth to a baby girl. On her own with a newborn, she was unable to find work. She kept this a secret for three decades 'til in 1994 she told "Vogue" magazine: "I had had a child, and I was broke, literally penniless. And I met Chuck Mitchell, and he said he would take us on. I was kind of railroaded…we were never suitable. I went down the aisle saying 'I can get out of this.'" A few weeks after the birth, Joni married folk-singer Chuck Mitchell. He promised to help take responsibility for the child but something changed, and a few weeks later Joni gave up her daughter for adoption.
In Rhode Island during the summer of 1966, Joni played a short set to much acclaim at the Newport Folk Festival. By the following year her marriage to Chuck Mitchell dissolved. She wrote about her experience in the song "I Had A King" on her debut album, Song to a Seagull.
I had a king dressed in drip-dry and paisley
Lately he's taken to saying I'm crazy and blind
He lives in another time
Ladies in gingham still blush
While he sings them of wars and wine
But I in my leather and lace
I can never become that kind.
I can't go back there anymore,
you know my keys don't fit the door,
you know my thoughts don't fit the man,
they never can, they never can.
This was followed the next year with Clouds, which won her a Grammy in March 1970 for Best Folk Performance of 1969. In early 1970 Joni Mitchell chose to retire from the concert circuit. Taking time off to travel, she was able to reflect on the celebrity that she'd sought and found, but hadn't enjoyed since the first flickers of fame had approached her with a gasp in their voices. She performed at a few festivals in the summer of 1970, but did not take on a regular concert schedule for most of the year. Simultaneously, her third album, Ladies of the Canyon, went platinum in the USA. Her single from the album, "Big Yellow Taxi" climbed to #67 on the Billboard Hot 100 and #19 on CKVN.
She traveled throughout Europe, visiting France, Spain, and Greece. On the ancient isle of Crete she took up the Appalachian dulcimer and rapidly wrote a series of songs dealing with her adventures, including "Carey" and "California". Both would appear on her fourth studio album, Blue.
"Carey" was a song about Cary "Carrot" Raditz, a red-headed cane-carrying chef she met in the village of Matala on the island of Crete, in Greece. In Matala there was a cave-dwelling hippie community which inspired her to reference the al fresco hippie lifestyle in the song lyrics, including The Mermaid Cafe, now renamed as the Kymata/Waves Restaurant. In concert Mitchell introduced "Carey" to her audiences by imparting anecdotes about Raditz and their escapades in Crete.
Her dulcimer skills were first premiered on Blue and in especially on "Carey," a recording that also featured Stephen Stills on bass guitar and acoustic guitar.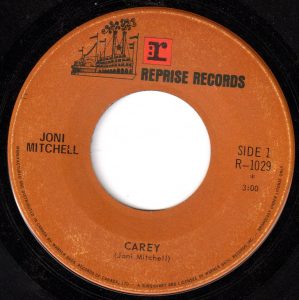 The wind is in from Africa,
last night I couldn't sleep.
Oh, you know it sure is hard to leave here Carey,
but it's really not my home.
My fingernails are filthy.
I've got beach tar on my feet.
And I miss my clean white linen,
and my fancy French cologne.
Oh Carey get out your cane (Carey get out your cane)
And I'll put on some silver (I'll put on some silver)
Oh you're a mean old Daddy, but I like you fine.
Come on down to the Mermaid Cafe,
and I will buy you a bottle of wine.
And we'll laugh and toast to nothing,
and smash our empty glasses down.
Let's have a round for these freaks and these soldiers,
a round for these friends of mine.
Let's have another round for the bright red devil,
who keeps me in this tourist town.
Come on Carey get out your cane (Carey get out your cane)
And I'll put on some silver (I'll put on some silver)
Oh you're a mean old Daddy, but I like you.
I like you, I like you, I like you.
Maybe I'll go to Amsterdam or maybe I'll go to Rome.
And rent me a grand piano,
and put some flowers 'round my room.
But let's not talk about fare-thee-wells now,
the night is a starry dome.
And they're playin' that scratchy rock and roll
beneath the Matalla Moon.
Come on Carey get out your cane (Carey get out your cane)
And I'll put on some silver (I'll put on some silver)
You're a mean old Daddy, but I like you.
The wind is in from Africa,
last night I couldn't sleep.
Oh, you know it sure is hard to leave here,
but it's really not my home.
Maybe it's been too long a time since I was
scramblin' down in the street.
Now they got me used to that clean white linen,
and that fancy French cologne.
Oh Carey, get out your cane (Carey get out your cane)
I'll put on my finest silver (I'll put on some silver)
We'll go to the Mermaid Cafe, have fun tonight
I said, oh, you're a mean old Daddy, but you're out of sight.
"Carey" was the debut single from Blue, debuting at #93 on the Billboard Hot 100 and falling off the chart the next week. Vancouverites made "Carey" a modest hit peaking locally at #12 on CKVN. Blue was the first of four of Mitchell's albums that climbed into the Top Ten of Canada's national album charts. Mitchell later said of Blue, "I have, on occasion, sacrificed myself and my own emotional makeup, … singing 'I'm selfish and I'm sad', (on "River") for instance. We all suffer for our loneliness, but at the time of Blue, our pop stars never admitted these things." Blue was considered an inspired outcome of her early work, with grim anecdotes of the world around her providing a contrast to upbeat expressions of romantic love. Mitchell later remarked in an interview with Cameron Crowe of Rolling Stone Magazine, "At that period of my life, I had no personal defenses. I felt like a cellophane wrapper on a pack of cigarettes. I felt like I had absolutely no secrets from the world and I couldn't pretend in my life to be strong." In all she has released 19 studio albums and two live albums between 1968 and 2007.
Joni Mitchell has been inducted into the Rock and Roll Hall of Fame in Cleveland and received the Order of Canada. Over the years she's won nine Grammy Awards and been nominated for seven others.
#TheSeventies
#JoniMitchell
For more song reviews visit the Countdown.