#1102: Circle Game by Buffy Sainte-Marie
Peak Month: October 1970
7 weeks on Vancouver's CKVN chart
Peak Position #14
Peak Position on Billboard Hot 100 ~ did not chart
In 1942 Beverly Sainte-Marie was born on the Piapot Cree Reserve in southwestern Saskatchewan. From her early childhood she was called Buffy. As a child she was orphaned. Her aunt and uncle in Maine of Mi'kmaq First Nation descent then adopted her. Growing up in Maine, Buffy taught herself how to play piano and guitar. After high school took Fine Arts courses at the University of Massachussetts in Amherst to study in the Fine Arts fields, continuing to write music in her spare time. She graduated in the Top Ten in her class but chose to devote her life to music. She began to appear at coffee houses in the folk music circuit in New England, barely making ends meet.

From New England she moved back to Canada and appeared in Toronto's Yorkville district, known at the time for hippies and the counterculture movement. She played on stage with other blossoming folk singers including Leonard Cohen, Joni Mitchell, and Neil Young. Spanning her career, she recorded songs written by those artists, and they each recorded some of her compositions.
From Toronto Sainte-Marie moved to New York's Greenwich Village. It was there she gained a reputation as a gifted songwriter and performer. The subject of many of her songs reflected her observations of modernity and social issues. In an effort to treat an infection of bronchial pneumonia, Buffy got addicted to codeine. She wrote about her dependence and eventual rehabilitation from the drug in her song "Cod'ine." The song was also recorded by a number of artists including Donovan, Quicksilver Messenger Service, and Gram Parsons. She also spent part of the mid '60s as part of a North American troupe of folk musicians playing on the street corners and in the coffee houses in the UK, West Germany, and France.
Buffy Sainte-Marie was the first Canadian First Nations pop singer to get a deal with a major record company. She signed with Vanguard Records who released her 1964 debut album, It's My Way! Some of her earliest songs displayed both a tenacious spirit and quiet wisdom. An Aboriginal lament would become a theme in her music featured on early works on this first album like "Now That The Buffalo's Gone," "Ananias," and "Mayoo Sto Hoon." Social awareness of the Aboriginal communites remained a fixture of her musical topics throughout the decades, including "My Country 'Tis of Thy People You're Dying," "The Seeds of Brotherhood," and the title track to the 1974 album, "Native North American Child," a satirical piece spotlighting how the lives and stories of indigenous people were absent from reportage in the mainstream media.
Nearly a hundred of her songs have also been covered by others. One of the songs on her debut album was the anti-Viet Nam War anthem "Universal Soldier," covered by Donovan, Glen Campbell and others. The song went to #5 for Donovan in the UK and #53 in the USA. As a result Billboard Magazine named her Best New Artist in 1965. Inspired by her witnessing wounded Viet Nam veterans getting off the bus after returning home, political and anti-war songs would become a hallmark of her career. But unlike Donovan, her entire first album was original music, almost unheard of a new artist at the time. Sainte-Marie was gaining popularity, appearing on several TV programs including several appearances on The Tonight Show With Johnny Carson. Concurrently, her anti-Viet Nam War stance also alienated her from many audiences. In fact, she was reportedly blacklisted because her name appeared on a White House list of performers "who deserved to be suppressed."
Her song "Until It's Time For You To Go" has been covered by over 200 artists, including Neil Diamond, Barbara Streisand, Glen Campbell, and Elvis, before and after she released it herself on her second album, Many a Mile, in 1965. Buffy Saint-Marie's music appealed not only across borders but to recording artists in a variety of musical genres. County singer Bobby Bare made Buffy Saint-Marie's song "Piney Wood Hills" a #1 country hit in 1967. She recorded her own version of that song less than a year later on I'm Gonna Be A Country Girl Again. The album, recorded in Nashville was hailed by music critics as among the best country albums of 1968. With side one dedicated to Chet Atkins, it also produced what she would call her "most satisfying work, and a dream come true," getting to work with fellow Canadian native Floyd Cramer.
In 1968, she had a role in the popular NBC western TV show, The Virginian. However, her conditions for appearing on the show was for all other Aboriginal roles to be cast by actual Aboriginal actors, a very rare occurrence for the time. The producers relented and agreed, paving the way for other Natives over the years to make their mark in television and film.
By 1966, at the age of 24, Buffy Saint-Marie had appeared on stages all over Europe, Canada, Australia and Asia. In 1969 she closed out the decade with uncharacteristic synthesizers and other experimentations with a psychadelic folk/rock hybrid album Illuminations.
In 1967 Buffy Saint-Marie released her fourth album, Fire, Fleet and Candlelight. The album was a departure from earlier folk albums with only acoustic guitar. Now she added a rock 'n roll band to perform backup on most of her songs. One of these was "Circle Game" written by fellow Canadian prairie folk singer, Joni Mitchell, born in neighboring Alberta in the town of Fort MacLeod.
In March, 1970, Joni Mitchell released her third album, Ladies of the Canyon The title makes reference to Laurel Canyon, a center of popular music culture in Los Angeles during the 1960s. The album included several songs that have become classics in the Joni Mitchell songbook: "Big Yellow Taxi," "Woodstock" and "The Circle Game."
Mitchell wrote the song as a reply to a song Neil Young wrote about not being allowed to go to a club for teens because he was now 21 years old. Young's song was called "Sugar Mountain." Mitchell recalls, "in 1965 I was up in Canada, and there was a friend of mine up there who had just left a rock'n'roll band (…) he had just newly turned 21, and that meant he was no longer allowed into his favourite haunt, which was kind of a teeny-bopper club and once you're over 21 you couldn't get back in there anymore. So he was really feeling terrible because his girlfriends and everybody that he wanted to hang out with, his band could still go there, you know, but it's one of the things that drove him to become a folk singer was that he couldn't play in this club anymore. 'Cause he was over the hill. (…) So he wrote this song that was called "Oh to live on sugar mountain" which was a lament for his lost youth. (…) And I thought, God, you know, if we get to 21 and there's nothing after that, that's a pretty bleak future, so I wrote a song for him, and for myself just to give me some hope. It's called The Circle Game."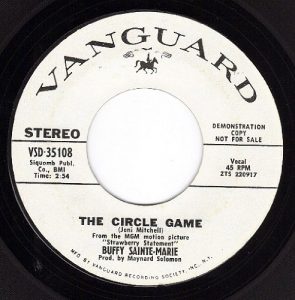 Yesterday a child came out to wonder
Caught a dragonfly inside a jar
Fearful when the sky was full of thunder
And tearful at the falling of a star

Chorus: And the seasons they go round and round
And the painted ponies go up and down
We're captive on the carousel of time
We can't return we can only look behind
From where we came
And go round and round and round
In the circle game

Then the child moved ten times round the seasons
Skated over ten clear frozen streams
Words like, when you're older, must appease him
And promises of someday make his dreams

And the seasons they go round and round…

Sixteen springs and sixteen summers gone now
Cartwheels turn to car wheels through the town
And they tell him, "Take your time, it won't be long now
Till you drag your feet to slow the circles down."

And the seasons they go round and round…

So the years spin by and now the boy is twenty
Though his dreams have lost some grandeur coming true
There'll be new dreams, maybe better dreams and plenty
Before the last revolving year is through…

And the seasons they go round and round…
Though Neil Young couldn't be twenty and live on Sugar Mountain, Joni Mitchell was singing to him (and anyone else who might think the best years of their life were done once their teen years were over), that he needed to reframe what he saw on his life's horizon.
In 1970 Ladies of the Canyon kept steady sales and ended up being in the Top 50 of the Billboard year-end album chart. Many of the tracks, including her recording of "Circle Game" were being played on the newer FM radio stations in Vancouver and elsewhere. But it was not Joni Mitchell's original recording of "Circle Game" that charted on CKVN in the fall of 1970. It was Buffy Saint's 1967 recording from Fire, Fleet and Candlelight that spent seven weeks on the chart and peaked at #14.
In 2002 Joni Mitchell released her 18th studio album, Travelogue. With rich jazz-influenced orchestration on this two-disc set, the songs were an overview of her career. On the album she offered a six minute and fifty second version of "Circle Game." It reflects the perspective of someone who is long past the point of having sixteen springs and sixteen summers gone now.
For more song reviews visit the Countdown.