#1046: Gimmie Love by April Wine
Peak Month: August 1976
8 weeks on CKLG chart
Peak Position #13
Peak Position on Billboard Hot 100 ~ did not chart
YouTube.com: "Gimmie Love"
"Gimmie Love" lyrics
April Wine is a Canadian rock band that has released 34 singles, 16 studio albums and 9 live albums. They formed in Waverly, Nova Scotia, in 1969. The founding members were brothers David Henman (guitar) and Ritchie Henman (drums) and Myles Goodwyn (lead vocals, guitar). The Henman brothers cousin Jim Henman was also part of the band, but was replaced by bass player Jim Clench in 1971, a year after the band moved to Montreal. They had a Top Ten hit nationally in Canada in 1972 with "You Could Have Been A Lady."

On their fourth album in 1974, Live, the band had another Top Ten hit in Vancouver called "I'm On Fire For You Baby." Their fourth studio album, Stand Back, went double platinum with 2 million sales. The first single released from the album was "I Wouldn't Want to Lose Your Love."
A number of changes in the band left Myles Goodwyn as the only founding member. Former Mashmakhan drummer, Jerry Mercer, replaced Ritchie Henman, and Garry Moffat took over from Dave Henman on guitar. Steve Lang took over on bass from Jim Clench. This line-up would record the band's fifth studio album, The Whole World's Goin' Crazy. This album went platinum before it was released. The first single from the album was the title track which was not play listed in Vancouver. But the second single release, "Gimmie Love," was almost unique to Vancouver.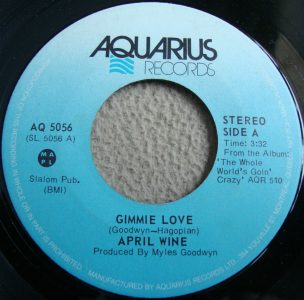 The lyrics offer a scenario of a casual affair where there is some ambivalence between the two parties. There are feelings of being used, a risk of disagreement and losing the desire they've known. The song peaked at #13 in Vancouver. The band had Top Ten success the following year with "You Won't Dance With Me."
April Wine has received eleven Juno Award nominations. Yet, they've lost out on each occasion to other Canadian performing artists. The band continues to perform and between May and November of 2016 April Wine had 28 tour dates. These included bookings in Iowa, Texas, New York, South Dakota, Nevada, Wisconsin, Newfoundland, Nova Scotia, New Brunswick, Ontario, Saskatchewan and Alberta. Of these 28 concerts 13 were sold out. Lead singer, Myles Goodwin, published his memoir called Just Between You And Me.
March 8, 2017
Ray McGinnis
References:
April Wine – History, April Wine.ca
Lauren La Rose, April Wine Frontman Myles Goodwyn Shares Highs and Heartaches in New Memoir, Toronto Sun, December 15, 2016.
Dave Buerster, Brian Greenway, David Henman, Robert Henman, Richard Perrault and Brian White, April Wine, Canadian Bands.ca
For other reviews on this website visit the Countdown.