#1028: Harlan County by Jim Ford
Peak Month: October 1969
7 weeks on CKLG chart
Peak Position #10
Peak Position on Billboard Hot 100 ~ did not chart
In 1941 James Henry Ford was born in Johnson County, in eastern Kentucky. The county was rural, remote and had a history of having its citizens taken advantage of by carpetbaggers and coal companies. After he grew up, Ford lived in Los Angeles and then took up residence in Fort Bragg, California. He developed a fusion of soul, country and folk music. His songs often referenced people dealing with adversity. His songs have been recorded by a host of performers including Aretha Franklin, Dave Edmunds, Patti LaBelle, Tanya Tucker, Billy Preston, Burton Cummings, The Black Crowes, Bobby Gentry and The Temptations. Nick "Cruel to Be Kind" Lowe, from the UK, considers Jim Ford as his most formative musical influence.
In 1967 Jim Ford's composition, "Nikki Hoeky" climbed to #23 on the Billboard Hot 100 and #4 in Vancouver for recording artist P. J. Proby. Ford's other most well known song is "Harry Hippie", which became a Top Ten R&B hit for Bobby Womack in 1973. But when it came to his own releases as a solo recording artist Jim Ford enjoyed only a few regional hits. While "Nikki Hoeky" was climbing the charts for P.J. Proby, Ford released a single called "Linda Comes Running." It got some airplay in San Diego, Fresno and Bakersfield, California. His only other single release was the title track from his album, Harlan County.
Ford's song, "Harlan County," paints a portrait of rural poverty: families raised in shacks, unemployment, working in a coal mine, dreaming of leaving the county and being a vagabond. During the 20th century Harlan County was often a center of labor strife between coal mine owners and workers, especially in the Harlan County War of the 1930s. That "war"consisted of a series of coal mining-related skirmishes, executions, bombings, and strikes. The United States National Guard was called in a half a dozen times between 1931 and 1939 to respond to the civil unrest. During the strike folksinger Florence Reese wrote the labor folk standard "Which Side Are You On." The coal mining industry began to decline in the 1950s and was accompanied by a steadily declining population and depressed economy. Harlan became one of the poorest counties in the United States. In 1976 a documentary, Harlan County USA, concerned labor strife in the county in both the 30s and the 70s. It won the 1977 Academy Award for Best Documentary Feature.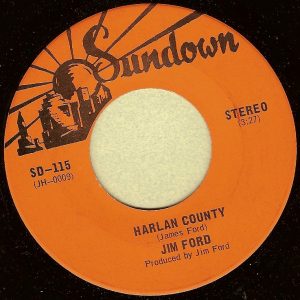 In the back hills of Kentucky I was raised,
in a shack on Big Bone Mountain.
Born into poverty, bathed in misery,
the times I went hungry you can't count 'em.
Where the cold winds blow and the crops don't grow,
a man's tired of livin' when he's twenty.
I was diggin' hard coal at twelve years old,
way down in Harlan County.
Mama tried hard, poor ol' Daddy got tired,
couldn't even get a job with a shotgun.
One winter I was out cuttin' kindlin'
the news came to Mama that morning'.
They had a penny ante poker game down at the junction.
Big Jack caught Daddy cheatin' and he shot him,
over fifteen cents to buy a loaf of bread with.
(Swing low sweet chariot)
We are gathered here today to ask the Lord
To take us out of Harlan County.

Mama married Willie, he stood five-six,
his brother was a shovel and a coal mine pick.
With the heart of a lion and the soul of a man,
he worked twelve hours a day,
seven days ever' week,
forty days ever' month,
diggin' for a bone in a hillside.
Where a little child's dream is a new pair of shoes
to keep its little feet warm in the winter.
But dreams they don't ever come true, I know
way down in Harlan County.
You know what I did folks?
I'm gonna tell ya
I put the shirt on my back
in a brown paper sack
A big piece of my Mama's cold cornbread.
I hit the road Jack, forgot to look back
I walked all the way down to somewhere.
I've been all over this whole wide world,
I've slept on a northwest mounty.
The coldest place, Lord, I've ever seen,
is the hills back in Harlan County.
(Swing low sweet chariot)
Everybody bow their heads in prayer and ask the Lord
to take us out of Harlan County.
Lord won't you please…
let your light shine
let your light shine.
Though Ford's Johnson County was two hours drive north of Harlan County, both counties shared a history of coal strikes, and grinding poverty. But Harlan County was ahead of the pack when it came to being about the poorest county in America. Its reputation was known to Jim Ford who sang about a composite narrative emerging of that county's demographic after World War II. While the song got enough traction in Vancouver to climb to #10 on the charts, it missed the Billboard Hot 100. DJ's in Vancouver may have decided to play list the song, as it was rising to #15 on KHJ in Los Angeles, the week before it became Hitbound on CKLG. However, LA was one of just a couple of radio markets that gave the song a try. "Harlan County" also happened to climb into the Top 20 across the Georgia Strait in Victoria.
His friends included Sly Stone of Sly and the Family Stone. But little information is available online about what Jim Ford was doing for the next thirty years after Bobby Womack recorded "Harry Hippie." Womack did record a couple more of Jim Ford's compositions, including "I'd Be Ahead If I Could Quit While I'm Behind."
In the '80s, Jim Ford disappeared into a haze of drug abuse and erratic behavior. Numerous attempts were made by reporters and others to find Jim Ford out where Jim Ford was living. No one succeeded until April 2006 when he was tracked down to a trailer park in Mendocino County, California, by L P Anderson of Sweden's Sonic Magazine. After becoming a recluse and struggling with a cocaine addiction, Ford had a born again experience and committed his life to Jesus Christ in 2004.
Ford's 1969 album, Harlan County, was released by Bear Family Records, along with 15 more previously unreleased tracks. Together with a 40 page booklet, the 2007 release was titled The Sounds of Our Time. It sold well and discussions began about recording new material. In addition, plans were underway for a charity concert for Jim Ford slated for May 18, 2008, in London, England. Nick Lowe was to be on the roster performing alongside Ford. Unfortunately, on November 18, 2007, Jim Ford was found dead, at the age of 66, in his trailer home by the Mendocino County Sheriff's department.
For other reviews on this website visit the Countdown.