#763: Heartbroken Bopper by The Guess Who
Peak Month: April 1972
8 weeks on CKLG chart
Peak Position ~ #6 (CKVN)
Peak Position on Billboard Hot 100 ~ #47
Originally there was a band in Winnipeg called Al & The Silvertones. The band had some lineup changes and became Chad Allen & The Expressions. In time they changed their name again to The Guess Who ?, with a question mark at the end of their name. They had a hit in Canada in 1965 called "Shakin' All Over," a cover version of the original by the UK's Johnny Kidd And The Pirates in 1960. The Guess Who tried to tour in the UK themselves in 1967 to support their single, "His Girl." However, they didn't have the proper documentation to perform, and "His Girl" only ended up spending one week on the British singles charts.
In the fall of 1967 The Guess Who? were hired as the house band for The Swingers, a local CBC radio show in Winnipeg. They also were hired as the house band for the TV show Let's Go, also on the Canadian Broadcasting Corporation. That show was hosted by their former band-mate, Chad Allan. The group got exposure on the 39 weeks the show aired in both seasons (1967-68 and 1968-69). They performed hits on the Canadian charts like "Touch Me" by The Doors, "Time of the Season" by The Zombies, "You Keep Me Hanging On" by Vanilla Fudge, "White Room" by Cream and "Along Comes Mary" by The Association. They also were able to debut some of their own compositions including "These Eyes," "No Time" and one of their early minor hits, "This Time Long Ago."
(Let's Go also had a separate west coast show out of Vancouver. It was variously hosted by Terry Jacks, Tom Northcott, Mike Campbell and Howie Vickers, and featured appearances by The Seeds of Time, The Shockers, The Northwest Company, The Poppy Family and international stars like Eric Burdon & The Animals).
In the late '60's, The Guess Who? at this time consisted of Burton Cummings (keyboards, guitar, piano) Randy Bachman (guitar), Jim Kale (bass) and Garry Peterson (drums). While the Guess Who were performing weekly on Let's Go they were approached by Jack Richardson, a record producer working at his own record company Nimbus 9. He pitched to the band an idea to join him in advertising recording effort for Coca-Cola. What unfolded was an album called A Wild Pair. One side of the album featured The Guess Who? while the other side were recordings of the Ottawa band, The Staccatos (who shortly afterwards renamed themselves as The Five Man Electrical Band). The album was only available for purchase through mail-order for the price of 10 Coca Cola bottle cap liners and $1 for shipping. Randy Bachman of The Guess Who recalled years later that he thought A Wild Pair may have sold many copies. However, as the LP was sold through this unorthodox mail-order scheme, it was not on the radar of those who certify record sales for albums.
Believing in The Guess Who?, Richardson went into debt to help them record their first studio album in September 1968 called Wheatfield Soul. It was released in March 1969 along with the debut single from the album, "These Eyes." By 1969 the band dropped the question mark in their billing to be known as The Guess Who. In 1969 the band played before one of the biggest crowds at the Seattle Pop Festival. Other headliners on stage at that event were Led Zeppelin, The Doors, The Byrds, The Burrito Brothers, Frank Zappa and The Mothers, Alice Cooper, Bo Didley, Chuck Berry, Ike and Tina, The Chicago Transit Authority.
The Guess Who had a huge international successes into 1970 with "American Woman" topping the charts across North America. The band continued to have chart success with "Share The Land" internationally and with a string of Top Ten hits in Canada. Their 20th Top 20 single on the Canadian RPM charts was "Heartbroken Bopper." It was the bands' 18th Top Ten charting song in Vancouver. However, it was a minor hit in America stalling at #47 on the Billboard Hot 100.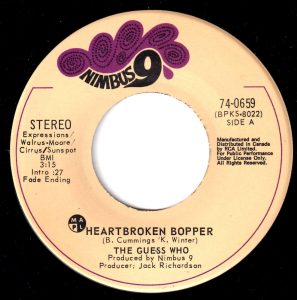 Night school strutter just strutting around.
He can't find work since the band left town.
He can't get up 'cause he can't get down.
Yeah, he's a heartbroken bopper.
Honor roll student graduation day.
Summa Cum Laude is a big okay.
Car wash king is having beans today.
And he's a heartbroken bopper.
Oh, he's a heartbroken bopper.
Rise from the gutters,
there's too much has gone to waste.
Rise with the others,
there's too much is done in haste.
He's a heartbroken bopper.
Oh, he's a heartbroken bopper.
Oh, you're strutting with a heartbroken bopper.
Oh, you're moving with a heartbroken bopper.
Oh you're shucking, heartbroken bopper.
Oh, you're dancing, heartbroken bopper.
Oh, you're moving, heartbroken bopper.
You're rocking with a heartbroken bopper.
A strutting and a-moving with a heartbroken bopper.
Making it, heartbroken bopper.
You've seen better days, heartbroken bopper.
Seen better days, heartbroken bopper.
Bopper is the shortened form of the slang word, teenybopper. A bopper was an adolescent who paid attention to teenage fashions, teen culture and musical trends. While many boppers were girls between ten and fifteen years old, boys could also be teenyboppers. NY Times writer, Ben Zimmer, explored the history of the slang word, 'cool,' in an article in 2010. He noted that around 1952, teenyboppers began to use the word, 'cool,' as a slang for sophisticated, stylish, admirable and/or excellent.
The character in "Heartbroken Bopper," is at the end of his teen years and also at the end of his years of being a legitimate "bopper."He was a member of a band, but the band has left town. Maybe his parents wouldn't allow him to go on tour. In any event, he's graduated and going to night school. Seems he once worked at a car wash, but he's currently unemployed and "can't find work." While he can still dance and strut, he's seen better days. Imagine being maybe just nineteen and having "seen better days." Neil Young once sang in his song, "Old Man," about a guy who is twenty-four years old who considers himself to be a lot like an old man. We don't need to be chronologically old to feel like life has passed us by. I remember having an encounter with a university student in my dorm years ago who was feeling down. When I enquired why he seemed despondent he told me he'd just turned "a quarter of a century old." This fellow in my dorm had, it seemed, also seen better days. The hope for the heartbroken bopper in song by The Guess Who, is that he may dance himself into a new emotional state and aspire to find work and shake off his heartbroken funk.
"Heartbroken Bopper" had it's best chart runs in Salt Lake City at #5, Vancouver (BC), Akron (OH) and St. Louis at #6, Tulsa (OK) at #8 and San Diego at #9.
After "Heartbroken Bopper" was on the charts, The Guess Who went on tour with Three Dog Night in November and December 1972 to Japan, New Zealand, and Australia. Several albums in 1973 failed to deliver hoped for record sales. In 1974 The Guess Who pulled out of their slump with a Top Ten hit across the continent, "Clap For The Wolfman," a tribute to the famed rock 'n roll DJ. However, after their album, Road Food, the band went back into a slump with fans taking a pass on further album releases into 1975-76. Meanwhile, The Guess Who officially split up in October 1975.
Over the decades since their breakup, The Guess Who have performed at reunion concerts and tours. As of October 2017, The Guess Who have thirteen upcoming concerts scheduled between April and November 2018. The current lineup includes original band member of The Guess Who, Gary Peterson.
April 17, 2018
Ray McGinnis
References:
Contributions from John Einarson and Burton Cummings, The Guess Who, Manitoba Music Museum, Winnipeg, MB, 2012 and 2016.
Ivor Levene, Rearview Mirror: Burton Cummings Reflects on The Guess Who New York, NY, June 20, 2016.
Brake, Mike. The Sociology of Youth Culture and Youth subcultures: Sex and Drugs and Rock 'n' Roll. Routledge, Kegan and Paul.
Ben Zimmer, Cool, NY Times, May 30, 2010.
For more song reviews visit the Countdown.