#1127: Lazy Sunday by the Small Faces
Peak Month: June 1968
6 weeks on Vancouver's CKLG chart
Peak Position #15
Peak Position on Billboard Hot 100 #114 (bubbling under the Hot 100)
In 1947 Steve Marriott was born in London, UK, and by the age of 12 he had formed several bands and writing songs influenced by Buddy Holly. In 1960 he was cast as the Artful Dodger in the new musical Oliver! at a theatre in London's West End. In 1963-64 his band, Steve Marriott and The Moments, were a back-up band to headliners The Nashville Teens, The Animals, Georgie Fame and others at concerts in London. Marriott played guitar and was his bands' lead vocalist. After the group disbanded in July 1964 Marriott met bass player Ronnie Lane and drummer Kenney Jones at a club when they were playing with their band, the Outcasts. They added Jimmy Winston on keyboards and began releasing singles, including "Sha-La-La-La-Lee," which went to #3 in the UK in 1966. The Small Faces were part of the British mod subculture, sharp-dressed and absorbed with looks and fashion. The word faces signaled as much, and small was a reference to all of them being no taller than 5'6″.
Later 1966 Ian McLagan took over keyboards for the band. Their live performances were infectious, frenzied and solid. They were compared to the Who, the Animals and the Rolling Stones. With Decca Records the Small Faces had four Top Ten singles in the UK in 1966. "All or Nothing" was a #1 hit that knocked the Beatles' "Yellow Submarine" out of the #1 position. "My Mind's Eye" was a number 4 hit released by Decca without the band's permission. When their contract with Decca expired in 1967, the group switched to Immediate, an independent label founded by former Rolling Stones manager Andrew Loog Oldham.
At a party in 1967 the bandmates were slipped orange slices spiked with LSD. The unintended ingestion was a catalyst to a shift in their musical direction. The Small Faces started to make psychedelic rock. Keyboardist Ian McLagan recalled in a mid-90s interview, "It opened up the doors, really, we started listening to different music at that point." Soon they were releasing singles like their #3 hit in the UK "Itchycoo Park," which went to #1 on CKLG and #16 in the USA.
The Small Faces final album was at the crest of their psychedelic rock experimentation. Ogdens' Nut Gone Flake had a die-cut circular cover that resembled a tobacco tin. Side one of the album included some R&B influenced tracks and whimsical psychedelic pop-soul with "Afterglow" and the album's single "Lazy Sunday." The second side of the album was conceptual based on an original fairy tale about a boy called Happiness Stan with madcap recitations by Cockney comedian Stanley Unwin linking the tracks. Immediate Records issued an ad in the British papers, without the bands knowledge, that was a seen by many readers as a parody of the Lord's Prayer.
Small Faces
Which were in the studios
Hallowed by thy name
Thy music come
Thy songs be sung
On this album as they came from your heads
We give you this day our daily bread
Give us thy album in a round cover as we give thee 37/9d.,
Lead us into the record stores.
And deliver us Ogdens' Nut Gone Flake
For nice is the music
The sleeve and the story
For ever and ever, Immediate
"Lazy Sunday" has a traditional cockney East End of London music-hall sound. This was a working class burlesque style of music popular in Britain from the 1850s to the 1950s. The song was inspired by Marriott's quarrels with his neighbors. The song was stood out as well with its several vocal changes. According to the biography Steve Marriott All Too Beautiful, prior to the songs recording Marriott had a feud with members of the Hollies who complained that he never sang in his own cockney accent. In "Lazy Sunday" Marriott took on the Hollies challenge and sang the majority of the song in a hugely overstated cockney accent. However, for the final bridge and the last two choruses, Marriott sang in his typical transatlantic vocal style. At the end of the song the tune dissolves into birdsong and the sounds of church bells.
A-wouldn't it be nice to get on with me neighbours?
But they make it very clear, they've got no room for ravers
They stop me from groovin', they bang on me wall
They doing me crust in, it's no good at all, ah
Lazy Sunday afternoon
I've got no mind to worry
I close my eyes and drift away-a
Here we all are sittin' in a rainbow
Gor blimey, hello Mrs. Jones, how's old Bert's lumbago? (he mustn't grumble)
(Tweedle-dee) I'll sing you a song with no words and no tune (twiddly-dee)
To sing in your party while you souse at the moon (oh yeah)
Lazy Sunday afternoon, I've got no mind to worry
Close my eyes and drift away.
Root-de-doo-de-doo, a-root-de-doot-de-doy-di
A-root-de-doot-de-dum, a-ree-de-dee-de-doo-dee (doo-doo, doo-doo)
There's no one to hear me, there's nothing to say
And no one can stop me from feeling this way, yeah
Lazy Sunday afternoon
I've got no mind to worry
Close my eyes and drift away
Lazy Sunday afternoon
I've got no mind to worry
Close my eyes and drift a-
Close my mind and drift away,
close my eyes and drift away
Steve Marriott's neighbors clearly felt he was too much of a party animal and they banged on his wall to keep the noise down. Of such feuds came "Lazy Sunday" with its psychedelic paean to an idyllic break from work and the demands of household chores: nothing to do but "close my eyes and drift away." By the mid-60s the emerging counterculture movement of hippies drew from the 50s beatniks emphasis on freedom, anti-authoritarianism, peace and pleasure. Everything from nations going to war and the grind of a nine-to-five working class job was part of a world they didn't want to inhabit. It was more fun to be a raver, to party while people got intoxicated with the moon (and their beverage of choice). The song was an instant hit in the UK and peaked at #2. In Australia it went to #4 in Perth and #3 in Brisbane. It was #2 in Germany and #1 in the Netherlands. But it was not a hit in the USA as it only got enough airplay to bubble under the Billboard Hot 100 at #114. Here in Vancouver "Lazy Sunday" spent six weeks on the CKLG Boss 30 peaking for two weeks at #15.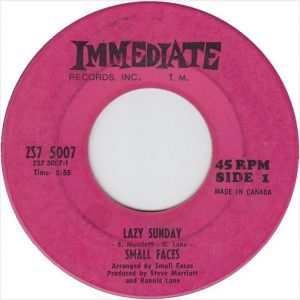 On New Year's Eve 1968 Steve Marriott walked offstage during a Small Faces performance. In the New Year he contacted guitarist Peter Frampton and formed Humble Pie to record blues and boogie music. The remaining bandmates formed the as they were joined by singer Rod Stewart and guitarist Ron Wood. Stewart and Wood had recently left the Jeff Beck Group.
The Faces played a rowdy, brawling brand of rock that could make a large arena seem like a corner bar. Rod Stewart's raspy, soulful vocals and the musicianship of other Faces bandmates made the group a rival live act to the Rolling Stones. Their onstage performances paved the way for punk bands like the Sex Pistols. They also were influences for roots bands decades later like the Georgia Satellites and the Black Crowes.
The Faces made four studio albums with A Nod Is as Good as a Wink… To a Blind Horse in 1971 their biggest seller. Their first hit single, "Stay With Me," went to #6 in the UK, #17 in the USA and #1 in Vancouver. Ronnie Lane left the Faces in the 1973 and formed another band. Rod Stewart gave more attention to his highly acclaimed solo career. Ron Wood joined the Rolling Stones after being drafted as an interim member after Mick Taylor left the Stones. After Keith Moon died in 1979, Kenney Jones joined the Who.
The Faces played their last show in November 1975 and shortly afterward spit up. Steve Marriott died in a fire in his 16th Century cottage in 1991. Ronnie Lane died in 1997 after years of living with multiple sclerosis. Ian McLagan died of a stroke in 2014. Ron Wood currently has his own radio show playing pop music and telling stories about the recording artists he knows. Kenney Jones survived a cancer diagnosis in recent years and continues to make guest appearances performing on stage. Rod Stewart released his twenty-ninth studio album, Another Country, in 2015.
For more song reviews visit the Countdown.