#1095: Listen to Me by One Way Street
Peak Month: February 1967
9 weeks on Vancouver's CFUN chart
Peak Position #16
Peak Position on Billboard Hot 100 ~ did not chart
YouTube.com: "Listen To Me"
One Way Street was a band from Vancouver. According to All Music.com's Stansted Monchifet, "they billed themselves as folk-rockers." Yet, their only single release, on the local Vantown label, was the recording was "Listen To Me" b/w "Tears In My Eyes." The song draws its influences more from Los Angeles' The Seeds, than the Mojo Men's "Sit Down I Think I Love You." Both songs were currently on the CFUN chart while the One Way Street climbed their way into the Top 20. One Way Street featured to smooth, urgent, vocals of Rick Wanzel, guitarist Doug Fairbairn, bass player Greg Johnstone, keyboard player Bob Hirtle and percussionist Jim Warren. Monchifet writes that "the band cut their single at the Vancouver Sound Recording Studio in under an hour." "Listen To Me" spent nine weeks on the CFUN chart and peaked at #16 in February 1967.

"Listen To Me" is not especially original psychedelic rock material, but it was part of a new sound that was populating the charts on CFUN and CKLG. Along with One Way Street in the first few months of 1967 were populated with numbers of psychedelic and garage rock. This included the Electric Prunes with "I Had Too Much To Dream," The Painted Ship with "Frustration," the Blues Magoos with "(We Ain't) Got Nothing Yet," John's Children with "Smashed Blocked," the Beatles "Strawberry Fields," Cream with "I Feel Free" and the Seeds with "Pushing Too Hard."
"Listen To Me" was co-written by bandmates Wanzel and Johnstone. The lyrics express great confidence on the part of the singer that the love he has for his baby is going to last forever. In the haze of initial attraction it seems their is a light shining overhead that is telling the whole world of their love. While it is clear he is hooked on his baby, it is less clear how much she is hooked on him, as he is begging her please. Nor is it clear how long this attraction has been going on ~ a night, a week, a month, a year? If there had been an answer song by a girl group, perhaps the Shangri-las, we could learn how much she was listening to him. But that answer song was never to be.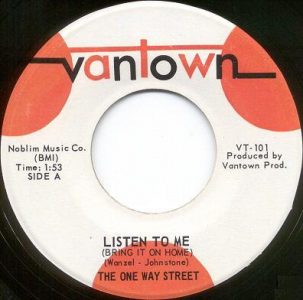 Listen to me baby to what I say
I'm gonna love you 'til my dying day.
Bring all your loving bring it home to me
I see the light shine from above
Telling the whole world of our love
You and me we're gonna last forever.
Bring it home, come on baby I said bring it home
I need your lovin' baby, bring it home, I'm begging you please.
Unexpectedly, "Listen To Me" also got airplay in Dallas, Texas, where it was released on the Paula label. With this fleeting exposure south of the border, Eva Records decided to include both "Listen To me" and "Tears In My Eyes" on the album, Louisiana Punk, Vol. 2! With its Twilight Zone guitar, the b-side, "Tears In My Eyes" evokes the Marketts' "Out Of Limits."
After the One Way Street hit a dead-end in 1968, Wanzel moved to Toronto and became Rick Livingstone. He did an album entitled, Livingstone, I Presume. In the 1980s Livingston went on to form the Pacific Northwest band the Broken Hearts. Lead ax-man Fairbairn graduated to the Ambleside Blues Band. Both sides of the One Way Street single were reissued on the Vancouver Record Collectors' Association's History Of Vancouver Rock, Volume 4.
December 19, 2016
Ray McGinnis
References:
Stansted Monchifet, One Way Street bio, All Music.com
One Way Street, Discogs.com
For more song reviews visit the Countdown.