#872: Little Honda by The Beach Boys
Peak Month: October 1964
7 weeks on Vancouver's CFUN chart
Peak Position #3
Peak Position on Billboard Hot 100 ~ #65
Brian Wilson was born in Inglewood, California, in 1942. In biographer Peter Ames Carlin's book, Catch a Wave: The Rise, Fall, and Redemption of the Beach Boys' Brian Wilson Brian Wilson relates how hearing George Gershwin's Rhapsody in Blue had a huge emotional impact on him. As a youngster, Wilson learned to play a toy accordion and sang in children's choirs. In his teens he started a group with his cousin, Mike Love and his brother, Carl. His named the group Carl and the Passions in order to convince his brother to join. They had a performance at Hawthorne High School, where they attended. Among the people in the audience was Al Jardine, another classmate. Jardine was so impressed with the performance that he let the group know. Jardine would later be enlisted, along with Dennis Wilson to form the Pendletones in 1961. The first song Brian Wilson wrote would become "Super Girl." A demo of the tune was made in February 1962 and would go on to be a Top Ten hit when it was released a year later in 1963. However, their first recording was a doo-wop-surf tune called "Surfin'" in October 1961. It was released in November '61 on the Candix Enterprises Inc. label. The surprise for the group was that the record label had changed the group's name from the Pendletones to the Beach Boys. Consequently, as each time the record was played by a DJ in America, radio listeners were being introduced to the Beach Boys. The name Pendletones was now history.
In 1962, neighbor David Marks joined the group for their first wave of hits with Capitol Records, leaving in late 1963. In 1965, Bruce Johnston joined the band when Brian Wilson retired from touring to focus on writing and producing for the group. The Beach Boys signed with Capitol Records in July 1962 and released their first album, Surfin' Safari, later that year. The album spent 37 weeks on the Billboard album chart, launching the young group known for its shimmering vocal harmonies and relaxed California style into international stardom. The Wilson/Love collaboration resulted in many huge international chart hits. Under Brian Wilson's musical leadership, the band's initial surf-rock focus was soon broadened to include many other themes, helping make The Beach Boys one of America's most successful bands of the 1960's.
The Beach Boys charted 13 Top Ten hits into the Billboard Hot 100 in the '60's. This began with "Surfin' USA" in 1963. The only American pop group in the 1960's who had more songs chart into the Top Ten on the Billboard Hot 100 was The Supremes, who had 18 singles reach that threshold. Though, in Vancouver, The Beach Boys had 23 songs chart into the Top Ten while The Supremes charted 18 songs into the Top Ten in Vancouver on either CKLG or CFUN, making The Beach Boys the top charting American band in Vancouver during the decade.
Among the Top Ten hits The Beach Boys charted in Vancouver were "I Get Around" (#3) "Don't Worry Baby" (#3), Help Me Rhonda" (#2), "Sloop John B" (#2), "Wouldn't It Be Nice" (#1), "Good Vibrations" (#1) and "Barbara Ann" (#2).
In the midst of their string of hits, the Beach Boys charted "Little Honda" in the fall of 1964. It peaked at #65 on the Billboard Hot 100 for the Beach Boys but became an international favorite, rising to #1 in Sweden and #8 in Norway, #15 on Canada's national RPM chart and #44 in Germany. In regional North American charts the Beach Boys' recording was particularly popular in Los Angeles, Washington DC and Minneapolis, where it climbed to #2. It peaked at #3 in Vancouver where it was kept out of the top two spots for two weeks in a row by Elvis Presley's "Ain't That Loving You Baby" and The Zombies' "She's Not There." The Beach Boys "Little Honda" also made the Top Ten at #4 in Richmond, Virgina, #6 in Montreal and #8 in San Jose.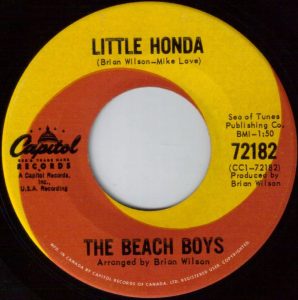 GO!
I'm gonna wake you up early,
'cause I'm gonna take a ride with you.
We're going down to the Honda shop,
I'll tell you what we're gonna do.
Put on a ragged sweatshirt,
I'll take you anywhere you want me to.
First gear (Honda Honda) it's alright (faster faster).
second gear (little Honda Honda) I lean right (faster faster).
Third gear (Honda Honda) hang on tight (faster faster).
Faster, it's alright.
It's not a big motorcycle,
just a groovy little motorbike.
It's more fun that a barrel of monkeys,
that two wheel bike.
We'll ride on out of the town,
to any place I know you like.
First gear (Honda Honda) it's alright (faster faster).
Second gear (little Honda Honda) I lean right (faster faster).
Third gear (Honda Honda) hang on tight (faster faster).
Faster, it's alright.
It climbs the hills like a Matchless,
'cause my Honda's built really light.
When I go into the turns,
lean with me and hang on tight.
I better turn on the lights,
so we can ride my Honda tonight
First gear (Honda Honda) it's alright (faster faster).
Second gear (little Honda Honda) I lean right (faster faster).
Third gear (Honda Honda) hang on tight (faster faster).
Faster, it's alright.
"Little Honda" was a track off the Beach Boys sixth studio album, All Summer Long. The album was preceded by the debut single. "I Get Around." The followup single from the album was "Wendy," backed with a non-album tune titled "She Knows Me Too Well." With a #1 hit in "I Get Around" and a #7 double-sided hit "Wendy"/"She Knows Me Too Well," The Beach Boys were doing their best to stem the British Invasion in 1964.
The track, "Little Honda," was noticed by Gary Usher who had co-written "In My Room" and "409" with Brian Wilson for the Beach Boys. Usher hastily put together some studio musicians including vocalist Chuck Girard, guitarist Glen Campbell and drummer and percussionist Hal Blaine to do a cover version of the song credited to The Hondells. The release of The Hondells cover of "Little Honda" spurred The Beach Boys to release their original version of the song off All Summer Long as a single as well.
The Hondells had the bigger hit in the USA with their cover peaking at #9 on the Billboard Hot 100. In Vancouver, both versions charted together on the CFUN-tastic Fifty.
In the lyrics the Honda is compared to a Matchless. Matchless is one of the oldest marques of British motorcycles, manufactured in Plumstead, London, between 1899 and 1966. A wide range of models were produced under the Matchless name, ranging from small two-strokes to 750 cc four-stroke twins. Matchless had a long history of racing success. A Matchless ridden by Charlie Collier won the first single-cylinder race in the first Isle of Man TT in 1907. "Little Honda" is not a song about riding Harley Davidson's or being a Hell's Angel. Honda's described in the song, "Little Honda," are groovy, little, light and more fun than a barrel of monkeys. Riding a Honda is a way to lean in tight to your sweetheart while you go around the turns. It was a fun way to get oneself to the beach, a park or a soda shop.
Aside from the sunny surf meets motorcycle theme in "Little Honda," 1964 was a year of several significant biker films. The Leather Boys was a British film that also played in North American theaters. It concerned a character named Pete who is a biker and is "homosexual." The film was edgy for its time.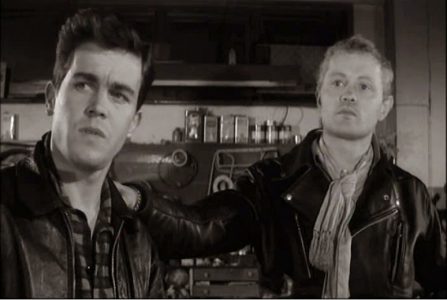 Another biker film in on selected theaters in January, 1964, was the experimental Scorpio Rising, directed by Kenneth Anger. Themes central to the 28-minute film include the occult, biker subculture, homosexuality, Catholicism, and Nazism. The film also explored the adoration of rebel icons including James Dean and Marlon Brando.
The Hondells, who were just studio musicians, had to have an actual band ready to tour once they had a hit with "Little Honda" in the fall of 1964. They appeared on American Bandstand and had a few minor hits into 1966 before disbanding.
The Beach Boys were at the top of their popularity into the mid-60's. They released their hit album, Pet Sounds, in May 1966, with the hits "God Only Knows," "Wouldn't It Be Nice" and "Sloop John B" all doing well on the pop charts, especially in Vancouver. It was their ninth of ten successive albums that made the Top Ten in the Billboard 200 Album charts. 1966 was also the year The Beach Boys had their #1 hit, "Good Vibrations," which was their third #1 hit in three years.
From 1967 onward, The Beach Boys chart successes were sporadic. However, they have continued to tour over the decades. They have had four singles – "Good Vibrations," "California Girls," "In My Room" and "I Get Around" – and one album, Pet Sounds, inducted into the Grammy Hall of Fame between 1994 and 2017. Between November 2, 2017, and June 8, 2018, The Beach Boys have scheduled 49 concert dates across fifteen states.
November 7, 2017
Ray McGinnis
References:
The Beach Boys – About, The Beach Boys.com
The Leather Boys, British Lion-Columbia, London, UK, 1964.
Scorpio Rising, Kenneth Anger, 1963.
Larkin, Colin. The Encyclopedia of Popular Music. Groves Dictionaries Inc., Oxford, UK, 1998.
Matchless Motorcycles, Classic British Motorcycles.com
For more song reviews visit the Countdown.