#1003: Me And My Arrow by Nilsson
Peak Month: April 1971
6 weeks on CKVN chart
Peak Position #6
Peak Position on Billboard Hot 100 ~ #34
Harry Edward Nilsson III was born in the Bedford-Stuyvesant neighborhood of Brooklyn, New York, in 1941. His dad, Harry Edward Nilsson Jr. was raised by parents who were performers in the Swedish circus who did aerial ballet. When he was three years old, his dad deserted the family. Nilsson referred to this in his song, "1941," years later: Well, in 1941, the happy father had a son/And in 1944, the father walked right out the door…. Nilsson's song would be covered in 1968 by Vancouver singer-songwriter, Tom Northcott. Being raised by a single mother, along with his half-brother, Nilsson began work as a child to help pay the rent. His mom moved the family to southern California, and Nilsson got work at the Paramount Theatre in LA. After that he worked in banks on computer systems while pursuing a singing career during off-hours.
Nilsson started to get attention in the music industry for his songwriting, including high praise from Little Richard. In 1964, Nilsson co-wrote three songs with Phil Spector. In 1966 Nilsson released a debut album. His reputation as a songwriter spread and his songs were recorded by Glen Campbell, Fred Astaire, The Shangri-Las, The Yardbirds and The Monkees. Later that year, Nilsson signed with RCA Records and in 1967 released an album the following year, Pandemonium Shadow Show.
In 1968 his album, Aerial Ballet, had a track of Nilsson's cover of a Fred Neil song called "Everybody's Talkin'." Nilsson's version became a Top Ten hit in 1969 when it was included in the soundtrack for the movie Midnight Cowboy. Nilsson's recording later won him his first Grammy Award in the category of Best Contemporary Vocal Performance. Aerial Ballet also included a song he wrote called "One." The tune was subsequently covered by the pop group, Three Dog Night, who made it a Top Ten hit in North America. ABC TV also approached Nilsson to write and record the theme song for a new TV show called The Courtship of Eddie's Father, based on the novel by Mark Toby.
With all these accolades, Nilsson next embarked on writing and producing the soundtrack to an animated film called The Point! Nilsson created the story with animation director Fred Wolf. The film was aired on ABC on February 2, 1971, and billed as the ABC Movie of the Week.
The Point! is a fable, a fictional, mythical story with a moral to the story. Its subject was a boy named Oblio who was the only round-headed person in the Pointed Village. In the village there was a law that everyone and everything had to have a point. Harry Nilsson recalled some time after the film was aired, "I was on acid, and I looked at the trees and I realized that they all came to points, and the little branches came to points, and the houses came to point. I thought, "Oh! Everything has a point, and if it doesn't, then there's a point to it."
In the fable, the round-headed Oblio has had to wear a pointed hat since birth to conceal his "pointless" condition from his pointy-headed peers. However, Oblio is accepted in the town despite his nonconformity until one day when the son of an evil Count in the land is unwittingly dishonored by Oblio. The Count's son challenges Oblio to a one-on-one game of Triangle Toss. In the game participants have to catch the triangle on their heads, and Oblio wins. In a fit of rage, the Count confronts the good-hearted but timid King to reenforce the law of the land. It states that those who are pointless must be banished from the kingdom and into the Pointless Forest. A jury reluctantly convicts both Oblio and his dog Arrow, who helped him win the Triangle Toss. This leaves the timid king no choice but to send Oblio and Arrow away.
Once they are in the Pointless Forest, Oblio and Arrow notice that even the Pointless Forest has a point. They meet curious creatures like giant bees, a "pointed man" pointing in all directions who proclaims "A point in every direction is the same as no point at all", a man made of rock, three dancing fat sisters, and the man made out of leaves who helps Oblio see that everyone has a point, though it might not be readily displayed.
Oblio and Arrow spend the night in the Pointless Forest, then awaken to a large stone hand with the finger pointing to their destination. They take the road indicated by the hand and make their way back to the Land of Point. Once there they receive a hero's welcome from the land's citizens, and the King. The hit single from the film, "Me and My Arrow," is actually a song about Oblio and his dog Arrow. In the animated film Ringo Starr and Dustin Hoffman are among the voice cast for the animated cartoon characters. "Me And My Arrow" climbed into the American Top 40 peaking on the Billboard Hot 100 at #34. In Vancouver the song peaked at #6 on CKVN.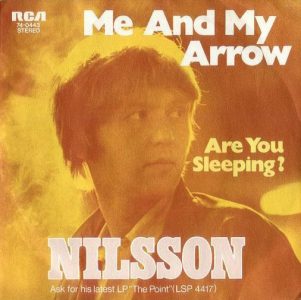 Me and my Arrow
straighter than narrow
where ever we go
everyone knows
it's me and my Arrow
Me and my Arrow
taking the high road.
Where ever we go,
everyone knows,
it's me and my Arrow.
And in the morning when I wake up
she may be gone,
I don't know.
And if we make up just to break up,
I'll carry on,
oh yes I will.
Me and my Arrow
straighter than narrow.
Where ever we go,
everyone knows,
it's me and my Arrow.
Me and my Arrow
Me and my Arrow
Me and my Arrow
Me and my Arrow
Me and my Arrow.
Me and my Arrow,
straighter than narrow.
Where ever we go,
everyone knows,
it's me and my Arrow.
Later in 1971, Nilsson flew to England with producer Richard Perry. Once there, they recorded his next album, Nilsson Schmilsson. On the album was Nilsson's rendition of a Badfinger song, "Without You." It became a huge international #1 hit single. The second single from the album was "Coconut." This was a novelty calypso number involving four characters: the narrator, the brother, the sister, and the doctor. Each character's voice was sung by Nilsson, all in different voices. But after "Coconut" Nilsson almost completely dropped off the radar for most radio listeners. He would release 23 more singles, but only one would crack the Top 30 in the USA, and nineteen of these failed to crack the Billboard Hot 100. He would release nineteen albums between 1966 and 1980.
Nilsson preferred to pursue his music artistically and was not drawn to making commercial hits. He also retreated from the public spotlight. But he was deeply affected by the murder of his good friend, John Lennon, on December 8, 1980, near Central Park. Nilsson got involved with the Coalition to Stop Gun Violence and appeared at a number of fundraisers in support of gun control legislation. Nilsson also started up a production company, Hawkeye, in the mid-80s dedicated to TV and other media projects. The company wound down by the end of the decade. More troubling, in 1990, Nilsson discovered he was almost penniless after he found out his financial adviser, Cindy Sims, had embezzled all the funds he'd earned over his recording career.
On September 1, 1992, Nilsson made his final concert appearance at Caesar's Palace in Las Vegas, when he joined Ringo Starr & His All-Starr Band on stage to sing "Without You." Todd Rundgren was also on stage and sang the high notes in the song.
On February 14, 1993, Nilsson had a massive heart attack. The health crisis galvanized Nilsson to persuade RCA to release a boxed-set of his recordings which RCA would release in 1995 as Personal Best: The Harry Nilsson Anthology. Nilsson returned to the recording studio and began to produce a new album in hopes of a comeback. Though he finished the vocal tracks for the album, on January 15, 1994, Nilsson died of heart failure. He was 52 years old.
For more song reviews visit the Countdown.