#768: I Need Somebody by ? (Question Mark) And The Mysterians
Peak Month: December 1966
7 weeks on Vancouver's CKLG chart
Peak Position #3
Peak Position on Billboard Hot 100 ~ #22
Rudy Martinez was born in Texas and was a dancer on the Arthur Murray show. In the late 50's and early 60's Martinez performed at the county fairs and the Shriners' shows. He recalls, "everybody liked the way I danced." He and his buddies formed a band in Saginaw, Michigan, in 1962. They called themselves Question Mark and the Mysterians. The name, question mark, was rendered on their record labels as a ? The group's name was inspired by a Japanese science fiction movie from 1957 titled The Mysterians. The films plot concerned aliens from the obliterated planet, Mysteriod, come to Earth in order to conquer it. The trailer for the movie warned "from behind the moon they come. But what do they want? The Mysterians tell the earthlings that they come in peace. However, the world leaders decide to declare war on the Mysterians, certain they have come to abduct the women. The movie's trailer invited movie-goer's to come and "join mankind's most treacherous battle for survival." ? and the Mysterians played their first concert at a Greek Orthodox Church in Saginaw. Rudy Martinez was compared to Mick Jagger in the local papers by 1965.

? and the Mysterians were the first Latino band in America to have a #1 hit record. Their debut single in 1966, "96 Tears," went to #1 in the fall of the year and sold over a million copies. Guitar player, Bobby Balderrama, was born in O'Donnell, Texas. Bass player, Frank Lugo, as well as Robert and Rudy Martinez, were also from Texas. Original band members, Larry Borjas and Robert Martinez were drafted into the United States Army and were replaced by bass guitar player, Frank Lugo, and drummer Eddie Serrato. Joining the band last of all was 14-year-old keyboard player, Frank Rodriguez. The keyboards were what drove the proto-punk organ riffs in "96 Tears." Rudy Martinez actually changed his legal name to ? (not question mark, but ?). ? wrote the lyrics to "96 Tears" which is said to have originally been titled "69 Tears," but changed to "96 Tears" in order to not have the record banned by radio stations. Though, on the record label the song was credited to "R. Martinez." "96 Tears" was recorded on March 13, 1966, on a house porch in Bay City, Michigan.
In concert ? and the Mysterians appeared with ? always wearing sunglasses, like the alien Mysterians from the 1957 Japanese science fiction film. ? wore sunglasses at concerts, in live TV interviews and wherever he appeared. ? and the Mysterians appeared in package tours organized by Dick Clark with the Beach Boys, the Four Seasons, Jay & The Americans and the Mamas & the Papas. "96 Tears" was the #5 song of the year on the Billboard Top 100 for 1966.
"I need Somebody" was a follow-up hit to "96 Tears." It peaked at #22 on the Billboard charts and #3 in Vancouver and Fresno (CA), #4 in Jacksonville (FL), San Diego and Hamilton (ON), #5 in Miami, Charleston, West Virginia, and Hartford (CT), #7 in San Antonio (TX), and #8 in Los Angeles and Cincinnati (OH).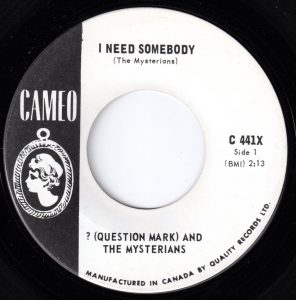 Alright, yeah, c'mon now, that's right child, yeah, alright
I need somebody to help me out
I need somebody to work it out
C'mon and help me
C'mon and help me.I need somebody to work it out,
yeah yeah, alright
I have a love, oh so strong
I have a love, can't go wrong
I need somebody to help me out
I need somebody just like you
Whoo!
I need somebody to help me out
I need somebody to work it out baby, that's right
C'mon and help me
C'mon and help me
I need somebody to help us out
Yeah yeah, yeah, alright.I have a love, that's no one's love.
I have a love, that can make love
I need somebody to keep us tight,
I need somebody that we can trust.

I need somebody, yeah right now baby
By my side, yeah man, all day, night long.
I need somebody
I want. I need.
So guide my woman now
I need somebody,
(Listen out there).
"I Need Somebody" is a song full of swagger as the singer boasts about the kind of love he can offer somebody. He has a love that's "strong" and "can't go wrong." He has a love and knows he can make love. With all this potential, he needs somebody, not tomorrow, but right now, to help him out and work it out. Time is of the essence. He wants a woman to be guided to show up and be the object of his love. In the early 80's Foreigner had a hit titled "Urgent." The song, like "I Need Somebody," is about being in the moment and capitalizing on feeling full of desire and wanting somebody to meet that desire. In the case of "I Need Somebody," much as he's ready, willing and able, so far no woman has been guided to be by his side. So he waits in restless anticipation, still in need of somebody to show up. The song was written by the band members.
Electric organ player, Frank Rodriguez, decided to do a brief refrain of the nursery rhyme, "Mary Had A Little Lamb," in the middle of the song. Rodriguez had seen Stevie Wonder in concert and Wonder famously did a riff of the nursery rhyme in the middle of his #1 hit from 1963, "Fingertips Pt. 2."
After "I Need Somebody," Cameo records and 23-year old record executive, Neil Bogart, had other ideas for ? and the Mysterians. Bogart put pressure on the band to record "Can't Get Enough Of You Baby." This was a track off an album by The Toys of "A Lover's Concerto" fame in 1965. Bogart, who had his own brief recording career under the stage name of Neil Scott, believed in the old paradigm of recording songs by songwriters who were from a publishing house. But the song had an unremarkable short-lived chart run in early 1967. A fourth single, "Girl (You Captivate Me)" featured the band on American Bandstand on June 10, 1967. The lead singer, ?, sang "girl, you masterbate me," instead of "girl, you captivate me." People in the studio thought ? was singing "girl, you masticate me," or chew on me. In any event, when the song was played on the radio, station managers soon banned the song. A fifth single release, "Do Something To Me," failed to break into the Billboard Hot 100. This was due to Cameo Records financial woes that ended with the companies collapse in September 1967. "Do Something To Me" was covered by Tommy James and the Shondells in 1968. With another record failing to get proper promotion and their record label biting the dust, ? and the Mysterians went in search of another record label.
On November 12, 1967, reporter Sara Smith wrote a story about the band in the Saginaw News. She told about ?'s biggest challenge in concerts being girls trying to take off his glasses. In early 1968 the band got a record deal with Capitol, but their single release was a commercial failure. Michigan Rock 'n Roll Legends website writes that ? was arrested with a two others for sniffing glue. The fallout from the incident lost the band their promoter and as glue sniffing was considered "uncool," the band was written off by numbers of media commentators. In 1969 keyboard player, Frank Rodriguez got to meet Ray Charles and the band recorded a fine cover of Fats Domino's "Ain't That A Shame." But the album was never released.
A number of original band members left. Several record labels later and no commercial success, the band folded in the early 70's. The original crew had a reunion in Dallas in 1984. The live concert resulted in an album that was released titled 96 Tears Forever: The Dallas Reunion. In the late 1990's, Michigan Rock 'n Roll Legends reports that ?, Bobby Balderamma, Frank Lugo, Robert Martinez and Frank Rodriguez reunited to appear in concert in Bay City and Saginaw, Michigan. In 1998 ? did a live concert in Coney Island, New York. A live album, Do You Feel It Baby?, was released with rave reviews by Rolling Stone Magazine. To this day ? never appears without his sunglasses. In the 2010's guitar player, Bobby Balderama, made a part fiction, part documentary titled ? & The Mysterians The Movie: It's A Crazzy World. The band maintains a website titled 96tears.net. As for ?, he is known for being eccentric and having surprising views about world events and his extra-planetary origins.
April 10, 2018
Ray McGinnis
References:
Sue White, Fifty Years Later Question Mark and the Mysterians as Mysterious as Ever, Mlive.com, Saginaw, Michigan, October 13, 2012.
Ishirō Honda, The Mysterians – Trailer, Toho Productions, 1957
? and the Mysterians – bio, Michigan Rock 'n Roll Legends.com.
96 Tears, Pharaohweb.com
Billboard Top 100 of 1966, Wikipedia.org
Robert Lee Balderamma, ? & The Mysterians The Movie: It's A Crazzy World
96tears.net
Mark Jacobsen, '96 Tears' Singer Question Mark on Predicting 9/11 and Katrina, His Beef with Bob Dylan and the So-Called Planet Mars, Vulture.com, July 30, 2010.
For more song reviews visit the Countdown.