#929: Who Needs It by Gene Pitney
Peak Month: February 1964
8 weeks on Vancouver's CFUN chart
Peak Position #11
Peak Position on Billboard Hot 100 ~ #118
Gene Pitney was born in 1940 in Hartford, Connecticut. He was a songwriter who became a pop singer, something rare at the time. Some of the songs he wrote for other recording artists include "Rubber Ball" for Bobby Vee, "He's A Rebel" for The Crystals and "Hello Mary Lou" for Ricky Nelson. Pitney was more popular in Vancouver than in his native America. Over his career he charted 14 songs into the Top Ten in Vancouver, while he only charted four songs into the Top Ten on the Billboard Hot 100. Curiously, only two of these songs overlap: "(The Man Who Shot) Liberty Vallance" and "I'm Gonna Be Strong." Surprisingly "Only Love Can Break A Heart," which peaked at #2 in the USA, stalled at #14 in Vancouver, and "It Hurts To Be In Love" stalled at #11 in Vancouver while it peaked at #7 south of the border.
Pitney fronted a doo-wop group in his teens at high school called Gene & The Genials and for his next group called The Embers. He was influenced by the doo-wop group, The Crows, and by R&B singer Clyde McPhatter who was the lead singer for The Drifters.
(Signed to songwriter Aaron Schroeder's newly formed Musicor label in 1961, Pitney scored his first chart single, which made the Top 40, the self-penned "(I Wanna) Love My Life Away," on which he played several instruments and multi-tracked the vocals. He followed that same year with his first Top 20 single, the title song from the film Town Without Pity starring Kirk Douglas. Written by Dimitri Tiomkin and Ned Washington, the song won a Golden Globe Award and was nominated for an Academy Award for Best Song, but lost the award to "Moon River." Pitney performed the song at the Oscars ceremony on 9 April 1962 (honoring the film year of 1961).
Pitney is also remembered for the Burt Bacharach–Hal David song "(The Man Who Shot) Liberty Valance," which peaked at No. 4 in 1962. Though it shares a title with a 1962 John Ford western with the same title, The Man Who Shot Liberty Valance, starring John Wayne, the song was not used in the film because of a publishing dispute between Famous Music and Paramount Pictures).
Pitney's highest-charting hit in the USA, "Only Love Can Break a Heart," was kept out of the #1 position by The Crystals recording of Pitney's composition, "He's A Rebel." While he enjoyed a string of Top 40 hits in both Canada and the USA between 1961 and 1965, his star began to fade. Pitney was very much identified with the Brill Building sound and increasingly seen as a pre-British Invasion pop singer out of step with the times. One of the Top 20 hits Pitney enjoyed in Vancouver in 1964 was "Who Needs It."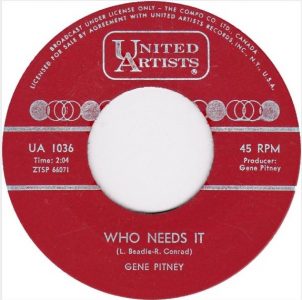 A girl is a thing that'll take all your dough.
Who needs it?
A girl in your arms is a terrible woe.
Who need it?
She'll take all your dough,
then away she'll go, ow ow.
Who needs it?
Nobody needs it as much as I need it now.
A girl never goes where you want her to go.
Who needs it?
A girl never shows when you want her to show.
Who needs it?
She'll give you a date,
then she'll make you wait and how.
Who needs it?
Nobody needs it as much as I need it now.
Hey girl, hey girl, hey girl, hey girl.
Hey girl come on, hey girl come on,
Hey girl I need you now.
Hey girl you're the devil with an angel face.
Who needs it?
You'll give me the eye,
then you'll lead me a chase.
Who needs it?
You'll give me the eye
then away you'll fly, ow, ow.
Who needs it?
Nobody needs it as much as I need it now. (repeat verse)
"Who Needs It" is a song about how incomprehensible men can find women. In his 1992 book, Men Are from Mars, Women Are from Venus, John Gray, asserts that most common relationship problems between men and women are a result of fundamental psychological differences between the sexes, which the author explores by way of a metaphor: that men and women are from distinct planets—men from Mars and women from Venus. When a man talks to a woman, or when a woman talks to a man, they can come away shaking their heads and wondering "what planet is he/she on?" Being from different planets suggests that there are different cultures and ways of communicating. When a woman does or says one thing, her boyfriend of husband may take from it a different meaning and vice-versa. Gray discusses a common frustration men have with women. This is when the female mentions a problem they are having and the male offers solutions to the problem(s). Meanwhile, the female often won't be interested in solving the problem. They want to be understood and just talk about the problem.
In 1964, "Who Needs It," in a pre-feminist world, characterizes potential girlfriends as unreliable when it comes to showing up on time to be somewhere, flirtatious but not serious about a relationship and typically expecting you to spend lots of your hard-earned money on her. Pitney's tune likely set up some guys to have expectations of dates as a nuisance. Nonetheless, that darned sexual attraction overrides everything, since Pitney sings "Who needs it? Nobody needs it as much as I need it now." It might have surprised the narrator of Pitney's song to learn what his girlfriends thought of him. They might have thought he was a catch, or they might have been thinking to themselves as well, "who needs it?"
Pitney had several more songs reach the Top 40 on the Billboard Hot 100. "It Hurts To Be In Love" peaked at #7 in the USA and #11 in Vancouver. "Last Chance To Turn Around" peaked in the USA at #13 and #7 in Vancouver, while in 1968, "She's A Heartbreaker," reached #16 on the Billboard charts and #5 in Vancouver. After that Gene Pitney faded from view, at least in North America. In 1974 he had a #2 hit with a song called "Blue Angel" in Australia (this was not a remake of the Roy Orbison hit from 1960). Pitney's last hit on the UK charts came in 1989, after an absence of 15 years, when he and Soft Cell singer Marc Almond recorded a duet version of "Something's Gotten Hold of My Heart" by British writers Roger Cook and Roger Greenaway. The song had been a UK No. 5 for Pitney in 1967. The duet brought him his first UK No. 1, in late January 1989. The single remained at the top for four weeks, and also went to #1 elsewhere in Europe.
Pitney died of a heart attack in 2006, at the age of 66.
August 17, 2017
Ray McGinnis
References:
Gene Pitney bio, Gene Pitney.com
Adam Sweeting, Gene Pitney: Chart-topping Singer and Songwriter Whose Quavering Tenor Won him a Loyal Fan Base, The Guardian, London, UK, April 6, 2006.
"Hello Mary Lou," Song Facts.com
Gene Pitney, Rock and Roll Hall of Fame.com
Alex Petridis, Life After Tulsa, The Guardian, London, UK, 2003.
Grey, John. Men Are from Mars, Women Are from Venus. HarperCollins, New York, NY, 2002.
For more song reviews visit the Countdown.