#869: A Question Of Temperature by The Balloon Farm
Peak Month: April 1968
8 weeks on Vancouver's CKLG chart
Peak Position #7
Peak Position on Billboard Hot 100 ~ #37
Before The Balloon Farm formed, Don Henny and Ed Schnug first played together in a band called Adam, which made one single for the Mala label entitled "Eve" in 1966. Adam's gimmick was that all four members of the group adopted the first name of Adam: Adam Taylor, Adam Dawson, Adam Schnug and Adam London. After the band named Adam disbanded, Henny and Schnug were joined by Mike Appel and Jay Saks and adopted the name The Balloon Farm. They took the name from a New York City nightclub.
The Balloon Farm nightclub was located at 19-25 St. Marks Place between Second and Third Avenues in the East Village neighborhood of Manhattan. The cavernous ballroom space with a balcony originally consisted of four buildings built in 1831 as townhouses. When the neighborhood gradually became the heart of Little Germany, with a population of German immigrant workers, #19 and 21 were purchased in 1870 by the Arlon Club, a German music society, for their clubhouse. The club moved, and a real estate developer bought 19, 21, and 23 between 1887–1888 and merged them into a ballroom and community hall called Arlington Hall, which hosted weddings, dances, political events and union meetings, among many other events. In 1914 a shootout between "Dopey" Benny Fein's Jewish gang and Jack Sirocco's Italian mob took place in the hall. During the 1920s, the buildings were bought by the Polish National Home, which combined them with 25 St. Marks Place for use by Polish organizations and a Polish restaurant.
By the 1960s, the bohemianism and nightlife previously associated with New York's Greenwich Village was growing in what would later be called the East Village. The Polish National Home was turned into the Dom Restaurant – the name came from the Polish for "home." It was derived from Polski Dom Narodowy ("Polish National Home") – with Stanley Tolkin's "Stanley's Bar" – where The Fugs played in the mid-1960s – downstairs, slightly below street level. Then in 1966 artist Andy Warhol and Paul Morrissey – who directed many of Warhol's films, and who for awhile managed the Velvet Underground – sublet the ballroom and turned the Dom into a nightclub. The Velvet Underground was the house band, and their performances under Andy Warhol's influence were accompanied by many light effects with the added touches of projected movies and projected photographs, all going on at the same time. The experience was called the "Exploding Plastic Inevitable." Later in 1966 the club was briefly called the Balloon Farm. Later in 1967, under new management, the club was renamed The Electric Circus nightclub.
Mike Appel was born in the neighborhood of Flushing in Queens, New York, in 1942. By 1956 he had learned how to play guitar and formed a band called The Humbugs. The Humbugs appeared on a local TV show in 1957 named Connecticut Bandstand, out of New Haven on WNHC-TV. The Humbugs got a record deal in 1960 with 20th Century Fox and cut a few singles. Around 1963 the band changed its name to the Camelots and kept a busy concert schedule in New Jersey and New York. They opened for headliners like Freddie "Boom Boom" Cannon, Brian Hyland, Jay & the Americans, The Marvelettes and Little Peggy March. Appel subsequently played in the bands Tex & Chex and the Un-For-Given.
In early 1967 Mike Appel met Don Henny and Ed Schnug who invited him to join a band. Appel was familiar with the club over on 25 St. Marks Place, including its brief stint as The Balloon Farm, a name he liked.
The Balloon Farm's first single was "A Question of Temperature," which was released in October 1967. First pressings of the 45 rpm single contained a typographical error that rendered the title as "A Question of Tempature." The song climbed the Billboard Hot 100 and in February 1968 peaked at #37. Vancouver radio listeners liked the tune and sent it to #7 in April of 1968 as they bought copies at A&B Sound, Sam the Record Man and other local record stores.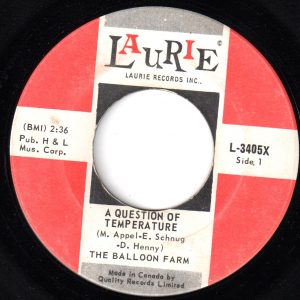 There's a sudden rise in the mercury,
there's a thumpin' in my heart, it just had to be.
Heat wave, hurricane, whirling in my head,
cool disposition, just hanging by a thread.
Is it a question of love? Huhhhhhhhhh!
Is it a state of mind? No, no, no, no.
It's a question of, it's a question of, it's a question of,
it's a question of, of temperature, yeah.
I wake up in the morning,
go to sleep at night with the fever.
She says "I won't hang you up,"
and I say "baby I believe ya."
Is it a question of love? Huhhhhhhhhh!
Is it a state of mind? No, no, no, no.
It's a question of, it's a question of, it's a question of,
it's a question of, of temperature, yeah.
I'll tell it like it is, girl you gotta keep your distance,
'cause the doctor says I've got a very low resistance.
Non-stop elevator pushing to the top,
no second chance for a temperature drop.
Is it a question of love? Huhhhhhhhhh!
Is it a state of mind? No, no, no, no.
It's a question of, it's a question of, it's a question of,
it's a question of, of temperature, yeah.
Do you wanna set me on fire…
"A Question Of Temperature" featured overstated, descending organ swirls, massive fuzz guitar snarls and crackled with fevered vocals reflecting the lyrics narrative with the singer's "cool disposition jus' hangin' by a thread." Strains of controlled, borderline-feedbacking guitar stream by in narrow impressionist wisps that almost seem backwardly masked but aren't. The chorus comes in with the first line of inquiry, "Is it a question of love?," and gets punctuated with a tremendously echoed and sneered "Huhhhhhhhhh!" as though contemptuously shrugging off any answer and the entire world with it in hurt teen bravado. The circumstances at play in the song describe a physical reaction of sexual attraction. The condition of the guy in the song includes a rise in body temperature, an increased heart rate, a hurricane-force swirling in his head (well beyond just feeling dizzy). This guy needs the girl he feels an attraction for to keep her distance. This is 'cause his resistance level is low, she's such a "looker." It's more a question of lust than of love. The Balloon Farm's sickness in question is something no doctor could ever cure. But in 1967 you couldn't get a song on Top 40 radio to ask "Is it a question of lust?"
"A Question Of Temperature" was co-written by bandmates Mike Appel, Don Henny and Ed Schnug. Appel recalls that immediately they sensed there was contagious about the song. It was unique, edgy, catchy and commercial. "When you don't have preconceived notions about how to go about something, you sometimes fall into a very creative state and do things you could not have done if you had been musically trained," reflects Mike. "All of us loved music, but none of us were trained. Thank God!" Regarding the recording of the song, Appel recalls "We used a Theremin because the Beach Boys did in 'Good Vibrations.' Brian Wilson used it melodically, we used it like wackos! I sung lead, background, and played lead guitar." Regarding the volume swells on the bridge section of the tune, Mike Appel reveals, "It wasn't a volume pedal, I moved the volume up and down by moving the volume knob on the guitar itself while I picked out the notes of the 'volume guitar solo'. The volume knob was moved by my right hand's pinky and the thumb and index finger of my right hand plucked the individual notes out. The left hand obviously had to depress the correct notes as well."
The band appeared on American Bandstand. In addition to its Top Ten charting in Vancouver, the song went to #1 in Grand Rapids, Michigan, and Billings, Montana, #2 in Canton, Ohio, and Fresno, California, #4 in Buffalo, New York, #5 in Louisville, Kentucky, and Oklahoma City, Oklahoma, #6 in Kansas City, Missouri, and Calgary, Alberta, and #7 in Spokane, Washington. In the years since has become something of a garage-psychedelic rock n' roll classic.
After the single's release the Balloon Farm went on a midwestern USA tour as part of the "Spring Cavalcade of Stars" package tour along with the Box Tops, Sly & the Family Stone, John Fred & His Playboys, and the 1910 Fruitgum Company.
The follow-up single "Hurry Up Sundown" flopped, and the Balloon Farm was dropped by Laurie before it was able to record an entire album. (The song was later covered by Bruce Springsteen). The B-side, "Farmer Brown," got some chart action in Ohio, Michigan, Wisconsin and New Glasgow, Nova Scotia. One of the Balloon Farm's unreleased songs, "Sunshine Rides on a Trolley," was covered by Australian pop singer, Robbie Snowdon, who had a minor hit with the tune in 1967. Later in 1968, the Balloon Farm resurfaced under a new name, Huck Finn. They recorded one single as Huck Finn for the Kapp label titled, "Two Of A Kind" Shortly after, the band broke up.
The Balloon Farm's recording producer, Peter Schekeryk, became Melanie's manager and husband at the time she recorded "Lay Down (Candles In The Rain)." Mike Appel became a producer and songwriter for the heavy metal band, Sir Lord Baltimore, in the late 1960's. After co-writing "Doesn't Somebody Want to Be Wanted" for The Partridge Family, Appel became Bruce Springsteen's first manager and co-produced Springsteen's breakthrough 1973 album, Born To Run. Don Henny did some songwriting for the Apple Pie Motherhood Band. Ed Schnug is believed to be deceased.
The former member of The Balloon Farm who has gone on to be most acclaimed is Jay David Saks. He went on to work as a producer in RCA's Red Seal divisi with its focus on classical music. From there Saks became a vice-president and executive producer at Sony BMG. Later he was appointed music producer at the Metropolitan Opera. In the spring of 2017 Saks was the music producer for the Richard Wagner opera, Der Fliegende Holländer, at the Metropolitan Opera. On November 28, 2017, the nominees for the 2018 Grammy Award were published. Under the category for Best Opera Recording, one of the five nominees was a recording of the opera, Lulu, by the Austrian composer Alban Berg: Lothar Koenigs, conductor; Daniel Brenna, Marlis Petersen & Johan Reuter; Jay David Saks, producer (The Metropolitan Opera Orchestra). On January 28, 2018, Jay David Saks received his 14th Grammy Award when The Metropolitan Opera Orchestra won Best Opera Recording.
"A Question Of Temperature" has been covered by a number of recording acts including Brownsville Station and The Lords Of The New Church.
The Balloon Farm was among a number of late 1960's American bands that were part of the psychedelic rock phenomenon. Other American psychedelic rock bands included The Electric Prunes "I Had Too Much To Dream" (#3 Vancouver/#11 Billboard), The Count Five's "Psychotic Reaction" (#1 Vancouver/#5 Billboard), The Knickerbockers "Lies" (#6 Vancouver/#20 Billboard), The Castaways "Liar Liar" (#4 Vancouver/#12 Billboard), The Seeds "Can't Seem To Make You Mine" (#2 Vancouver/#41 Billboard), Canned Heat's "On The Road Again" (#2 Vancouver/#16 Billboard), Blue Cheer's "Summertime Blues" (#4 Vancouver/#14 Billboard) and Jefferson Airplane's "White Rabbit" (#1 Vancouver/#8 Billboard). Vancouver record buyers consistently helped these and other recording artists releasing psychedelic rock tunes climb higher on our local charts than in their native country of America.
November 10, 2017
Ray McGinnis
References:
Mike Stax, A Sudden Rise in the Mercury: The Story of the Balloon Farm, Mike Appel.com.
Metropolitan Opera Radio Broadcast: Der Fliegende Holländer,Opera News.com, April 2017, Vol. 81, No. 10.
Sam Barsanti, Here are the winners from the 60th annual Grammy Awards, AV Club.com, Chicago, IL, January 28, 2018.
Legendary Rock Clubs of NYC, Right Here NYC.com
For more song reviews visit the Countdown.