#1194: Rock 'N' Roll (I gave you the best years of my life) by Terry Jacks
Peak Month: January 1975
6 weeks on CKLG chart
Peak Position #17
Peak Position on Billboard Hot 100 ~ #97
YouTube.com link: "Rock 'N' Roll (I Gave You the Best Years of My Life)"
"Rock 'N' Roll (I Gave You the Best Years of My Life)" lyrics
Terrence Ross Jacks was born in Winnipeg, Manitoba, in 1944. March 29, 1944, Winnipeg, Manitoba. During his career as a recording artist he became a household name and recognized as a singer, songwriter, record producer and environmentalist. His family moved to Vancouver in 1961 and he formed a band named The Chessmen along with local guitarist, Guy Sobell. The Chessmen had four singles that made the Top 20 in Vancouver, two which were double-sided hits. These included "Love Didn't Die," "The Way You Fell" and "What's Causing This Sensation" and Top Ten hits. Jacks met Susan Pesklevits on a local CBC music show called Let's Go in 1966. In 1968 they become the core of the band, The Poppy Family.

In 1968 The Poppy Family had a regional #2 hit with "Beyond The Clouds." Their follow up in 1969 was a gentle anti-racist, pro-environmental, pro-marijuana legalization tune titled "What Can The Matter Be." Their next single, "Which Way Is Going Billy?" became an international hit. Terry Jacks won a Juno Award for this recording. The Poppy Family racked up numbers of Top 30 singles in Vancouver through to 1973 including local #1 hits "I Was Wondering" and "That's Where I Went Wrong." Concurrently, Terry Jacks released several solo records. The first was "I'm Gonna Capture You" followed in 1972 with the pro-environtalmentalist tune "Concrete Sea." His best known for his 1974 hit song "Seasons In The Sun."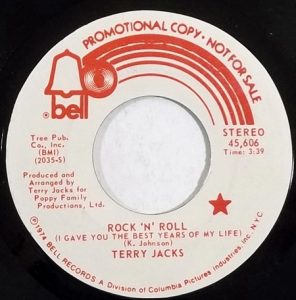 "Rock 'N' Roll (I Gave You The Best Years Of My Life)" is not a song about Terry Jacks, as he did achieve substantial stardom. "Seasons In The Sun" and other songs of his continue to be played on oldie radio stations and the royalties keep flowing. The song was written by Australian singer-songwriter, Kevin Johnson. Itrock N roll is a story about a common experience of musicians who hope to make it in the record industry, and fame and fortune keeps eluding them. According to the songs lyrics, the primary reason the recording artist doesn't get a hit record is they are always one step behind the changing styles and trends in rock 'n' roll music. Kevin Johnson, in a 2002 interview about the inspiration for the song stated, "It was a quick song for me because I've spent months on one line. It just came to me one day as I was driving home, feeling all this frustration of two years without making a record. So I decided to write a song not about giving someone the best years of my life, but to write about the pursuit of success, which I thought related to a lot of people around the world, not just in music but anything." Kevin Johnson's version of the song made #4 on the Australian pop singles chart.
For Terry Jacks, the single climbed to #15 in Peterborough (ON), #17 in Vancouver, #19 in Windsor and #21 in Hamilton. One of the lines in the song tells how the singer bought "all the old Buddy Holly's." In his recording career, Terry Jacks did a cover of the Buddy Holly tune, "I'm Gonna Love You Too," which climbed to #11 in Vancouver in 1973.
Jacks released eight more singles though only one of these, "Christina," made the local pop charts. He would go on to produce records for other recording artists including Nana Mouskouri, Valdy, George Jones and Buddy Knox. Jacks remarried and moved to Haida Gwai on the northwestern coast of British Columbia. He has worked on a number of environmental films over the years. In 2016 he suffered two strokes.
July 4, 2017
Ray McGinnis
References:
Terry Jacks, The Canadian Encyclopedia.ca
Terry Jacks, Canadian Bands.com
John Mackie, The many seasons of B.C. singer Terry Jacks, Vancouver Sun, April 4, 2016.
Kevin Johnson, Rock And Roll I Gave You The Best Years Of My Life, APRAP, St. Leonards, New South Wales, Australia, March 2002.
For more song reviews visit the Countdown.