#1132: She's Boss by The Dimensions
Peak Month: June 1966
6 weeks on Vancouver's CFUN chart
Peak Position #10
Peak Position on Billboard Hot 100 ~ did not chart
In 1966 things were becoming "boss." The record survey on CKLG Radio 73, "You're Information Station," bid farewell to its last Silver Dollar Survey on September 10, 1966. The following week 'LG began promoting its survey on September 17th as the Boss 40. As a slang adjective, "boss" meant excellent, first-rate, superlative. It became a fashionable word among teenagers in America and spread to the UK, Canada, Australia, New Zealand and in ex-pat English-speaking communities around the world. Originally, boss was an English derivative from the Dutch word baas, meaning master or overseer. As far back as the 1620s baas was the standard title of a Dutch ship's captain.

The popularity of the word boss in America may reflect egalitarian avoidance of calling one's superior in the workplace master, as well as the need to distinguish slave from free or volunteer labour. As an adjective the boss was first recorded in its superlative meaning in America the 1880s. But its popularization was due to its 1950s usage in American jazz circles, street corner slang in "black" communities. From there and then to teen pop culture in the late 1950s and into the early 60s. A local Philadelphia hit for Bobby Bennett in 1960 was a dance tune called "The Boss Turn". Guitarist Duane Eddy was among the first to make use of this slang word in his 1963 tune "Boss Guitar". A garage rock band from Saginaw, Michigan, called themselves the Bossmen and had a minor hit in 1966 called "On the Road".
In response to the musical British Invasion of hit tunes from The Beatles, The Rolling Stones, The Dave Clark Five, Dusty Springfield and others, the American music industry attempted to promote the 'Boss town sound' in order to establish Boston as the US equivalent of Liverpool in 1964. (Boston, Massachusetts, is actually named after an English abbot and saint, Botwulf of Thorney, who was sainted after he died in 680 and made the patron saint of travelers. With his spelling altered to Botolph, a town in Lincolnshire, England, was named Botolph's town, and later called Boston).
Picking up on the growing popularity of boss in pop culture was a garage rock band from the Seattle, Washington, area called The Dimensions. The group was consisted of Joe Villa (guitar, vocals), Ron Villa (drums), Clyde Heaton (organ, keyboard, vocals), Lee Dark (saxophone, guitar, vocals) and Bill Hoack (bass). In a write-up on Pacific Northwest Bands, Dimensions band member, Ron Villa, recalled the "group played many times at Lake Hills Roller Rink, Parkers Ballroom and the Target in Burien…as well as played every High School, every university/college and every smaller dance halls throughout the state of Washington and Oregon…some in Idaho and was a regular at the Battle of the Bands in Vancouver BC (circa 1966 – 1968)."
In 1965 The Dimensions played as opening act a the Target Ballroom for Sonny and Cher when their hit "I Got You Babe" was number one that summer. Next The Dimensions recorded a single in 1966 called "She's Boss", with Lee Dark on lead vocals. The song began to chart on KJR's Fab 50 on April 8, 1966. During its two month chart run on KJR it peaked at #12. According to Ron Villa the song also peaked at #1 in Tampa, Florida. A month after the song began to chart in Seattle it was a CFUN Twin Pick Hit on May 14th. After that week of airplay the song charted for six weeks peaking at #10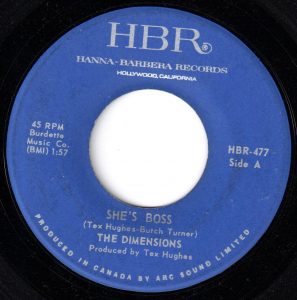 Now here she comes, here she comes, here she comes,
just look, just look, just look,
isn't that girl something fine?
I'm gonna take her and make her mine.
Watch her walk, watch her walk, watch her walk,
she's boss, she's boss, she's boss.
She puts me in outer space.
My heart's a-beatin' at a rapid pace.
First she'll kiss you like you wouldn't believe,
tease you and then you just wanna scream.
Check her hair, check her hair, check her hair,
it's boss, it's boss, it's boss.
I just want to scream and shout.
Man, that girl really knocks me out.
Well now she's mine, now she's mine, now she's mine.
Don't look, don't look, don't look.
Or you'll wind up with a big black eye.
'Cause she's mine that's the reason why.
She's boss, she's boss, she's boss
(You're so fine)
She's boss, she's boss, she's boss
(I wanna make you mine)
She's boss, she's boss, she's boss
(Oh baby)
She's boss, she's boss, she's boss
(Please me honey)
She's boss, she's boss, she's boss
(I'm gonna make you happy)
She's boss, she's boss, she's boss
(You know I love you)
A straightforward song about sexual attraction or what people called in the 40s "personality."
In this case the singer feels free to look at the gal he finds attractive and encourages his buddies to "just look, just look, just look," while she walks by. She is so "boss" he is going to make her his. But once he has begun to go steady with her he warns all the other guys not to look or he'll punch them in the face and give them a black eye. Likely the cause of many a rumble at nightclubs and frat parties in the 60s when one guy would say to another guy after a few drinks, "hey, that's my girl you're looking at."
The Dimensions played as back up band to headliner Paul Revere and Raiders at the Coliseum in about 1967. Like The Dimension, Paul Revere and The Raiders were a band originally the Pacific Northwest, in their case from Boise, Idaho and then for several years in Oregon before relocating to LA.
Lee Dark and Bill Hoak formed a Seattle band called Lyte in 1968. Joe Villa played with a local Frat-party band called The Rum Runners. Clyde Heaton went on to join the Seattle band Calliope along with bass player Danny O'Keefe. In 1972 O'Keefe had a solo hit called "Good Time Charlie's Got the Blues".
The ongoing usage of boss as an adjective meaning excellent was not just a 50s-60s thing. In the 1983 an English band was formed called the Style Council. They were a new wave/blue-eyed-soul/jazz band from southeast England. In 1984 they had a hit in Australia called "Big Boss Groove".
For more song reviews visit the Countdown.