#1106: Some Sing Some Dance by Pagliaro
Peak Month: November 1972
6 weeks on Vancouver's CKVN chart
Peak Position #8
Peak Position on Billboard Hot 100 ~ did not chart
YouTube.com: "Some Sing Some Dance"
"Some Sing Some Dance" lyrics
Montreal's Michel Pagliaro was born in 1948. He picked up guitar when he was eleven years old. At the age of 15 he was in a band les Stringmen. They morphed into les Bluebirds and finally les Merseys. Pagliaro got a break at the age of 18 when he was asked to join the Quebec band les Chanceliers. He was lead vocalist for the group which had a succession of singles and a self-titled album in the mid-60s. Their catalogue included "La generation d'aujourd'hui" (Today's Generation), "Toi jeune fille," a French version of "White Christmas," and "Le p'tit popy" (The Little Poppy). In 1968, at the age of twenty, Pagliaro released some singles as a solo artist. His "Comme d'habitude" became a #1 hit in Quebec. Some of the lyrics in French "Tu the deshabillera come d'habitude" meant in English "you'll take your clothes off as usual." Nonetheless, the tune was adapted by Canadian pop singer Paul Anka and became the classic "My Way" popularized by Frank Sinatra. It was followed with another number one hit for Pagliaro in French Canada in 1968 called "Avec la Tete, Avec la Coeur."
In 1968 he recorded his debut album. It showcased French cover versions of popular English pop songs. These included Otis Redding's "Happy Song" (Dum Dum Dum)," the Beatles "Hey Jude", the 1966 Bobby Hebb hit "Sunny", and the Classics IV hit "Spooky". In 1969-70 Pagliaro got international attention charting two songs onto the French singles chart "J'ai Marche Pour Une Nation" and "M'Lady". A series of three more albums in French followed including French covers of songs like Glen Campbell's "Wichita Lineman."
While he was glad for his successes in French Canada and in France, Michel Pagliaro believed he could have a breakthrough in English Canada. In 1971 the Canadian Radio and Television Commission mandated their Canadian Content rules for airplay across Canada. One outcome was that Toronto AM radio station powerhouse, 1050 CHUM, had an offshoot called CHUM Records. This was a way for CHUM to meet the Can-Con regulations. At this time they signed Michel Pagliaro to their record label and he released a single called "Give Us One More Chance." An album was released in 1971 called Pagliaro in '71. The album was recorded in part at the Beatles Abbey Road Studios in the England. His biggest selling single was "Lovin' You Ain't Easy" with its nod to Beatle harmonies. The song peaked at #3 in Vancouver. Pagliaro's next hit was "Some Sing, Some Dance".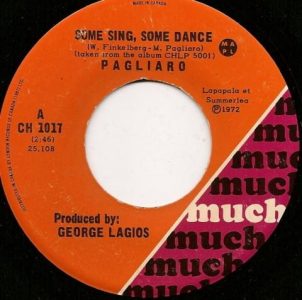 The song is a straightforward, candid declaration of being wildly attracted to someone. Not settling for what some are content with, such as singing, dancing or making romance, Pagliaro declares "I love loving." This sets him apart and though he now knows the object of his affection can be untrue, he is certain he needs to hold onto them.
In the following years Pagliaro released several French language singles that sold well in French Canada. He became the first recording artist in Canada to achieve gold record sales in both French and in English. 1975 marked the last time he was nominated at the Juno Awards for Male Vocalist of the Year, given that year to Gordon Lightfoot. It was also the last year he had a significant charting hit after switching from RCA to Columbia Records. His English Canadian hit called "What The Hell I Got" sold well. In 1976 he had a rewarding tour as opening act for Peter Frampton. In addition he mounted a tour in France.
Since 1977 Pagliaro has recorded in French and continued to successfully perform in his native Quebec and on occasion elsewhere. From the mid-70s to mid-80s Pagliaro has received multiple music awards in his native Quebec. In 2008, Michel Pagliaro was awarded the Governor General's Performing Arts Award. In May 2017, Michel Pagliaro donated over five decades of his personal archives to Library and Archives Canada. His website currently lists several bookings for concerts in Quebec in 2017. On August 14, 2017, he was interviewed by the Cornwall Seeker in Cornwall, Ontario, about Pagliaro's co-headlining that city's Music Fest on August 19.
January 2, 2017
Ray McGinnis
References:
Michel Pagliaro, "Comme d'habitude," 1968
Interview with Michel Pagliaro Co-headlining Music Fest, Cornwall Seeker, August 14, 2017
Matt Zimbel, You Can Call Me Pag: Québec's Rebel Superstar Michel Pagliaro, FYI Music News, September 26, 2016
Joanne Huffa, Michel Pagliaro, Montreal's Rock 'n' Roll Cult Hero, Finally Returns to Toronto, NOW Magazine, Toronto, Ontario, September 28, 2016
Paula McCooey, Canadian Rock Legend Michel Pagliaro Donates Personal Archives, Ottawa Citizen, May 5, 2017
For more song reviews visit the Countdown.