#1119: Teen Prayer by The Velveteens
Peak Month: August 1961
8 weeks on Vancouver's CFUN chart
Peak Position #12
Peak Position on Billboard Hot 100 ~ did not chart
"Teen Prayer" was a big local hit for a girls doo-wop group from Springfield, Massachusetts, called the Velveteens. In May 1961 it was #1 for three weeks in Springfield, Massachusetts, on WHYN and one week on WSPR (also in Springfield). The single peaked in Cleveland's WHK at #2 and in Boston WHIL's record survey had it peak at #7.
Vocal group from Agawam, Massachusetts, The Teensters (Judy Schinelli, Maureen Grady, Nancy Roy and Judy Roy) sang in their Junior High school choir. Agawam was a suburb of Springfield. After Judy Schinelli left the group, the name was changed to "The Velveteens". The Velveteens' first recording was called "Please Holy Father" on Chuck Lidell's label Stark Records. The lead singer was Maureen Grady. Backing the girls was a local group called Monty & the Specialties. After the first recording, Judy Roy left the group and was replaced by Sandy Vigneault of West Springfield.
Lidell made the decision of re-recorded "Please Holy Father", as "Teen Prayer". This was released in early 1961 with the B side "Baby-Baby". In May of 1961 the record was on the top of charts in western Massachusetts. The "Good Guys" at CFUN played the song and it peaked at #12 on August 19, 1961. That was when CFUN was on location at the Pacific National Exhibition (P.N.E.). The CFUN record survey that week was billed as "The Swingin' Sound of the Fairground ~ the Fun-tastic Fifty at the Fair!"
Holy Father up above please protect the boy I love
Keep him safe and keep him sound no matter when or where he's found
Help him to know and help him to see just what his love means to me
Please, Holy Father please.
Holy Father up above please protect the boy I love
He's so gentle he's so sweet, he's what makes my life complete
I'd be with him the whole life through, pray that he will love me too
Please, Holy Father please.
Thank you Father in heaven above for sending me this boy to love
You picked him out from all the rest because you knew I'd love him best
I'll be faithful in every way and love him more every day
Holy Father up above please protect the boy I love
Keep him strong and keep him pure for he's the one I love I'm sure
This is the wish I beg of you, make my world of dreams come true.
Please, Holy Father please.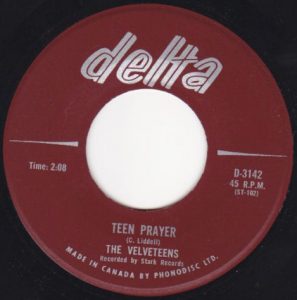 The follow-up recording was "I Thank You"/"Meant To Be", on Stark Records. It was later re-released in 1962 on Laurie Records. In this time Sandy Vigneault, Maureen Grady and Nancy Roy each got engaged to be married. After of backing a doo-wop group called Davi, on the Stark label, providing shouts and squeals on "Go Charley Go" the Velveteens broke up.
Judy Roy joined Sandy Vigneault along with several other female back-up singers to form Sandy & The Invictas. Later on Sandy Vigneault (now Saundra Bryant) took up local theater, and was a member of the Encore Players Theater Group of Springfield. She also worked at the Hu Ke Lau restaurant in Chicopee, just north of Springfield for nearly 20 years, and later at a doctors office. She died in 2011 in Agawam.
In 1962 in Vancouver all public schools began the day in each home room class with the Lord's Prayer and a Bible reading. It was in 1944, the government of British Columbia amended the Public Schools Act to provide for compulsory Bible reading at the opening of the school day, to be followed by a compulsory recitation of the Lord's Prayer. This amendment appeared as section 167 of the Public Schools Act, and read as follows:
167. All public schools shall be opened by the reading, without explanation or comment, of a passage of Scripture to be selected from readings prescribed or approved by the Council of Public Instruction. The reading of the passage of Scripture shall be followed by the recitation of the Lord's Prayer, but otherwise the schools shall be conducted on strictly secular and non-sectarian principles. The highest morality shall be inculcated, but no religious dogma or creed shall be taught. 1948, c.42, s.167
In 1962 the overlay of the practice of a Bible reading and the Lord's Prayer found resonance in religious themes and references in popular music. In 1957 Bobby Helms had a hit record called "My Special Angel." Here is an excerpt of the lyrics:
You are my special angel sent from up above
The Lord smiled down on me and sent an angel to love
You are my special angel right from paradise
I know you're an angel heaven is in your eyes
The smile from your lips brings the summer sunshine
Tears from your eyes bring the rain
I feel your touch, your warm embrace
And I'm in heaven again
You are my special angel through eternity
I'll have my special angel here to watch over me
The Platters had the #4 hit of 1956 with "My Prayer".
My prayer and the answer you give,
May they still be the same for as long as we live,
That you'll always be there at the end of my prayer.
Gale Storm had a hit in 1956 that peaked at #5 on the Billboard The Top 100 chart (as it was titled prior to May 1958) called "A Teenage Prayer".
My friends all know it, how I adore him;
I've whispered to angels, what I'd do for him;
He is the answer to A teenage prayer;
He wont go steady, the crowd has told me,
But I keep praying to have him hold me,
Why wont you listen to A teenage prayer?
I wait by the window at seven,
And chill when my thrill passes by;
His kiss could send me to heaven,
Into his arms I could fly;
My girlfriend, Betty tells me he's lazy,
But I know Betty loves him like crazy,
He is the answer to A teenage prayer.
In April 1958 English recording artist, Laurie London, had a #1 hit with a traditional spiritual called "He's Got the Whole World in His Hands".
In 1959 the folk group The Browns and a #1 hit called "The Three Bells". Each verse gave a snapshot of a part of Jimmy Brown's life from birth to death. The original words from the French song Les Trois Cloches was a hit for Edith Piaf. The English version opened with this verse and a chorus that was adapted to build on each successive verse.
There's a village hidden deep in the valley
Among the pine trees half forlorn
And there on a sunny morning
Little Jimmy Brown was born.
(Bung, bung, bung, bung)
All the chapel bells were ringing in the little valley town
And the song that they were singing was for baby Jimmy Brown
Then the little congregation prayed for guidance from above
"Lead us not into temptation, bless this hour of meditation"
"Guide him with eternal love"
Wink Martindale offered his spoken word "Deck of Cards" where a soldier who doesn't have a Bible or a prayer, offers his commanding officer a deck of cards that serves as a framework for remembering important things about his faith. Some of the words included:
You see Sir, when I look at the Ace, it reminds me that there is but one God. And the Deuce reminds me that the Bible is divided into two parts,
the Old and the New Testaments. When I see the Three, I think of the Father
the Son, and the Holy Ghost. And when I see the Four, I think of the four Evangelists
who preached the Gospel; there was Matthew, Mark, Luke and John.
And when I see the Five, it reminds me of the five wise virgins who trimmed their lamps;
there were ten of them: five were wise and were saved, five were foolish and were shut out. When I see the Six, it reminds me that in six days, God made this great heaven and earth.
When I see the Seven, it reminds me that on the seventh day, God rested from His great work.
And Andy Williams recorded "The Village of St. Bernadette", a hit in the winter of 1959-60.
I've traveled far, the land and the sea
Beautiful places I happened to be
One little town I'll never forget
Is Lourdes, the village of Saint Bernadette
Ave, ave, ave Maria
Ave, ave, ave Maria
There, like a dream, this wonderful night
I gazed at the grotto aglow in the light
A feeling divine swept over me there
I fell to my knees as I whispered the prayer
Ave, ave, ave Maria
Ave, ave, ave Maria
In 1961 Ferlin Husky was singing about God's relationship with humans in "Wings of a Dove", drawing heavily on Biblical stories and images.
On the wings of a snow-white dove
He sends His pure sweet love
A sign from above (Sign from above)
On the wings of a dove (Wings of a dove)
When troubles surround us, when evils come
The body grows weak (Body grows weak)
The spirit grows numb (Spirit grows numb)
When these things beset us, He doesn't forget us
He sends down His love (Sends down His love)
On the wings of a dove (Wings of a dove)
There were also many songs about being a teenager. Dion and The Belmonts asked why must I be "A Teenager in Love", and about being a "Lonely Teenager". Mark Dinning sang about a "Teen Angel".
With daily Bible readings and the Lord's Prayer read at schools across British Columbia, and the precedent of other songs drawing on religious metaphors and images that had climbed the pop charts over the past five years, a song like "Teen Prayer" by the Velveteens could, in 1961, find a receptive audience.
For more song reviews visit the Countdown.