#1116: The Piano Boy by Joanie Sommers
Peak Month: July 1961
8 weeks on Vancouver's CFUN chart
Peak Position #12
Peak Position on Billboard Hot 100 ~ did not chart
Joanie Sommers was born Joan Drost in Buffalo, New York, in 1941. She sang in church choirs from the age of ten. After moving to Venice, California, she got a break to sing at the Deauville Country Club north of the Topanga State Park in greater Los Angeles. Tommy Oliver was the band leader at the country club and he subsequently got her to record a demo for Warner Brothers in 1959. She made her club debut at the prestigious Ye Little Club in Beverly Hills when she was 18. Sommers got a minor role dancing and singing with Ed Byrnes in the TV show 77 Sunset Strip. She was in a duet with Byrnes in "Kookie's Love Song" in a 1959 episode of the show.
In 1960 Sommers recorded the song "One Boy" from the Broadway musical Bye Bye Birdie. It peaked at #54 on the Billboard Hot 100 in 1960. The attention she got landed her with appearances on the Jack Paar Show and a May 1960 Bobby Darin Special. She followed this with a cover of the 1950 hit for Mario Lanza, "Be My Love", from the movie The Toast of New Orleans. Then she released "Ruby-Duby-Du", a tune from the 1960 crime movie, Key Witness, starring Dennis Hopper, Jeffrey Hunter and Pat Crowley. In 1961 she released "I Don't Want to Walk Without You," a jazzy-pop tune. On the album front Warner released Positively the Most: Voice of the Sixties featuring pop standards "My Heart Belongs to Daddy", "It Might As Well Be Spring", "I'm Beginning to See the Light" and "Too Young For the Blues."
Despite her appeal with the Broadway show tune, Hollywood movie theme and cocktail lounge set, Sommers was not charting any successful singles up the charts. The record folks at Warner Brothers decided to have her record a teen pop tune called "The Piano Boy" written by Joy Kennedy. Kennedy had penned "I'll Love You 'Til the Cows Come Home" for Clyde McPhatter in 1961. Kennedy wrote "I Didn't See Nobody Dance" for Bronx-based soul artist Dean Barlow and The Crickets, on the Rust label in 1963. Her brief songwriting career in Manhattan didn't net any hit singles, including "The Piano Boy".
It was Joanie Sommers third non-charting single release in the USA. But in Vancouver the song spent two months on the record survey peaking at #12. Somehow the power of attraction overcame a neighbor boy's compulsion to practice the piano.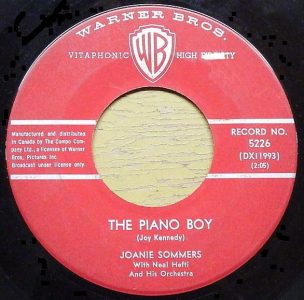 The boy next door is silly as can be
He'd rather play piano than come out and play with me
He's playin' La-de-da, la-de-da
La-de-da-de-da, la-de-da-de-da
La-de-da-de-da-da
He gets up in the morning and he plays that silly tune
And though I try to catch his eye morning, night and noon
He's playin' La-de-da, la-de-da…
One magic night the moon was bright and pretty as can be
And as he passed he paused at last and he took a look at me
He stopped that La-de-da, la-de-da…
Now when I pass his window we play a different part
He smiles at me so tenderly and I listen with my heart
While he plays La-de-da, la-de-da…
If all my prayers are answered maybe someday we'll be wed
And they won't play "Oh Promise Me" they'll play our song instead
Yes, they'll play La-de-da, la-de-da…
After "The Piano Boy" Joanie Sommers released another 18 singles between the fall of 1961 and 1970. She became the "girl" who sang Pepsi-Cola's jingle from 1961–1964, "Now It's Pepsi for Those Who Think Young". The melody was from the 1927 Eddie Cantor hit, "Making Whoopie", which Sommers then recorded only to have another flop in sales. In a December 15, 1961, article in Time Magazine Joanie Sommers was introduced to Time readers this way: "The voice, like wind through sugar cane, first rustled into U.S. living rooms last year singing "Now it's a Pepsi . . . for those who think young." Joanie Sommers, owner of the voice, has come a long way since those anonymous days, has already earned her first quarter-million dollars (and her first ulcer) at the age of 20. Says she: "I'm a worrywart. I'm tired and I ponder about being tired."
Even Warner Brother's noticed big jazz stars like Ella Fitzgerald, Sarah Vaughan and Mel Tormé were losing sales and airplay to teen idols like Connie Francis, Paul Anka, Bobby Vee, Brian Hyland, Ricky Nelson and Brenda Lee. So Warner decided to re-brand Sommers as an frustrated girlfriend of a milk toast boyfriend. In 1962 "Johnny Get Angry" spent two non-consecutive weeks in the Top Ten of Billboard Hot 100, peaking at #7. Given her usual vocal style the tune was a most unusual hit for her, complete with kazoos. The tune had a stronger chart performance in Vancouver spending six weeks in the Top Ten on CFUN and peaking for two weeks at #2.
On the strength of the hit single Warner released an Johnny Get Angry that in addition to the hit single also featured teen angst tunes, "Since Randy Moved Away" and "Shake Hands With a Fool"; As well as jazz-pop standards, "A Nightingale Sang In Berkley Square", the 1929 classic "Mean to Me" and 1942 Harry James hit "I Don't Want to Walk Without You." The album also mixed earlier pop singles by Sommer, "One Boy" and "The Piano Boy" among the tracks.
But by 1962 Joanie Sommers was pregnant with the first of her three children. She decided not to tour in support of her hit and odd mix of tracks on her debut album. Her only other song to crack the Billboard Hot 100 was her follow-up, "When The Boys Get Together", a jazz-influenced pop tune.
Her frequent collaborator from Deauville Country Club days, Tommy Oliver, worked on an album in the fall of 1962 called Let's Talk About Love. It included fine versions of "Make the Man Love Me" and "Till There Was You." At age twenty-one Joanie Sommers had a great voice able to show off jazz and pop standards. However, in the public's imagination she was that teenager with the pop tune about her boyfriend Johnny who hadn't turned into a brave man or a caveman.
In 1963 Warner released another studio album called Sommers' Seasons. Joanie offered polished performances of "Baby, It's Cold Outside", "April in Paris", and the evocative "Early Autumn" and others. In 1964 Sommers branched out and offered up a bossa nova infused album, Softly, the Brazilian Sound. It was one of the most accomplished Latin albums of the time. However, Warner chose to drop her from their stable of recording artists. She moved on to Columbia Records in 1965 with the album Come Alive! where she excelled with tunes like "Girl Talk" and "A Wonderful Day Like Today."
Sommers continued to be the vocal presence for Pepsi and from 1964 to 1967 those with their transistor radios on heard the jingle "Come Alive, You're in the Pepsi Generation." For six years in the 60s Joanie Sommers was known as "The Pepsi Girl." She was also a game show contestant on The Match Game, Hollywood Squares after its 1966 debut, and 1967's short-lived game show Everybody's Talking. Sommers also appeared on Dick Clark's Where the Action Is and Hullabaloo.
In an article with the LA Times, Sommers said in 1986, "I've worked more in the last two years than I had in the previous 15 years and I love it. I feel most alive when I'm singing. I think it's my way of communicating and expressing myself in the most honest way. And when it's right, it's so right."
Joanie Sommers career has contained many highlights. These include co-hosting the Mike Douglas TV Show to appearing steadily in Las Vegas. However, from 1962 to 1984 Sommers was an occassional performer making her family her first priority. In 1992 she released A Fine Romance, a laudable collection of Jerome Kern tunes. In 2005 she also recorded Sings Bossa Nova, picking up 41 years later what she began with her 1964 album Softly, the Brazilian Sound. At age 75 in 2016, Joanie Sommers is listed by Wikipedia among the notable people associated with Venice, California.
For more song reviews visit the Countdown.