#996: Trains And Boats And Planes by Billy J. Kramer and The Dakotas
Peak Month: July 1965
6 weeks on Vancouver's CFUN chart
Peak Position #8
Peak Position on Billboard Hot 100 ~ #47
William "Billy" Howard Ashton was born in Bootle, Lancashire, England, in 1943. He sang in a children's choir and learned to play guitar. Out of high school he apprenticed as an engineer with British Railways, while playing rhythm guitar on the side. He formed a band and only ended up lead vocalist when his guitar was stolen after a gig. Billy was the highest-ranking non-professional artist in a popularity contest sponsored by the local music newspaper Merseybeat. His manager got him connected to Brian Epstein, the manager of The Beatles. Epstein took over Billy's management, and got his a contract with George Martin, who was producing The Beatles' recordings.

Initially, William Howard Ashton was getting billing under the stage name Billy Kramer. The surname, Kramer, had been randomly chosen from a phone directory. Just prior to his debut single, Kramer was requested to attend a meeting at Brian Epstein's office. When he walked in he saw John Lennon with Epstein. Lennon encouraged Kramer that he put the initial J. in the middle of his stage name. Lennon contended that adding the "J" would have more impact on the record buying public. Perhaps the alphabetical sequence of "J" and "K" agreed, too, with Billy J. Kramer ~ as he was known thereafter.
Kramer was the first recording artist to release a Lennon-McCartney tune, even prior to The Beatles. "Do You Want To Know A Secret" became Billy J.Kramer & The Dakotas debut single and number two hit in England in the spring of 1963. The Dakotas were not the original backing group for Billy J. Kramer. At first he had a band called The Coasters. But when Kramer turned professional, The Coasters were not enthusiastic to leave their day jobs. So Brian Epstein found The Dakotas in Manchester to pick up the slack. With the single release of "Do You Want To Know A Secret," The Beatles chose not to release it as well as a single in the UK, opting to release it as a single in North America the following year.
A follow up hit for Billy J. Kramer and The Dakotas in 1963, "Bad To Me," became the band's first number one hit, topping the UK charts in the summer of that year. It would go on the repeat that feat on the CFUN charts in June 1964, and briefly crack the Top Ten in the USA. This was another of a string of hits the band recorded written by Lennon-McCartney. Others included "I'll Be Satisfied" and "From A Window." Billy J. Kramer & The Dakotas were part of what was called the Merseybeat sound, having to do with all things Liverpool and bands performing in the city by the Mersey Estuary. Gerry & The Pacemakers and The Beatles were the other top charting groups from the era.
After a string of hits, including "Little Children," a number one hit in Vancouver, the Merseybeat sound waned. A final Top 30 hit for the band was Kramer's cover of "Trains and Boats and Planes" written by Burt Bacharach and Hal David. Bacharach recorded a version of his song and it peaked at #4 on the UK charts. In the USA Billy J. Kramer's version climbed the Billboard Hot 100 chart only in competition with Dionne Warwick's cover version. Kramer's effort still reached a respectable number 12 on the UK charts (#47 on the Billboard Hot 100). "Trains And Boats And Planes" peaked at #8 in Vancouver. While in Vancouver, Dionne Warwick's version of the song was only listed separately on the CFUN Rhythm & Blues Top Ten, and not part of the regular C-FUNTASTIC FIFTY.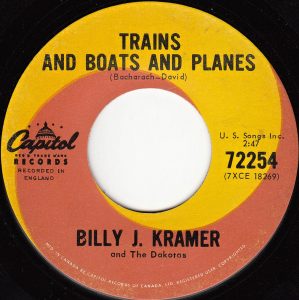 Trains and boats and planes are passing by,
they mean a trip to Paris or Rome,
for someone else but not for me,
the trains and the boats and planes,
took you away, away from me.
We were so in love and high above,
we had a star to wish upon,
wish, and dreams come true,
but not for me,
the trains and the boats and planes,
took you away, away from me.
You are from another part of the world.
You had to go back awhile and then,
you said you soon would return again.
I'm waiting here like I promised to,
I'm waiting here, but where are you.
Trains and boats and planes took you away,
but every time I see them I pray,
and if my prayer can cross the sea,
the trains and the boats and planes,
will bring you back, back home to me, whoa.
Mmm…
The trains and the boats and planes
will bring you back, back home to me, whoa, whoa
Mmm…
Burt Bacharach and Hal David became a force as composers working in the Brill Building starting in the late 50s. They co-wrote "The Story of My Life" which became a #1 hit for Michael Holliday in 1958 in the UK, and "Magic Moments" for Perry Como another #1 hit in the UK and #4 on the Billboard Hot 100 later that year. In 1961 Bacharach wrote "Tower of Strength" for Gene McDaniels and "Baby It's You" for The Shirelles. Bacharach and David had a banner year in 1962 with hits that included "(The Man Who Shot) Liberty Valance" (Gene Pitney), "Make It Easy On Yourself" (Jerry Butler), "Don't Make Me Over" (Dionne Warwick) and "Only Love Can Break A Heart" (Gene Pitney). In 1963 the songwriting team enjoyed more accolades with "Wishing and Hoping" (Dusty Springfield), "Blue on Blue" (Bobby Vinton), "(They Long to Be) Close to You" (The Carpenters, #1 in 1970) and "Anyone Who Had a Heart" (Dionne Warwick). 1964 continued their winning ways with "Walk On By" (Dionne Warwick) and "There's Always Something There To Remind Me" (Sandie Shaw, #1 UK).
The year Billy J. Kramer and The Dakotas recorded "Trains And Boats And Planes" Burt Bacharach and Hal David took Tom Jones into the Top Ten with "What's New Pussycat," and Jackie DeShannon with "What The World Needs Now Is Love." "Trains And Boats And Planes" is a wistful song from the perspective of someone who meets another person from another country. There is a spark that brings with it feelings of being so in love and expressing wishes to each other. And so presumably the pair got to spend some amount of time together to develop an attachment, and a promise on the part of the person returning back home to return again to the one waiting for them. However, no plane, boat or train is bringing them back. The silence is full of unspoken possibilities to account for why the person who promised to return hasn't been in touch. Never mind arriving on a train, boat or plane into their sweetheart's embrace.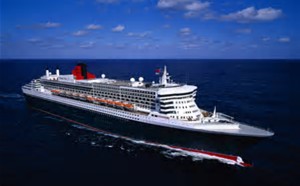 What would prevent someone who promises to return to see their sweetheart, from following through on the promise? Was the one who flew back to another part of the world already married? Were they in trouble with the law? Were they tagged as a political subversive and the other part of the world they came from was in an authoritarian regime? And why didn't they just pick up the telephone to let their sweetheart know what was causing the delay?
Of course, in 1965 making an international telephone call was far more expensive than in 2017. Back in 1965 Bell System (American Telephone and Telegraph Co.) boasted in an advertisement: "Today, you can reach 182 countries or areas of the world by telephone. It's the quick, convenient, personal way to keep in touch. And the cost is low. For only $12, plus tax, for the first three minutes, you can call almost anywhere in the world. The rate for the first overseas call, from New York to London in 1927, was $75. Whenever you want to keep in touch with anyone — telephone. It's the next best thing to being there." In 1965 a three minute phone call would cost you $92.80 in 2017 adjusted US Dollars (or a mere $124.80 Canadian). Add tax and the cost would have been $97.45 US or $131 in Canadian dollars. For just three minutes. Perhaps there was good reason for the person from another part of the world to add things up, and conclude a long distance relationship was going to be too expensive to keep maintaining.
Pan Am began flights from New York to Paris in October 1958. Lufthansa began flights from Frankfurt to New York City in March 1960. In 1960 Japan Airlines began service between Toyko, Honolulu and San Francisco. In 1965 Cunard transatlantic ocean liners were still sailing on five day cruises from Southampton, England, to New York City. And train travel was still in its golden era. With a growing middle class after World War II in North America, Australia and New Zealand and Western Europe, long distance relationships became a newer phenomenon. Previously, the primary driver for long distance relationships were soldiers and sailors visiting other countries on duty (during or between wars). Now civilians had business trips and holidays that afforded travel to other countries.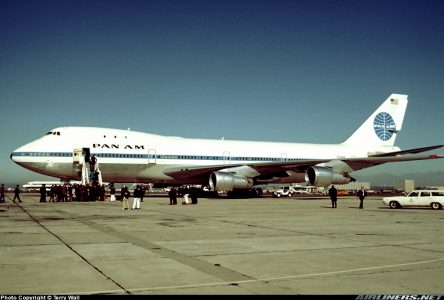 "Trains And Boats And Planes" was a song that only made sense to the wider population in a time in the 60s when such attachments were not solely a dilemma of the rich and famous. By 1968, the major ocean liners would retire their ships due to competition from quicker transatlantic jet flights. Within years a reference to taking a transatlantic passage by boat would make less sense for radio listeners. The song was a snapshot of rapidly changing transportation habits of the then growing middle classes of Western society.
"Trains And Boats And Planes" was Billy J. Kramer and The Dakotas swan song. Their version of the song didn't include the third verse, though Dionne Warwick and Sandie Shaw kept it in their recordings. Subsequently, all of Billy J. Kramer and The Dakotas successive single releases failed to chart anywhere. This included sixteen solo single releases by Billy J. Kramer between the late 60s into the early 80s. In 2014 Kramer released a his first album in fifty years called I Won the Fight. In 2015 he was part of the British Invasion 50 Year Anniversary Tour in the UK and the USA, along with The Searchers, Chad & Jeremy, Peter Asher (of Peter & Gordon) Terry Sylvester (of the Hollies) and Denny Laine (of the Moody Blues). In 2016 Do You Want To Know A Secret: The Autobiography of Billy J. Kramer, was co-authored with Alyn Shipton.
For more song reviews visit the Countdown.