#961: Walkin' Proud by Pete Klint Quintet
Peak Month: October 1967
6 weeks on CKLG chart
Peak Position #7
1 week Hitbound
Peak Position on Billboard Hot 100 ~ did not chart
The Pete Klint Quintet, formed in 1965 and was managed by Tom Jolas of Mason City, Iowa. The original line up for the quintet included: Pete Klint on guitar, bass player Jamie Wornsom, drummer Bill "Mo" Morisky, keyboard player John Peterson and backing guitarist Mike Hesselink. Under the leadership of the dynamic Larry "Pete" Klint, these Iowa recording stars established themselves as one of the top concert attractions throughout the entire Central U.S.A. In 1965 the band members were all 17 years old. The group was named as Lake Okoboji's Roof Garden Balfroom's "Band Of The Year" in 1967. At that time, this was one of the most prestigious awards that a group could acquire. In addition, they received several national citations from the National Ballrooms Operators Association (NBOA) for their professionalism. If you were a top Iowa or Midwest ballroom, from the Roof Garden, to the Danceland, to the Laramar, to Matters Ballroom, the Pete Klint Quintet rocked them all. The quintet's leader, Larry Klindt, used the stage name Pete Klint.
John Peterson was a member of the Mason City High School band before he joined the The Pete Klint Quintet. Peterson's four high school buddies, Larry "Pete" Klindt, Jamie Wornsom, Mike Hesselink and Bill Morisky got together to form a band so they could participate in a statewide battle of the bands contest. The contest was sponsored by Des Moines radio station KIOA and was an annual event at the time for the station. All band mates were impacted at the young age of eleven when on February 3, 1959, a Beechcraft Bonanza chartered plane crashed nine miles from Mason City, Iowa, killing Buddy Holly, J.P. Richardson (The Big Bopper) and Ritchie Valens. The date marked the beginning of a journey into pop culture.
The band started to make the rounds, playing local Iowa and Minnesota high schools and small venue shows, but soon realized they needed some management. Local Mason City attorney, Tom Jolas, quickly signed on as the band's manager and things were about to change. Soon they started using all Vox equipment and were even featured nationally by Vox in Vox's national teen magazine, the Vox Times. The PQK (for short) became known for their five-part harmony, smooth transitions and a danceable rhythm section.
In 1966, they entered Okoboji, Iowa's famed "Roof Garden Ballroom's Annual Summer, Battle of the Bands." By the end of the summer they had won the whole thing and as a result, were given a recording contract for IGL Studios in Milford, Iowa. This resulted in the release of their first record, "IGL #127 "Very Last Day," which made the Top 20 in Des Moines, Iowa.
In early 1967, Jolas took the band to Chicago to record at the legendary Chess Records Studios. It was there they recorded their most notable single, "Walkin' Proud." The song was a cover of a song first recorded by Lou Rawls. The song was written by Gordon Evans and Joe Simmons. It was first recorded by Lou Rawls on his 1966 album, Carryin' On! Evans had written a minor hit for Hank Ballard & The Midnighters called "The Switch-A-Roo," a #3 R&B chart hit in the USA in 1961. Simmons had songs of his recorded by Lulu, Esther Phillips, and The Dubs.
The tune was reviewed on American Bandstand's Rate A Record segment in the summer of 1967. It was a #1 hit in several Iowa radio markets in the summer and fall of 1967, including Des Moines. The song climbed to #2 on KISD in Sioux Falls, South Dakota, and Top Ten in Minneapolis. The song went Top Ten in Oxnard, California, and #7 on CKLG in Vancouver in October '67. Along with Dee Jay and the Runaways 1966 hit, "Peter Rabbit," the Pete Klint Quintet is considered one of the most successful recording acts to come out of Iowa in the 1960's due to their success with "Walkin' Proud." Other notable recording acts out of Iowa include big band leader Glenn Miller, Andy Williams and C.W. McCall who had a hit in the 70's called "Convoy."
Well you're tellin' everybody
that you put me down.
And their all waiting',
they want to see me frown.
Mmm, baby, but I got news for them
I mean all your so called friends.
They can wait if they want to,
but they're never gonna see me cry.
here's why,
(Chorus)
I'm gonna hold my head up high
look up in the sky.
Wear myself a silly grin,
and act like nothing's happenin'.
I'm gonna play a little game,
everything's gonna look the same.
I'm gonna keep on talkin' out loud,
yeah, baby, walkin' proud,
Mmm, I'll be walkin' proud.
I'm gonna celebrate,
baby I'm gonna shout.
And though my heart is achin'
don't you dare count me out.
Mmm baby, well I got news for you,
even though little girl we are through.
Though I feel such an ache,
in every step that I take.
I'm gonna hold my head up high,
look up in the sky.
Wear myself a silly grin,
and act like nothing's happenin'
I'm gonna play a little game,
everything's gonna look the same.
I'm gonna keep on talkin' out loud,
yeah, baby, walkin' proud.
Mmm, I'll be walkin' proud,
with my head up high…
As a song written by African-Americans and first sung by soul singer, Lou Rawls, "Walkin' Proud" offered both a straightforward message about self-respect and pride after the break-up of a relationship, but also a subtext during the Civil Rights Movement. That movement brought the plight of African Americans to the forefront of American political and intellectual thought. The ideological foundation of this movement was a feeling of black pride coupled with a strong sense of urgency for equality. Black activists and supporters, to express their solidarity and support of this movement, adorned symbolic clothing, accessories and hairstyles. Politics and fashion were fused during this time and the use of these symbolic fashion statements sent a clear message to America and the rest of the world that African-Americans were proud of their heritage, that Black was indeed beautiful and that it was important to embrace ones African identity. Examples of significant cultural symbols that were used by black activists during, and since, the Movement to convey racial identity and pride include the use of Kente cloth in clothing designs, the uniform of the militant group the Black Panthers, and the "natural" African hairstyle called the Afro. While people sang along with the song identifying with the man who is holding his head up high after a break-up with his woman, the song also offered a gentle reminder that pride and dignity were important no matter your circumstance.
"Walkin' Proud" did well in multiple radio markets. However, record distribution hampered the single's ability to do well on the national charts as it climbed up local record charts between the summer of 1967 and the winter of 1968.
After "Walkin' Proud," The Pete Klint Quintet continued to play in concert as openers for the Doors, the Hollies, the Beach Boys at the Chicago Opera House, the Buckinghams, Stevie Wonder, Cher, Steppenwolf, the Paul Butterfield Blues Band and other successful acts. At one concert in South Minneapolis in 1967, John Peterson recalled arriving at a venue that "was pretty much a dive, with a bar, a stark stage and sound system and some dilapidated tables and chairs. When we arrived we saw a light-complexioned black kid…playing on a drum set way in the back area of the stage. He was obviously talented and precocious. We listened for about ten minutes and then applauded his performance as he pulled the set off the stage. The owner of the club told us that he played guitar and keyboards even better than the drums….(after the concert we asked) the owner about the musical prodigy… The owner told us that he had never seen such a talented young musician and that he expected great things from this kid." The "kid" was nine years old at the time and twelve years later in 1979 he had a #1 hit on the Billboard R&B charts. The song was "I Wanna Be Your Lover." The kid's name was Prince.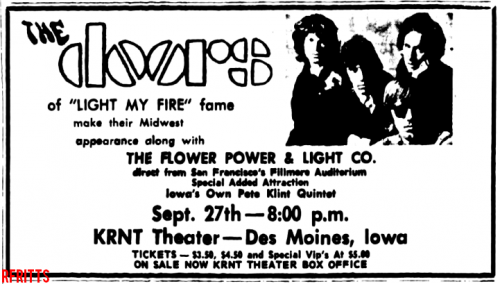 The band was even invited to play L.A.'s famed Holiday Bowl. To help with their stage show, they were connected with the Impression's Curtis Mayfield's tailor in Chicago, getting all new suits and stage wear. As the Pete Klint Quintet played a lot of soul and R&B music, "Walking Proud" and other tunes, they were appreciated by the African-American community in the midwest. After Martin Luther King Jr. was assassinated on April 4, 1968, the Pete Klint Quintet was asked to perform the following week at a number of African-American churches in Iowa commemorating King's life and his testimony to social justice.
The PKQ (for short) were signed by the famed entertainment agency, William Morris. They appeared at the Iowa State University Memorial Union parking lot during Orientation Week in September 1968 and perform for students getting familiar with the campus. By the fall of 1968 the Pete Klint Quintet had released their final charting single, "Hey Diddle Diddle," after switching to Atlantic Records. The single was a minor hit in radio markets in Iowa, South Dakota, Minnesota, Wisconsin and western Illinois. They attempted one more record on their own PKQ Records label, titled 'Friday Night Band," PKQ Records # 1449, but by that time, the magic was gone.
By 1971 the band was starting to break up. Soon Klint would re-form an all new group called "Big Louie." Wornson and Morosky would leave to join the Fabulous Flippers. Klint continued to play in a couple of different groups until early in 1973. However, the music scene was changing, and the ballroom gigs were waning in popularity. "I decided to hang it up and retire–without pay," Klint recalls. Over the following decade he worked variously at the Des Moines Music House and on construction projects.
After he left the band John Peterson attended an anti-war protest, and was tear gased, at the trial of the "Chicago Seven" (who were key protesters outside the Democratic Party Convention in Chicago on the day of August 28, 1968). Peterson was interested to attend the trial as his grade school chum, Chunky, had just gotten killed in Vietnam. Peterson also attended the Watergate hearings and watching first-hand as President Richard Nixon's aide, John Ehrlichman, was questioned by U.S. Senate panel members in Washington, DC. In the midst of a political evolution, Peterson attended the University of Iowa College of Medicine and was able to pay his way from the income he'd earned during his years with the Pete Klint Quintet. He subsequently enjoyed a successful career as a family physician in Muncie, Indiana, where he lives to this day with his wife of over four decades, Vicki. John Peterson served for 20 years as medical director of East Central Indiana Planned Parenthood and as a member of the Muncie Peace Network and Physicians for Social Responsibility. In 2009 Peterson authored his biography, The True-Life Adventures of Captain Wa Wah: Fifty Years of Music, Meditation and Politics.
In 2017 Pete Klint (Pete Klindt) is the Director of Operations at Git N Go Convenience Stores, Inc. in Iowa, a position he's held since 1983. Klint has been married to his wife, Susie, since 1969. Both he and former bandmate, Jamie Wornsom, live in Des Moines, Iowa. Bill "Mo" Morisky lives in the southwest USA, while Mike Hesselink drifted out of touch with the other band members over the decades.
In 1999 the Iowa Rock 'n Roll Music Association inducted the Pete Klint Quintet into its Hall of Fame. Only Pete Klint showed up for the honor.
For more song reviews visit the Countdown.