#1094: War Song by Neil Young
Peak Month: July 1972
6 weeks on Vancouver's CKVN chart
Peak Position #10
Peak Position on Billboard Hot 100 ~ #61
In 1945 Neil Young was born in Toronto, Ontario, and then lived most of his years growing up in the town of Omemee in the Kawartha Lakes region near Peterborough. As boy Neil Young was diagnosed with epilepsy, Type 1 diabetes and polio. By the age of six he was not able to walk. Despite his health challenges, he developed an interest in music and was taught to play the banjo and ukulele. After playing clubs in Toronto in the early 60s Young moved to Los Angeles by the time he turned twenty and became a member of the Buffalo Springfield.
After the Buffalo Springfield's single, "For What It's Worth", became a Top Ten hit in the USA in early 1967, all the bandmates including Neil Young became celebrities. The record-buying public got to listen to songs Young wrote like "Mr. Soul" and "I Am a Child." But my through 1968 Buffalo Springfield disbanded due to tensions within the band. Young often marched to his own drum and failed to show up for booked studio recordings of the groups final album.
In 1969 Young got a contract with Reprise Records. He released two albums that year, Neil Young and Everybody Knows this is Nowhere, backed by his band called Crazy Horse. The singles that emerged from these first two albums provided a glimpse into his creative lyric-writing and musicianship. These included "Sugar Mountain", "Cinnamon Girl" and "Down by the River".
In the midst of his emerging solo career, Young was invited by Stephen Stills to join a new group with David Crosby of the Byrds and Graham Nash of the Hollies. When Young joined the group it was renamed Crosby, Still, Nash & Young. They played at the Woodstock Festival in August 1969, and toured with their new album The band's subsequent tour and album, Déjà Vu, the following year. But Young's involvement with the band was short-lived as tensions over musical direction surfaced and Young went solo.
In 1970 he released the album, After the Gold Rush which included "Only Love Can Break Your Heart" and "Southern Man." Then between January and September 1971 Young recorded his Harvest album and released it in 1972. The album included his classic songs "The Needle and the Damage Done," "Old Man" and "Heart of Gold." Harvest went on to be the best-selling album in America in 1972.
While Harvest was still in the Top Ten of the Billboard album chart he released "War Song". This was a 1972 single credited to Neil Young & Graham Nash, backed by The Stray Gators. It was released in support of George McGovern's 1972 presidential campaign, who was running against incumbent President Richard Nixon. McGovern had been a member of the US Congress as a representative of the 1st District in South Dakota from 1957 to 1961. In 1961 he became Director of the Food for Peace program initiated by President John F. Kennedy. And from 1963 to 1981 he was a United States Senator from South Dakota. McGovern ran on a platform that advocated withdrawal from the Vietnam War in exchange for the return of American prisoners of war and amnesty for draft evaders who had left the country. McGovern's platform also included an across-the-board, 37-percent reduction in defense spending over three years. In shifting priorities away from defense spending, McGovern proposed a program that would give a $1,000 payment to every citizen in America.
Neil Young had already put his songwriting skills to effect with his social commentary about the killing of four students at Kent State University in Ohio in 1970 with the Crosby, Stills, Nash & Young single "Ohio". In the 1972 presidential campaign Young tried again to make an impact with a protest song. Despite his and Nash's intentions, the single was drowned out on the radio with an avalanche of Republican ads endorsing Richard Nixon's re-election.
In the morning when you wake up
You've got planes flying in the sky
Flying bombs made to break up
All the lies in your eyes
There's a man says he can put an end to war
They shot George Wallace down
He'll never walk around
Our mines are sleeping in the sea
Blow those bridges down
And burn that jungle down
And kill those Vietnamese
There's a man says he can put an end to war
In the morning when you wake up
You've got planes flying in the sky
Flying bombs made to break up
All the lies in your eyes
There's a man says he can put an end to war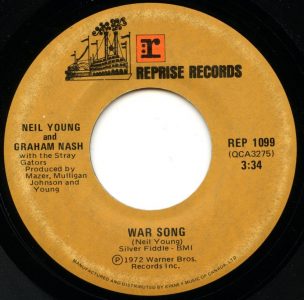 The song begins with a verse about Richard Nixon. The bridge between the first and second verses comments on an assassination attempt on Democratic presidential candidate and segregationist, George Wallace, and the destruction of Vietnamese people and the nation's infrastructure from the ongoing onslaught of the Vietnam War. By 1972 the Vietnam War was 17 years old and US involvement had ramped up from an initial thousand personnel in the late 50s to over half a million in 1968. In 1972 there were under 300,000 US troops in Vietnam and a strong opposition to the war among US citizens.
One place Neil Young would prefer nations spend their money instead of war is to help children with severe disabilities. Knowing firsthand his own struggles with epilepsy and his children's cerebral palsy, in 1986 he and his wife Pegi co-founded the Bridge School in Hillsborough, California, that is dedicated to offering education for children with severe disabilities. In 1993 he had his first Top Ten hit in Canada since 1972, "Harvest Moon".
In 2016 Neil Young's official website dedicates a section to matters of war and peace. His page Living With War Today All War All the Time features current news stories from the mainstream media. Headlines convey the ongoing problems with a permanent war economy and war as a political solution. "U.S. Sending 615 New Troops to Iraq" (MSNBC September 28, 2016), "War in Afghanistan Overlooked by Most Americans" (MSNBC September 9, 2016), "Why Are Veterans Still Homeless in San Diego" (San Diego Union Tribune April 22, 2016), "Vets Mental Health Diagnoses Rising (NY Times, July 16, 2009) and "How the Healing Power of Music Helps Wounded Warriors" (CNN October 10, 2014) are among the news stories featured on Young's website.
#NeilYoung
For more song reviews visit the Countdown.