#1026: What Would I Do Without You by Skylark
Peak Month: September 1972
9 weeks on CKVN chart
Peak Position #11
Peak Position on Billboard Hot 100 ~ did not chart
If it hadn't been for the wooden stage presence of David Foster in Ronnie Hawkin's band, Skylark might have never come into being. After a concert, Hawkins pulled Foster aside and said 'Son, you play like Beethoven, but looked like a cadaver on stage, so I'm gonna have to fire your ass.' Foster, and his wife, BJ Cook, who was a vocalist in Hawkins' band, moved back to the West Coast. While searching for the next thing, they reconnected with former Hawkin's bandmate, bassist Steven Pugsley. Cook next got in touch with former bandmates from her previous group, Soul Brothers. Of these, vocalist Donny Gerrard became a core member. Duris Maxwell (ex Little Daddy and the Bachelors, The Chessmen, Bobby Taylor and the Vancouvers) was added on drums. Later, Carl Graves was chosen as a third singer and percussionist.
Skylark signed a contract with Capitol Records and in time got a new guitarist named Allan Mix. The band's first single was "What Would I Do Without You," co-written by the songwriting team Shelby and Mitchell. The song is not to be confused with the same-titled tune written and recorded by Ray Charles in 1956. Skylark's tune is about two single people. One of them is "alone and lost, with no pride," while the other had "reached a dead-end street." They fall in love and things turn around 180 degrees for the better.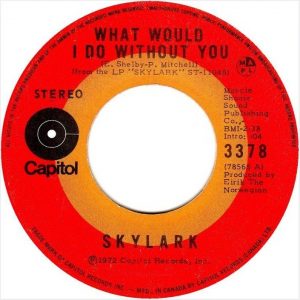 A wasteless girl, all over town,
you found something in me no man has ever found.
Alone and lost with no pride,
you gave me strength enough to hold my head up high.
Cant you see that I cherish you,,
in each and everything you do.
I had reached a dead-end street,
you came along and paved a brand new road for me.
An orphan child with no home,
you gave me love as though I was your very own.
Honey, thats how I feel about ya,
hate to think what I'd do without you.
Chorus
What would I do without you baby?
What would you do without me?
If we didn't love each other this way
(tell me what would life be, tell me, tell me)
Come what may, I'll get thru,
I wont be afraid as long as I have you.
Other loves tempting me,
I'll just close my eyes and, oh, you're all I'll see.
There's a plain and simple boy and girl,
together we'll make it, tell this world.
Chorus
What would I do without you baby?
What would you do without me?
If we didn't love each other this way
(tell me, tell me, baby, yeah, what would life be)
The band's next single, "Wildflower" became their biggest, peaking at #9 on the Billboard Hot 100 and Top Ten internationally. Donny Gerrard's lead vocals offered them promising possibilities. The song earned them additional royalties being covered Johnny Mathis, The O'Jays, Kenny Rogers, Aaron Neville and sampled by Tupac Shakur. Skylark made an appearance on The Midnight Special and it seemed things were looking up. But a mediocre follow up album, and dubious support from Capitol Records led to the groups' demise.
Following the breakup of Skylark, David Foster went on to produce studio albums with Quincy Jones, Celine Dion, Chicago, The Payolas, Kenny Rogers, Lionel Richie, Barbara Streisand and others. Donny Gerrard stayed in Los Angeles and worked in the studio doing commercials, TV and movie work until that dried up. From there he became a highly sought after studio musician, providing background vocals for Elton John, Donna Summer, and John Fogerty. He was amongst the Canadian musicians who recorded the 1985 charity single for African famine relief, "Tears Are Not Enough." He sang his solo line with Bryan Adams. In the late '90s Gerrard joined The Staples Singers.
Allan Mix played with Charity Brown's band and then was among the personnel on Copperpenny's FUSE album. In 1975 he relocated to Los Angeles with a focus on session work. BJ Cook relocated to Toronto where she did studio work and got free lance work writing lyrics to the theme songs for the TV shows "Night Heat" and "Airwaves" with Domenic Troiano, and the movie Meatballs 3. Graves had four modest hits in the '70s with "Baby Hang Up The Phone" being the most successful. Than he left the music business.
Duris Maxwell became a musician with Powder Blues, Doucette, The Irish Rovers, The Temptations, and Heart. He recalled "The reason I left Skylark was because there was an absurd disconnect between the 'identity' of 'Skylark' in the studio and the 'identity' as a 'live' act…. There seemed to be this fear that if we performed the material from the first album 'live,' with the possible exception of "Wildflower," we'd be seen as a tragic bunch of 'Air Supply' wannabes. So we rehearsed old, horrible cover songs to play live. Thus, the whole damn point of recording the album was basically lost. A record company exec stood by the side of the stage at one of our gigs in complete astonishment. "Why aren't you playing any of the album material?!" Seemed a damn appropriate question actually. In any event, I grew sick of the two identities…and went back to Vancouver."
For other reviews on this website visit the Countdown.