#922: What's That Got To Do With Me by Jim & Jean
Peak Month: April 1967
9 weeks on Vancouver's CFUN chart
Peak Position #11
Peak Position on Billboard Hot 100 ~ did not chart
Jim & Jean were a folk duo composed of Jim Glover, a native of Cleveland, Ohio, born in 1942, and New Yorker, Jean Ray, who was born in 1941. This folk duo appeared in folk clubs, TV shows and folk festivals between 1961 to 1969. They got married in 1963, and were listed as Jim and Jean Glover on the liner notes of their albums. Glover was a student at Ohio State University. While he was there he met Phil Ochs, in the fall of 1959. It was Glover who acquainted Ochs to folk music, Left-wing politics, and showed him how to become a guitar player. For a brief time Glover and Ochs became a folk duo on the campus and billed themselves as The Singing Socialists. The name resonated with the duo as Jim Glover came from a multi-generational family connected to the Communist Party USA. Glover's father was a longtime friend of Gus Hall, the leader and chairmen of the CPUSA who ran for president in the US federal elections of 1972, 1976, 1980 and 1984. Phil Ochs was very supportive of the Cuban Revolution in 1959 and had high hopes for its nation under the leadership of Fidel Castro. The Singing Socialists didn't last as an act. Glover left Ohio State University to pursue folk music in Greenwich Village in Manhattan in 1961.
Once involved with the Greenwich Village folk music scene, Jim Glover met Jean Ray at the Café Raffio. Jean had been studying a degree in English and Psychology at the University of Southern California when she got interested in folk singing and moved to Greenwich Village. The two began a romance and started to perform as a folk duo billed as Jim & Jean. According to Phil Ochs biographer, Marc Eliot, in his book Death of a Rebel: A Biography of Phil Ochs, the duo established a fan base at Café Raffio. This helped them cover their expenses which included monthly rent on an apartment they lived in on Thompson Street, south of Washington Square Park. The following year, in 1962, Phil Ochs was invited to join Jim & Jean and share rental costs as Ochs began to establish his own career as a folk musician in Greenwich Village. Shortly after, Jean Ray Glover arranged for Ochs to meet her friend Alice Skinner. Skinner and Ochs saw stars in each others eyes and Ochs left Jim & Jean's apartment to moved in with Alice Skinner and get married her.
In 1963 Jim & Jean got married. They also got a lucky break, the kind that happens when your connected to the right people. In this case, Jean Ray's mother, Lee Ray, was the executive secretary for Art Linkletter, a TV show host. Lee Ray would serve Linkletter in this position for 54 years. Lee Ray mentioned to Linkletter that her daughter and son-in-law were a folk music duo. Art Linkletter agreed with his executive secretary to have Jim and Jean appear as guests on a number of his TV shows.
Jim & Jean's first recording was contributing three tracks, including "Three Blind Mice," on Jack Linkletter Presents a Folk Festival. Jack Linkletter was the son of Art Linkletter and was a TV show host in his own right, including Here's Hollywood, Hootenanny and in an assisting role with the Miss Universe pageant. Jack Linkletter Presents a Folk Festival was a live 1963 various artists album including contributions from Les Baxter's Balladeers, the entire cast of the TV show Hootenanny and The Yachtsmen, a Long Beach College quartet who regularly performed at Disneyland. (The Yachtsmen went on to record under the name The What's New).
In 1965, Jim & Jean released a self-titled album with traditional and contemporary folk songs including by songwriters Tom Paxton, Phil Ochs, Buffy Sainte-Marie and Lead Belly. Alice Skinner Ochs contributed the liner notes for the album. In 1966, Jim & Jean's follow-up album, Changes, was issued. The title track got airplay in San Bernardino, California, and Albany, New York. "Changes"was written by Phil Ochs. The album included two more songs composed by Ochs, and for this album Phil Ochs also wrote the liner notes. The Changes album also featured songs written by Bob Dylan and Jim & Jean. Their song "One Sure Thing" written by Jean and Harvey Brooks would later be recorded by Fairport Convention. With the second album, Jim & Jean were moving from a classic folk sound to one that added session musicians and a folk-rock accent. They recorded with pianist and bassist Harvey Brooks, who had worked on Bob Dylan's first electric sessions.
After their second album, Jim & Jean released what, at the time, was a non-album single titled "Whats' That Got To Do With Me." It was written by Jim Glover and appeared on a few radio play lists in 1967.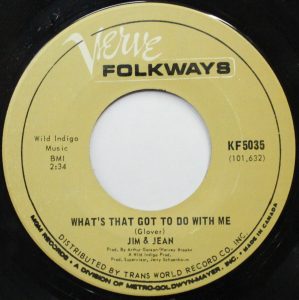 I was unknown right from the start,
you flew on by, you stole my heart.
You were on top, you played the part,
now you're running out on me,
now you gonna be so free.
What's that got to do with me,
baby can't you see?
What's that got to do, what's that got to do,
what's that got to do with me?
You were so wild and full of surprises,
I played all your games and I won all your prizes.
Remember, your friend, treated me like a brother,
until he told me he was your lover.
What's that got to do with me,
baby can't you see?
What's that got to do, what's that got to do,
what's that got to do with me?
What's that got to do with me?
What's that got to do with me?
What's that got to do with me?
What's that got to do with me?
What's that got to do with me?…
What's that got to do with me,
baby can't you see?
What's that got to do, what's that got to do,
what's that got to do with me?
What's that got to do with me?
What's that got to do with me?
What's that got to do with me?
What's that got to do with me?
"What's That Got To Do With Me" is a song about a guy attracted to a woman. He concedes at the outset: "I was unknown right from the start/you flew on by, you stole my heart." As things unfold the woman is on top and in charge of the romance. Soon after she's over with dating him, she finds another lover and feels free. But the guy she's been dating doesn't get informed by her that she's moved on. It's left to the woman's new boyfriend to break it to the old boyfriend that she's got a new lover. It underscores the woman's detachment from whatever lingering feelings and attachment the old boyfriend has for her. He recalls "You were so wild and full of surprises/I played all your games and won all your prizes."
"What's That Got To Do With Me" is a statement clearly conveying that whatever the old boyfriend thinks about the way he perceived his relationship with this woman, she's clear that his feelings and expectations have nothing to do with her. She is free and has moved on and get another lover. Might the old boyfriend's sense of himself, or the power dynamics, fated the relationship from the outset? He recalls "I was unknown right from the start." This is either his self-concept or his sense of her regard for him: that he's unknown or invisible in some way. Either way, it's not a good foundation on which to build a life together. "What's That Got To Do With Me" peaked in the Top 30 in San Jose, San Francisco, San Bernardino and Seattle, while making the Top 20 in Santa Rosa (#16), San Diego (#15) and Vancouver (#11). It's best chart run was in Madison, Wisconsin, where the song reached #7.
In 2013 on the Sly and the Family Stone 4-CD box set Higher, features their previously unreleased original funk recording from 1967 of "Whats' That Got To Do With Me." In their version, Sly sings "I was a nobody right from the start/you took my hand, you stole my heart." Sly Stone's choice of "nobody" adds a helpful nuance to Jim & Jean's "unknown" as the old boyfriend's sense of self.
People World, released in 1968, was Jim and Jean's last album, People World. It featured their 1967 single, "What's That Got To Do With Me," and their last two single releases "People World" and "Topanga Road." Jim & Jean's follow up to "What That Got To Do With Me" was "People World," which spent a few weeks on the Billboard Hot 100 climbing to #94. The title track was one of three songs on the album written by their friend Phil Ochs. The title track made the Top 20 in Los Angeles and Denver. The album features some songs with flower power themes and slight psychedelia and a larger offering of their own original material.
Over the years Jim & Jean played in folk music clubs across America including not only their Greenwich Village haunts, but also the Ash Grove in West Hollywood and the Ice House in Glendale, California. They sometimes opened for Canadian folk rock band named 3's a Crowd, popular in Vancouver and Ontario. It may be Jim & Jean's role as openers for 3's a Crowd got them the attention of DJ's on CFUN. In one performance at the Ash Grove, rather than playing as a duo, Jim & Jean were accompanied by a pianist and by the bassist Harvey Brooks, who had played with Dylan.
Glover has participated in a number of peace demonstrations over the years, including the March on the Pentagon on October 21, 1967, to protest the war in Vietnam. Jim demonstrated at the 1968 Democratic National Convention in Chicago and entertained other demonstrators, with Jean Glover and Phil Ochs, at the Quiet Knight Coffee House during breaks in the protests.
In 1969 Jim & Jean split up as a singing duo and also got a divorce. Over the next four decades Jim Glover recorded two albums, No Need To Explain (1980) and Outsider (2003). Jean Ray pursued a career in the theatre. Jim & Jean were reunited in 2006 where they performed a final show at the People's Voice Cafe in New York City on March 18, 2006. After an illness, Jean Ray died in 2007.
Jim & Jean were one of three folk duos, along with Ian and Sylvia and Richard and Mimi Fariña, who inspired the fictional characters, Mitch and Mickey, in the Eugene Levy and Catherine O'Hara comedy, A Mighty Wind, offering a parody of the 1960's folk music revival. The film is about a fictional memorial concert for folk music producer Irving Steinbloom. Upon his death, his children organize a concert, which they hope to feature his three most famous acts: The Folksmen, The New Main Street Singers, and Mitch & Mickey. Mitch & Mickey, a former couple that released seven albums until their dramatic break-up years before the setting of the film. Mickey seemingly moved on and she has married a medical supply salesman. But after the breakup Mitch had an emotional breakdown and never fully recovered. Their most famous song was "A Kiss at the End of the Rainbow," at the end of which the pair would actually kiss on stage. Jim & Jean are a likely inspiration for the husband-wife folk-singing duo also called Jim and Jean in the Coen Brothers film, Inside Llewyn Davis.
Jean Ray was the inspiration for Neil Young's song, "Cinnamon Girl," as verified by her brother Brian Ray on A Bit Like You And Me 60's blog from June 8, 2012. On the liner notes from the CD reissue of Changes/People World in 2005, Jean Ray said, "Neil Young's song "Cowgirl in the Sand," came from a visit he made to me and my family living on the beach."
Jim Glover wrote a peace-related poem the day after 9/11 and recited it at a peace rally later that month. He also wrote a letter to the editor urging peace in the lead up to the Afghan War that appeared in the September 28, 2001, issue of the St. Petersburg Times. Glover continues to write and sing peace-related folk songs in concert. On April 9, 2009, he gave a concert in tribute to Phil Ochs at Mother's Musical Bakery in Sarasota, Florida.
For more song reviews visit the Countdown.