#141: 99 by Toto
Peak Month: November-December 1980
15 weeks on Vancouver's CFUN chart
Peak Position ~ #4
Peak Position on Billboard Hot 100 ~ #38
YouTube: "99"
Lyrics: "99"
Born in 1954 in Los Angeles, David Paich is the co-founder, principal songwriter, keyboardist, and singer of the band Toto. He co-wrote "Lowdown" with Boz Scaggs, numbers of hits for Toto including "Hold The Line", "99", "Rosanna" and "Africa", and 1978 disco hit "Got To Be Real" for Cheryl Lynn. In 1977, Paich produced the No. 1 R&B hit "Break It to Me Gently" for Aretha Franklin. In 1978 he founded Toto.
Steve Lukather was born in the San Fernando Valley, California, in 1957. He began to teach himself how to play guitar at the age of seven, after his dad bought him the Meet the Beatles! album. While he was in high school, Lukather met David Paich and Jeff, Mike and Steve Porcaro. After graduating, Lukather did some work as a session musician.
Jeffrey Thomas Porcaro was born in 1954 in Hartford, Connecticut. Learning to play drums at age seven, he got a break and was hired as part of Sonny & Cher's touring band when he turned seventeen in 1971. He was with Steely Dan in 1974. After Steely Dan stopped touring, Porcaro toured with Boz Scaggs until he co-founded Toto in 1977.
Steve Porcaro was born in 1957, also in Hartford, Connecticut. He began playing an electric organ at the age of ten. He got his start professionally touring with Gary Wright for his Dream Weaver Tour in 1977.
David Hungate was born in 1948 in suburban St. Louis. Hungate attended the College of Music at North Texas State University in Denton. He played bass in their jazz ensemble, the One O'Clock Lab Band, including a performance at the 1970 Montreux Jazz Festival in Lake Geneva, Switzerland, (immortalized by Deep Purple in "Smoke On The Water"). In 1971 he was a musician on the album Sonny & Cher Live. Hungate has been a session musician for the Hues Corporation's "Rock The Boat", Leslie Gore, John Sebastian's "Welcome Back", Leo Sayer's "How Much Love", Dolly Parton's "Here You Come Again", Paul Anka, Melissa Manchester's "Don't Cry Out Loud", the Pointer Sisters' "Happiness", Neil Diamond and Barbra Streisand's "You Don't Send Me Flowers", Boz Scaggs' "We're All Alone", Alice Cooper and many others. Hungate was with Boz Scaggs on his 1976 Silk Degrees album.
Robert "Bobby" Kimball was born in 1947 in Orange, Texas, on the Louisiana border. He was raised in nearby Vinton, Louisiana. He performed as a vocalist for several bands in New Orleans into the early 70s. In 1974 he formed a band with three former members of Three Dog Nite called S.S. Fools. The band was not a commercial success and they split up in '75.
Hungate, Jeff Porcaro, and Paich, were session musicians on Boz Scaggs' 1976 album Silk Degrees. This nucleus added Steve Porcaro, Bobby Kimball and Steve Lukather in 1977 to form Toto. From their debut 1978 self-titled album, the band had a #5 hit in the USA and #3 in Vancouver with "Hold The Line". Toto appeared for the first time in Vancouver at the Pacific Coliseum on June 12, 1978.
The next album release in late 1979 was Hydra. From the album came the debut single "99".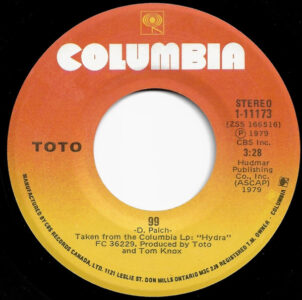 David Paich wrote "99". This is not a song about someone nicknamed '99.' It's a song about a relationship that a guy thought "would never work out." He pleads that he loves his partner. Simultaneously, he declares of their relationship "I can't take it no more." He also laments that he keeps breaking her heart. It seems he hasn't developed the emotional capacity to keep things going in a healthy direction. The subject of the song is about having 99% certainty in the relationship. He has felt their relationship was a 99% sure thing. But there was a 1% chance things would fall apart. He thought there was a 99% chance of forever. However, it ends up that the 1% chance of doubt, of a negative trajectory or unforeseen problems is what finally manifests. The relationship is ending: "I never thought it could Happen…We were so sure."
"99" peaked at #1 in Minneapolis/St. Paul, Richmond (IN), and Fort Lauderdale, #2 in Toronto, and Ottawa (ON), #3 in Seattle, and Regina (SK), #4 in Vancouver, Honolulu, Halifax (NS), Bangor (ME), Fredericton (NB), and Saskatoon (SK), #5 in Tulsa (OK), Mesa (AZ), Dayton (OH), Phoenix, Portland (OR), Kansas City (MO), and San Bernardino (CA), #6 in Washington D.C., #7 in Atlanta, Richmond (VA), and Denver, #8 in Roanoke (VA), #9 in Edmonton (AB), London (ON), and Oklahoma City, and #10 in San Diego.
Prior to the "99" chart run in the fall-winter of 1980, on June 5, 1980, Toto gave a concert in Vancouver at the Queen Elizabeth Theatre.
In 1981 the band's third album, Turn Back, while a big seller in Japan and Norway, was a commercial disappointment elsewhere. But their fortunes changed in 1982 with the release of Toto IV. The album included international hits "Rosanna" and "Africa". A respectable third single from the album, "I Won't Hold Back", became their third Top Ten hit from the album. Additional personnel on the album included Mike Porcaro, who subsequently joined the band.
Toto continued to release more albums. Fahrenheit from 1986 was the most commercially successful. The lead single, "I'll Be Over You", climbed to #6 in Finland. In 1987, the album The Seventh One, had Top Ten hits with both "Pamela" and "Stop Loving You" in the Netherlands and Belgium. From the 1992 album, Kingdom of Desire, "Don't Chain My Heart" climbed to #9 in Finland.
In 2018, Toto released its fourteenth studio album. They have also released eight live albums.
In 1982, Paich was a session musician on four tracks from Michael Jackson's Thriller album, including "The Girl Is Mine" and "Human Nature". In 1985, Paich was a session musician on "We Are The World" by USA for Africa. In 1987, Paich was a session musician on the #1 hit duet with Michael Jackson and Siedah Garrett titled "I Just Can't Stop Loving You". In 1989, Paich produced and arranged the Oscar-nominated song "The Girl Who Used to Be Me" for the film Shirley Valentine.
Over his career, David Paich has won six Grammy Awards. The first was in 1977 with Boz Scaggs for "Lowdown" (Best R&B Song). His other five Grammy Awards all came in 1982 with Toto, including three for "Rosanna" (Best Vocal Arrangement, Best Instrumental Arrangement, and Record of the Year); And for Toto IV (Producer of the Year, Record of the Year).
Jeff Porcaro also was a session musician on hundreds of records. These include Rickie Lee Jones on "Chuck E.'s In Love", John Sebastian on "Welcome Back", Seals & Crofts on "Diamond Girl", "Get Closer" and others, Leo Sayer on "You Make Me Feel Like Dancing", "How Much Love" and "When I Need You", Boz Scaggs on "Lowdown", "Lido Shuffle", "Breakdown Dead Ahead" and "Jojo", Carly Simon on "Nobody Does It Better", Eric Carmen on "She Did It", Warren Zevon on "Werewolves of London", Elton John on "Empty Garden", and Christopher Cross on "Arthur's Theme (Best That You Can Do)".
Jeff Porcaro was drummer in the recording studio for "Human Nature", "Beat It" and "The Girl Is Mine" on Michael Jackson's Thriller album. Other notable contributions as a studio musician include for Lionel Ritchie on "Running with the Night", for Don Henley on "Dirty Laundry", for Melissa Manchester on "You Should Hear How He Talks About You", for Madonna on "Like A Prayer", "Cherish" and "Express Yourself", for Michael Bolton in his 1991 cover version of "When A Man Loves a Woman", for Cher with her cover of "The Shoop Shoop Song (It's In His Kiss)", and for Go West on "King Of Wishful Thinking". He had also been in the recording studio with Pink Floyd and Diana ross. Porcaro died of a heart attack in 1992. Before he died he had recently been in the recording studio with Bruce Springsteen and Dire Straits. Jeff Porcaro was 38 years old.
Separately from Toto, Steve Lukather has appeared as a session musician on over 1,500 records. This includes Lionel Ritchie's "Running With the Night", and Richard Marx' "Nothin' You Can Do About It". In 1982, Lukather won a Grammy Award for writing "Turn Your Love Around", a hit for George Benson. He has also released eight solo albums. In 2012, Steve Lukather joined Ringo Starr's All Starr Band.
Steve Porcaro cowrote "Human Nature" for Michael Jackson, and wrote music for "The Girl Is Mine" on Jackson's album Thriller. Steve Porcaro has written, arranged or contributed to songs recorded by Pablo Cruise, Alice Cooper, The Brothers Johnson, Daryl Hall & John Oates, Earth, Wind & Fire, Don Henley, Donna Summer, Heart, Kenny Loggins, Jefferson Airplane and others.
Bobby Kimball was asked to leave Toto during the recording of the 1984 album, Isolation. Kimball moved to West Germany, and also did work with Chicago and Michael MacDonald. In 1994 he released a solo album. In 1998, Kimball rejoined Toto.
Mike Porcaro died in March 2015 at the age of 59 of ALS. On September 12, 2015, Toto performed in the Vancouver suburb of Coquitlam. Toto appeared in concert at the Centre for Performing Arts in Vancouver on July 30, 2018.
July 15, 2022
Ray McGinnis
References:
Paul Cashmere, "Boz Scaggs Explains How He Became The Father Of Toto," Noise11, Melbourne, Australia, April 14, 2014.
Greg Prato, "David Paich of Toto," Songfacts.com, March 18, 2015.
"Geoff Nicholls, "Obituary: Jeff Porcaro," Independent, UK, August 14, 1992.
"Toto Canada concerts," setlist.fm.
"Mike Porcaro, Bass Player for Toto, Dies at 59" New York Times, March 16, 2015.
"Continuing a Family Tradition: An Interview with Steve Porcaro," KVRaudio.com, April 7, 2017.
George W. Harris, "Steve Lukather: The Last of the Old School Guitarists," Jazz Weekly, April 1, 2021
"Top Thirty," CFUN 1410 AM, Vancouver, BC, March 22, 1980.
For more song reviews visit the Countdown.