#1173: A Criminal Mind by Gowan
Peak Month: May 1985
7 weeks on Vancouver's CKLG chart
Peak Position #12
Peak Position on Billboard Hot 100 ~ did not chart
YouTube.com: "A Criminal Mind"
Lyrics: "A Criminal Mind"
Lawrence Gowan was born in Glasgow, Scotland, in 1956. His family moved to Scarborough, Canada, a suburb of Toronto, when he was a child. He recalls that his "marks in high-school were of a caliber that left me no option but to pursue the occupation of Rockstar." He practiced piano and was trained at the Royal Conservatory of Music in Toronto. He formed a trio called Rhindgold in 1976. As the lead vocalist and keyboardist, Lawrence Gowan also demonstrated acrobatics on the stage and dancing on top of his baby grand piano. Rhinegold was a progressive rock act in the mold of Supertramp, Electric Light Orchestra and Yes.
However, there were numbers of other groups crowding the pop music circuit and airwaves that sounded much the same, like Rush and Trooper. In addition, the late 70s was the time of Donna Summer ("Bad Girls", "Hot Stuff") the Bee Gees ("Night Fever", "Stayin' Alive"), Gloria Gaynor ("I Will Survive") and Chic ("Le Freak", "Good Times"). Even the Rolling Stones had some disco-infused rock 'n roll with hits at the time with "Hit Stuff" and "Miss You." In the face of the disco onslaught, Rhinegold disbanded.
In the aftermath, Lawrence Gowan joined the Toronto band, Klaatu ("Calling Occupants"). Then a new medium broke open new possibilities for him. Gowan appeared on a music video. He released his first self-titled album, Gowan, in 1982. The following year he received a Juno Award nomination in the category of Most Promising Male Vocalist of the Year.
In 1985 he received critical acclaim for his second album, Strange Animal. Recorded at Ringo Starr's Startling Studios in the hamlet of Ascot in England's Berkshires. He won two Juno Awards, one for Best Album Graphics and a second for the first single from the album, "A Criminal Mind". This led to being an opening act on tour in Canada with The Kinks.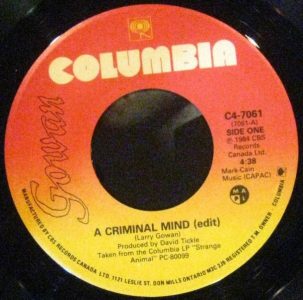 Gowan's narrator in the song is a hardened criminal who cannot be rehabilitated. In this convict's mind there is no remorse for any crime they've committed. The legal system and politicians across the world's democracies struggle to address what to do with repeat offenders, as well as with people who commit serious crimes, like murder. Cases of hardened criminals who show no remorse are difficult. The phrase "lock the door and throw away the key" has been a rallying cry for some victims of crime groups. As a result, there is a suggestion that even after some criminals serve their time, their life sentence, that they should remain behind bars.
Gowan went on to tour a number of times in the UK. He played one of his own compositions, together with the London Symphony Orchestra, for the opening of Princess Diana's memorial at her resting place in Althorp on September 6, 1997, after the procession from Westminster. On another trip to the UK Gowan opened for the punk rock band The Stranglers.
In 1999 Gowan was invited to be lead vocalist and keyboardist with the American progressive rock group Styx ("Babe" and "Mr. Roboto"). Over the past 16 years Gown has enjoyed frequent touring with the band including two Superbowl concerts, the Tokyo-dome and a 2007 concert at Wembley stadium.
February 22, 2017
Ray McGinnis
References:
The Life and Times of Lawrence Gowan, Gowan.com
Aaron Broffy, "The Strange Stories Behind 'Strange Animal,' Gowan's 30-Year-Old Classic Album," Huffington Post, February 4, 2015.
Pat Cuadros, Interview: Lawrence Gowan of Styx (Part 1), Blogcritics, June 11, 2018
Brad Wheeler, "Lawrence Gowan on Styx, Mr. Roboto, and the Classic Group's Younger Audience Today," Globe and Mail, Toronto, Ontario, June 29, 2018.
"CKLG Top 30 Singles," CKLG 730 AM, Vancouver, BC, May 23, 1985.
For more song reviews on this website visit the Countdown.