#575: A Man Without Love by Engelbert Humperdinck
Peak Month: July 1968
7 weeks on CKLG's Vancouver Charts
Peak Position ~ #2
Peak Position on Billboard Hot 100 ~ #19
YouTube.com: "A Man Without Love"
Lyrics: "A Man Without Love"
Arnold George Dorsey was born in 1936 in city of Madras (now Chennai) during the British Raj. His father was a British Army officer and the family returned to England in 1946. It was only in 1954 he first sang in public at a pub contest. He was conscripted into the British Army in 1955 and after being discharged he recorded his first record. Billed as George Dorsey, his debut single was Decca Records was "I'll Never Fall In Love Again". He worked in nightclubs until 1961 when he suffered from tuberculosis. In 1965 his former roommate, Gordon Mills, had become the manager of Tom Jones. Mills suggested Dorsey change his name to Engelbert Humperdinck, after a 19th Century German composer.
In 1966 he released "Domage Domage" which climbed onto the Belgium pop chart. But it was his debut English-speaking recording of "Release Me" that made him an international success. That recording, released in December 1966, went to #1 in the UK for six weeks (keeping "Penny Lane" by the Beatles out of the #1 spot), #1 here in Vancouver (BC) in May and #4 on the Billboard Hot 100. Between 1967 and 1968 Engelbert Humperdinck landed eight of nine singles in the Top Ten in the UK. "The Last Waltz" became his second #1 hit in the UK in the fall of 1967. The single failed to chart in Vancouver. And his #2 hit in the UK between his #1 hits on the British chart in 1967, "There Goes My Everything" only made it on the Hit Bound list on CKLG in July '67. In early 1968 his next hit "Am I That Easy To Forget" peaked at #3 in the UK. But, again, the single missed the pop charts in Vancouver (BC).
However, he climbed to #2 on the CKLG chart in Vancouver (BC) with "A Man Without Love (Quando M'innamoro)".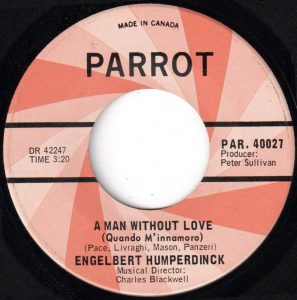 "Quando m'innamoro" is a 1968 Italian song written by Daniele Pace, Mario Panzeri and Roberto Livraghi. Pace and Panzeri co-wrote a number of Italian songs in the 1960's. Panzeri wrote a #1 hit in Italy in 1959 titled "Lettera a Pinocchio" ("A Letter To Pinocchio"). Livraghi left the music business in the 1970's and became the President of the Italian Golf Federation.
"A Man Without Love (Quando M'innamoro)" is a song contrasting a time before and a time after. The subject is a relationship that he thought would "last forever." It was a time when "waiting inside her eyes was my tomorrow." But then her kisses changed signaling a shift in her intentions. Now the love of his life has gone and he is inconsolable. He begins each day crying his heart out. He "can't face this world that's fallen down on me." He asks if anyone happens to see his ex-girlfriend to let her know his heart is "slowing dying." We don't learn in the song why she left, only that he is bereft and lonely without her.
"A Man Without Love (Quando M' innamoro)" peaked at #1 in Toronto, #2 in Vancouver (BC), #5 in Louisville (KY), San Francisco and Fresno (CA), #6 in Reading (PA) and Guelph (ON), #7 in Bangor (ME), San Diego, Spokane (WA) and Seattle, and #8 in New York and Los Angeles.
For six months in 1969–1970, Humperdinck hosted his own television series The Engelbert Humperdinck Show on ATV in the United Kingdom, and ABC in the USA. His featured guests included Paul Anka, Tom Jones, Dusty Springfield, Lulu, Ray Charles, The Four Tops, Dionne Warwick and others. From the early to mid-70's he performed in Las Vegas with his backing singers The Three Degrees. The female trio had their own Top Ten international hit in 1974 titled "When Will I See You Again". In 1972 Humperdinck hosted his own variety show for the BBC titled Engelbert with The Young Generation. In 1976 he appeared on The Tonight Show Starring Johnny Carson and performed his first Top Ten hit in a decade in the USA titled "After The Lovin'".
Into the 1980's Engelbert Humperdinck performed as many as 200 concerts a year for many years. Over the years he has released over eighty studio albums. In 1989 he got a star on the Hollywood Walk of Fame. In 2003 Always Hear the Harmony: The Gospel Sessions was nominated for a Grammy Award. In the fall of 2019 Engelbert Humperdinck will perform at least six concerts in North America, including two at the River Rock Casino in Richmond (BC) on September 13 and 14.
August 12, 2019
Ray McGinnis
References:
Kev Geoghegan, "Engelbert Humperdinck: the Man Behind the Name," BBC, March 5, 2002.
"Children of the Raj Celebrate their Unique Heritage," The Age, Sydney, Australia, August 2, 2002.
Harriet Lane, 'Call me Enge (rhymes with Penge)', Guardian, October 7, 2001.
"Boss 30," CKLG 730 AM, Vancouver, BC, July 6, 1968.
For more song reviews visit the Countdown.