#1004: A-Rab by The Titans
Peak Month: February 1962
9 weeks on Vancouver's CFUN chart
Peak Position #10
Peak Position on Billboard Hot 100 ~ did not chart
YouTube.com: "A-Rab"
The Titans were a group from McCleary, Washington, who played rock 'n roll from 1959 to 1964. Their members included vocalists Willie Washington and Sandy Faye, saxophonist Walt Ratenbury, guitarist Gary Buchanan, pianist Rudy Volkman, Walt Newman and Nick Burris both on bass and Jim Wroughton on drums. On a YouTube post is found this comment: "McCleary, Washington, a small town west of Olympia would produce the very popular Titans. In early 1962, their fantastic instrumental, "A-Rab" would go top ten in Vancouver, BC. I do remember airplay in Seattle, but it didn't receive the support that it deserved. My older brother saw them one time and he raved about them. They were never able to break into the Seattle dance circuit, so were mostly unheard north of Tacoma." The Titans gave concerts in places like the Civic Auditorium in Chehalis (WA) and the Red Carpet in Tacoma. The band was inter-racial, with Willie Washington being a featured lead vocalist. From 1960 to 1961, Nick Burris had been part of a band called The Wander'ers, based in Hoquiam, Washington.
Though they didn't only record instrumentals, the record they released in early 1962 was an instrumental. If the Titans got airplay in Seattle in early 1962 for "A-Rab" while it was peaking on the charts in Vancouver, BC, the song didn't appear on Seattle's pop charts. The instrumental was written by Titans bandmate, Gary Buchanan. It spent nine weeks on the CFUN charts and climbed for two weeks into the Top Ten in Vancouver, stalling at #10.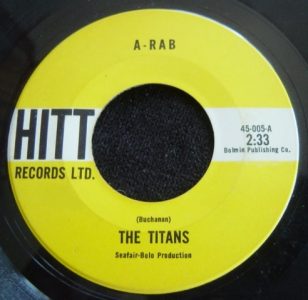 "A-Rab" opened with guitar and hand clapping. Hand clapping was a feature of numerous songs in pop music in the early rock 'n roll era. Some examples of this are found in "Let's Go" by The Routers, "Mashed Potato Time" by Dee Dee Sharp, "My Boyfriends Back", by The Angels and "I Want To Hold Your Hand" by The Beatles. Hand clapping was a way of creating an groovy beat to get listeners to, often, get up and dance. Another feature of "A-Rab" by The Titans is the use of saxophone. Saxophone was a feature of many hit singles in the late 50's and early 60's. "Get A Job", by The Silhouettes, "Tequila" by The Champs, "Yakety Yak" by The Coasters and "Rebel Rouser" by Duane Eddy are examples of songs with a saxophone solo. A third aspect to "A-Rab" is the surf guitar sound. Dick Dale, dubbed the King of the Surf Guitar, pioneered the surf music style drawing on Middle-Eastern music scales and experimenting with reverberation. Dale's father was Arab and his uncle taught him how to play the tarabaki, or goblet drum. He also heard his uncle play the oud, an eleven-string pear shaped instrument. So perhaps, since the surf guitar sound owed part of its roots to Middle-Eastern music scales, the Titans were inspired to title their instrumental "A-Rab".
In 1962 there seemed to be a popular fascination with things to do with Arabia. Ray Stevens had a Top Ten hit called "Ahab The Arab" released in May of that year. "Ahab The Arab" portrayed a "sheik of the burning sands" named Ahab. He is highly decorated with jewelry. Each night he hops on his camel named Clyde on his way to see Fatima, who is the best dancer in the Sultan's harem. Fatima is described with a modified quote from the 1909 hit, "I've Got Rings On My Fingers": "with rings on her fingers and bells on her toes and a bone in her nose, ho ho." During the ride, Ahab "speaks" (actually, produced ululations that parody the Arabic language) to Clyde the camel. When Ahab finds Fatima in her tent, she is ironically engaged in stereotypically Western behavior: "eating on a raisin, and a grape, and an apricot, and a pomegranate, a bowl of chittlins, two bananas, three Hershey bars, and sipping on an RC Cola, and eating a Moon Pie, listenin' to her transistor, watchin' the Grand Ole Opry, and readin' Mad Magazine while she sung, 'Does your chewing gum lose its flavor?'" Ahab woos Fatima with another mock Arabic chant, this time a quote from the song "Let's Twist Again" by Chubby Checker. Fatima, portrayed by Stevens in falsetto, responds to Ahab's advances with laughter and an English utterance that Ahab is "crazy."
Later in 1962 the film Lawrence of Arabia was released and went on to win seven Academy Awards in early 1963, including for Best Picture and Best Director. Peter O'Toole was nominated for Best Actor but lost out to Gregory Peck for To Kill A Mockingbird. Lawrence of Arabia concerned the life of a World War One British Army officer who witnessed some of the uprising of the Arab Revolt (1916-1918), a movement for Arab independence from the Ottoman Empire.
"A-Rab" seems to be the only single the Titans ever released. What happened to most of the members of The Titans in the years after they split up in 1964 remains obscure. The Day's End was a band started in 1966 by former Titan drummer, Don Torbet, all comprised of former members of Franklin Pierce High School near Tacoma. The band later morphed into A New Day's End and performed in concert until 1972. Former Titans vocalist, Sandy Faye, went on to be vocalist for a Pacific Northwest band called The Regents from 1963 to 1967.
The Titans did reform to play their instrumental rock and did gigs between 2001 and 2004 in places like Lady Luck Steak House and Wiley's Golden Oldies record store, both in Tacoma. In some of these concerts they were on a double bill with Gail Harris, a female vocalist who appeared with the Wailers, a band from Tacoma.
September 18, 2017
Ray McGinnis
References:
The Titans – McCleary, WA (1959-1964 & 2001-2004), Pacific Northwest Bands.com.
The Regents – Tacoma, WA 1963-1967 and 1999-2011, Pacific Northwest Bands.com.
Days end – Parkland, Washington (1966-1968 & 2001-2002), Pacific Northwest Bands.com.
The Wander'ers – Hoquiam, WA (1960-1961), Pacific Northwest Bands.com.
Ray Stevens, "Ahab The Arab," 1962.
"Ahab the Arab," Wikipedia.org.
Lawrence of Arabia, Columbia Pictures, 1962.
Tim Mills (comments), "A-Rab" (The Titans), YouTube.com, February 11, 2016.
The Man Known as "the King of the Surf Guitar," Dick Dale, NPR.com, Washington D.C., November 4, 1994.
"C-FUNTASTIC FIFTY," CFUN 1410 AM, Vancouver, BC, February 16, 1962.
For more song reviews visit the Countdown.