#290: A Song Of Joy by Miguel Rios
Peak Month: June 1970
9 weeks on Vancouver's CKVN chart
Peak Position #2
1 week Preview
Peak Position on Billboard Hot 100 ~ #14
YouTube: "A Song Of Joy"
Lyrics: "A Song Of Joy"
Miguel Ríos Campaña was born in Granada, Spain, in 1944. When he was 15-years-old, Ríos started work at a local bar. He became interested in rock and roll, and took part in a song contest at Cenicienta 60 radio station. He and his friends won a prize for singing "You Are My Destiny", popularized by teen idol Paul Anka. In 1961, when he was sixteen, and months after his father had died, Miguel Ríos moved to Madrid. He recorded four songs and became known as Mike Ríos, the King of Twist.
As Mike Ríos he obtained some television popularity during the first half of the 1960s. In 1964 he resumed using his birth name – Miguel Ríos – which cost him the support of his group, Los Relámpagos (the Lightning). In the mid-60s Ríos was cast in the film Dos chicas locas, locas (Two Crazy Girls).
In 1967 he recorded "Vuelvo a Granada", "El Rio", "Contra el cristal", "El cartel", and "Mira hacia ti". "El Rio" became his first big hit in 1968. Then, in 1970 he recorded "Himno de la alegría" (Hymn of Joy). In English countries the song was titled "A Song Of Joy", and Miguel Ríos recorded an English version of the single.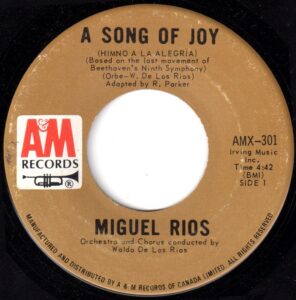 "A Song Of Joy" was set to an extract of the last movement of the ninth symphony by Ludwig Van Beethoven. The same melody is used for the Christian hymn "Joyful, Joyful, We Adore Thee". "A Song Of Joy" was released at the height of the popularity of symphonic rock. Other examples of symphonic rock in the late 60s and early 70s include "A Day In A Life" and "The Long And Winding Road" by the Beatles, "Nights In White Satin" by the Moody Blues, "A Whiter Shade Of Pale" and "Conquistador" by Procul Harum, "Uncle Albert/Admiral Halsey" by Paul McCartney, and others.
Ludwig van Beethoven was born in the German city of Bonn, by the Rhine River in 1770. Considered one of the great Classical composers, Beethover wrote nine symphonies, 17 string quartets, 11 concertos and many others works including overtures, chamber music for strings, pianos, piano sonatas, variations, as well as operas, and various choral works. His Ninth Symphony is considered one of his finest compositions.
The lyrics to "A Song Of Joy" were cowritten by Waldo De Los Rios. Born Osvaldo Nicolás Ferraro Gutiérrez in 1934 in Buenos Aires, Waldo De los Rios moved to the United States in 1958 and to Spain in 1962. He was a composer, conductor and arranger. He is best-remembered for his ability to transform European classical music into pop music. This includes a 1971 update of Mozart's Symphony No. 40. De los Rios' compositions were heard in the 1967 film Pampa Salvaje, for which he received a prestigious award from the Argentine Cinemagraphic Association.
Waldo De Los Rios' record album, Mozart in the Seventies, was the result of his new arrangement of famous Mozart pieces in a contemporary style, with a large percussion section. Several tracks from it were used as theme tunes to BBC programmes of that era, including the theme to the BBC's coverage of the Horse of the Year show. Waldo Do Los Rios also issued an album "Symphonies for the Seventies" which included Mozart's Symphony no. 40 and other major composers including Dvořák's New World. Sadly, he took his life by suicide in 1977 at the age of 43.
The lyrics to "A Song Of Joy" offer a vision of a world where peace shall come and "men shall love each other." Part of the song is sung in Spanish, and tells of how people will listen for songs of happiness. And it tells how those who wait this new day of love and understanding will be joyful in anticipation.
"A Song Of Joy" climbed to #1 in Fort Lauderdale and St. Louis, #2 in Vancouver (BC), Ottawa (ON), Buffalo and Battle Creek (MI), #3 in Peace River (AB), Sioux Falls (SD), Lancaster (PA), and Tucson (AZ), #5 in Erie (PA), Flint (MI), Nashville and Detroit, #6 in Philadelphia, San Bernardino (CA), Victoria (BC), Columbus (OH), Oshkosh (WI), Albany (NY), and Allentown (PA), #7 in Phoenix, Abilene (TX), Tampa, Rochester (NY), Minneapolis/St. Paul, Wilkes-Barre (PA), Louisville (KY), San Francisco, and Easton (PA), #8 in Calgary (AB), Lincoln (NE), New York City, Denver, and New Haven (CT), #9 in Orlando, Milwaukee and Chicago, and #10 in Kansas City (MO) and Boston.
Internationally, "A Song Of Joy" peaked at #1 in Australia, Canada, Switzerland, and West Germany. It also climbed to #3 in South Africa, #5 in New Zealand, and #14 on the Billboard Hot 100. The single sold over three million copies.
The artistic career of Rios came to a sudden stop when he was arrested by Francos' police, and jailed for possession of hashish shortly after his Rock y Amor (Rock and Love) concert. In the mid seventies he recorded three progressive rock albums, but they were not commercially successful.
In 1982 he released a double album titled Rock and Rios. It sold over 450,000 copies in Spain. The album was viewed as an expression of the new freedom in a post-Franco Spain. Between 1969 and 2018 Miguel Ríos released 30 albums.
While he has performed predominantly in Spain, Miguel Ríos has also traveled to the UK, Mexico, Chile and Venezuela to perform in concert. His most recent performances were in Madrid in 2019, prior to the global pandemic.
June 28, 2021
Ray McGinnis
References:
"Miguel Ríos," Wikipedia.org.
"Waldo Do Los Rios," discogs.com.
"Ludwig van Beethoven," Biography.com.
"Your Average Rock & Roll Radio Survey," CKVN 1410 AM, Vancouver, BC, June 12, 1970.
For more song reviews visit the Countdown.