#1049: Abergavenny by Shannon
Peak Month: August 1969
7 weeks on Vancouver's CKLG chart
Peak Position #9
Peak Position on Billboard Hot 100 ~ #47
YouTube.com: "Abergavenny"
Lyrics: "Abergavenny"
Reginald Leonard Smith was born in Blackheath, London, UK, in 1939. At the age of 15 he left school and became a messenger boy in the city of London for a firm of brokers in Rood Lane, Eastcheap. Reginald formed a group with some of his local friends called Reg Smith and the Hound Dogs. This led to a series of local gigs in the South of England. At the age of 18 he took the pseudonym, Reg Patterson prior to performing at London's Condor Club in 1957. While on stage he was noticed by impresario Larry Parnes. The recording acts that Parnes was manager for were all given stage names like Billy Fury, Duffy Power and Dickie Pride. He gave Reginal Leonard Smith a new name in 1957: Marty Wilde. The "Marty" came from the Oscar winning Best Picture of 1955, Marty, starring Earnest Borgnine and Betsy Blair. "Wilde," like Fury and Power, was a surname intended to convey that the singer was edgy and charismatic.
Between June 1958 and January 1961 Marty Wilde charted six songs into the Top Ten on the UK charts. Of these, five were covers of songs by American singers: "Endless Sleep" (Jody Reynolds), "Donna" (Ritchie Valens), "A Teenager In Love" (Dion & The Belmonts), "Sea Of Love" (Phil Philips) and "Rubber Ball" (Bobby Vee). The other was a song Wilde wrote himself called "Bad Boy".
In the late 50's into the early 60's, Marty Wilde was one of the leading British rock and roll singers, along with Tommy Steele and Cliff Richard. The backing group for Marty Wilde was called the Wildcats. The core band members lead guitarist Big Jim Sullivan, rhythm guitarist Tony Belcher, drummer Bobbie Clarke, bass guitarist Brian Locking and drummer Brian Bennett. The two later bandmates eventually joined the Shadows, Cliff Richard's back up band.
Wilde was a frequent guest on 6.5 Special, a BBC TV show. In addition, Wilde was a host act on the Saturday ITV music shows, Boy Meets Girls and Oh Boy! While on Boy Meet Girls, Wilde met and married Joyce Baker, one of the Vernons Girls who were also show regulars. The courtship and wedding was splashed all over the papers and reported on TV. However, after his top 20 cover of Frankie Laine's "Jezebel" in 1962, Wilde's popularity as a teen idol faded away.
In the absence of further success on the pop charts, Wilde focused on other aspects of the entertainment industry. He starred in musicals such as Conrad Birdie in the original West End production of Bye Bye Birdie. Meanwhile, Marty Wilde began starring in film in 1959 in the thriller, Jet Storm. In 1961 Wilde starred The Hellions, chasing down criminals in the wilds of South Africa. In 1963 he starred in the pop music flick, What a Crazy World, in which Marty appeared with fellow UK recording artists Joe Brown, Susan Maughan and Freddie and The Dreamers. In 1974, Wilde starred with David Essex, Keith Moon and Edd Byrnes in the rock 'n roll movie, Stardust.
As a child, Marty lived in Greenwich until he and his mother moved to different parts of the country to follow Reg Smith senior, who was a British Sergeant and was posted to Devon, and then on to Capel Curig in North Wales to help train new army recruits for the war effort. Marty credits his time spent in Devon and Wales to his passion for the countryside. In 1969 he recorded "Abergavenny" under the pseudonym of Shannon.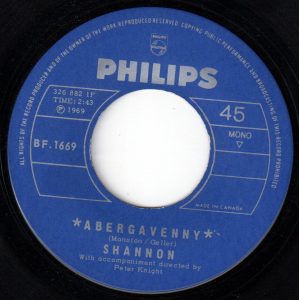 "Abergavenny" is a song about a place in Wales. In Welsh it means "Mouth of the River Gavenny." Originally, Abergavenny was the site of a Roman fort named Gobannium. It was given this name by the Romans it was the site of important iron smelting, and the Welsh name, Gobannia, meant "river of the blacksmiths." Gobannium was the Latinized name from Welsh. After the end of the Roman Empire, the fort was named Abergavenny and centuries later became a medieval walled town within the Welsh marches. The town contains the remains of a medieval stone castle built soon after the Norman conquest of Wales. The town had a castle named after it and Lord Abergavenny is a character in William Shakespeare's play Henry VIII. Sherlock Holmes refers, in The Adventure of the Priory School, to a case he's working on in Abergavenny. And in the book Harry Potter and the Prisoner of Azkaban, Abergavenny is mentioned by Stan Shunpike, the conductor of the Knight Bus when the bus takes a detour there to drop off a passenger. Suffice it to say that Abergavenny, just six miles west of the border between Wales and England, is a place that people in the UK know about. Abergavenny was named one of the best places to live in Wales in 2017.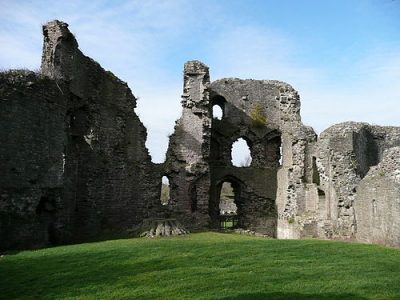 11th Century Abergavenny Castle ruins
Back in 1969 Marty Wilde, under the pseudonym of Shannon, gives a catalogue of reasons why you'd want to visit Abergavenny: good weather, sunshine forever, places to run your dog unleashed, scenic hillsides worth taking photos of, and lots of "paradise people." The people who lived in Abergavenny had found paradise, at least according to the song. And with a quaint historic walled town to live in with castle ruins, scenic hillsides and splendid weather, the song may have given the town a little boost in tourism at the time. Connections by train are also very easy for transport from Newport, Cardiff and Swansea, as well as east to Gloucester, Birmingham and London. For those arriving in Abergavenny in 1969, they would have seen the sign on the roads into the town that read in English and Welsh:
Welcome to
ABERGAVENNY
Historic Market Town
Croeso i'r
FENNI
Tref Farchnad Hanesyddol
The tune to the lyrics of "Abergavenny" begin with a bucolic flute and acoustic guitar. It soon builds with introduction of British Music Hall/Vaudeville band effects associated with saloons and having time off work to have fun with a gang of friends, as well as watching marching bands and parades. Some of these musical effects were also present in "A Spoonful of Sugar" in the film Mary Poppins, "Sunny Afternoon" by the Kinks and "Penny Lane" by The Beatles (and many more).
The song is credited as being written by (Frere) Manston and (Jack) Gellar. However, both were aliases. Frere Manston was Marty Wilde who used a pseudonym as co-writer, as well as a pseudonym, Shannon, to record "Abergavenny". His co-writer was actually Ronnie Scott, a promoter and songwriter in the British pop music scene. Wilde and Scott co-wrote a number of songs for Marty Wilde and the Status Quo and Lulu. Scott later went on to co-write "It's A Heartache" for Bonnie Tyler.
Like many of his contemporaries, Wilde continued to perform in nostalgia tours in the UK and beyond. In 2007, he celebrated 50 years in the business with another UK tour which featured his youngest daughter Roxanne Wilde, and the issue of a compilation album, Born To Rock And Roll – The Greatest Hits. It included a duet with Kim Wilde of Elton John's "Sorry Seems to Be the Hardest Word", which was released as a promotional only single. The tour culminated in a concert recorded at the London Palladium, and was most notable for reuniting all the remaining Shadows: Hank Marvin, Bruce Welch, Jet Harris, Brian Locking and Brian Bennett.
Marty Wilde is the father of Kim Wilde, who has sold over 30 million records including her cover of the Supremes "You Keep Me Hangin' On".
July 29, 2017
Ray McGinnis
References:
Katherine Hassell, Marty Wilde: 'Passing on my Love of Music was my Greatest Gift', The Guardian, London, UK, October 6, 2017
Fiona McQuarrie, Taking a Trip: Marty Wilde's "Abergavenny," Writing on Music, Vancouver, BC, May 19, 2016.
"Abergavenny," Song Facts.com
Marty Wilde bio, Marty Wilde.com.
Trailer, Marty, United Artists, 1955.
Abergavenny, Wikipedia.org.
Kim Wilde Timeline, Wild-life.com.
"Boss 30," CKLG 730 AM, Vancouver, BC, August 15, 1969.
For more song reviews visit the Countdown.