#1216: Acapulco 1922 by Tijuana Brass
Peak Month: January 1963
8 weeks on Vancouver's CFUN chart
Peak Position #8
Peak Position on Billboard Hot 100 ~ did not chart
YouTube.com "Acapulco 1922"
Herb Alpert was born in 1935 in Los Angeles. His parents were Jewish immigrants, from the Ukraine and Romania. He started to play the trumpet at the age of eight. After he graduated from high school, he joined the United States Army and played trumpet. In 1956 he was one of the drummers at Mt. Sinai in the film The Ten Commandments. In 1957 he became a songwriter for Keen Records. He teamed up with Lou Adler in 1958 and released a single titled "The Trial" credited to Herb B. Lou and the Legal Eagles. The recording was of the "break-in" genre, like Buchanan & Goodman's "Flying Saucer" from 1956. The single had break-in's from "Tears On My Pillow" by Little Anthony & The Imperials, "Splish Splash" by Bobby Darin, "To Know Him Is To Love Him" by the Teddy Bears, "Little Star" by The Elegants, "Volare" by Domenico Modugno and others. "The Trial" made the Top Ten in Cincinnati, Ohio.
Alpert and Adler wrote songs for rockabilly artists Froggy Landers and the Cough Drops, The Raiders, The Beach Boys, Arthur Lyman, Terry Stafford, Waylon Jennings, Horst Jankowski and others.
In 1959, Herb Alpert and Lou Adler were A&R men at Keen Records. They contacted the Untouchables, expressing interest in producing for them. Rip Spencer recalls, "we got along pretty good and they presented to us a music track that was recorded on the East Coast—something happened to that group—they wanted us to listen to that track and see if we could make a song out of it." The record co-written by Alpert and Adler was "Poor Boy Needs A Preacher". The song, with it's Drifters influenced sound, was play listed as early as March 1960 in Pittsburgh (KQV), Philadelphia (WIBG), Los Angeles (KRLA) and Cleveland (WHK) where it charted best peaking at #17. Alpert and Adler also penned a few other songs including "Wonderful World" by Sam Cooke, and "Baby Talk" for Jan & Dean.
Alpert and Adler had an office on Sunset Strip, where the group would sometimes rehearse. Herb Alpert was just beginning to play the trumpet. Rip Spencer recollects "while we'd rehearse, Herbert would put his little licks in between. We used to tell Herbie, 'Hey man, don't do that, you're throwing us off.' He really couldn't play trumpet at that time, but boy, look at him now!" Along with their debut release, other songs for the Untouchables were co-written by Herb Alpert and Lou Adler including "New Fad", and their second single, "Vickie Lee". Adler and Herb Alpert took on Deane Hawley as a prospective teen idol. Hawley had good looks and was in the middle of his studies at university. In the summer of 1959, when he was still 21, Hawley had a regional hit in San Bernardino titled "New Fad". He later charted a Top Ten hit in Vancouver (BC) in 1962 titled "Queen Of The Angels". In 1960, credited as Herbie Alpert, he released a "gingerbread" tune titled "Finders Keepers". It was not a hit. In the summer of 1962 Alpert released a single titled "Tell It To The Birds", credited to Dore Alpert. The song made the Top 20 in Los Angeles, complete with bird sounds.
Meanwhile, during a visit to Tijuana, Mexico, Alpert heard a mariachi band while attending a bullfight. Following the experience, Alpert recalled that he was inspired to find a way to express musically what he felt while watching the wild responses of the crowd, and hearing the brass musicians introducing each new event with rousing fanfare. Alpert adapted the trumpet style to the tune, mixed in crowd cheers and other noises for ambience, and renamed the song "The Lonely Bull". He formed the Tijuana Brass in 1962 and released the single. The instrumental climbed to #4 in Vancouver (BC) and #6 on the Billboard Hot 100 in November 1962. The final two weeks of the chart run for "The Lonely Bull" on CFUN in Vancouver (BC), the B-side, "Acapulco 1922" began to climb up the C-FUN-Tastic Fifty. "Acapulco 1922" debuted at #50 while "The Lonely Bull" slid to #34 on December 8, 1963.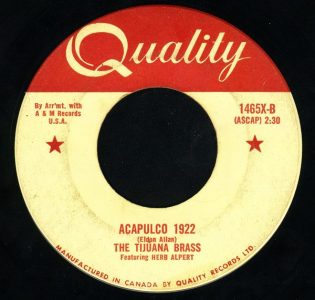 "Acapulco 1922" is an instrumental tune, with whistling, that begins with a riff from "Oh, You Beautiful Doll". In 1920 Edward, the Prince of Wales, visited Acapulco. He returned to Europe and told other aristocratic families about what a great place it was for a holiday. By 1928 a road connecting to Mexico City, although it was a seven day drive, enticed wealthy Europeans and Mexicans to seek out the emerging seaside resort. J. Paul Getty purchased 900 acres of oceanfront property for three cents an acre. A number of hotels sprung up. From a population of only 4,000 or 5,000 in the 1940s, by the early 1960s, Acapulco had a population of about 50,000. By the late 50s Acapulco was a destination for celebrities like Jackie and John F. Kennedy, Elizabeth Taylor, Judy Garland, John Wayne, Errol Flynn, Johnny Weissmuller, Frank Sinatra, Brigitte Bardot, Lana Turner and Hedy Lamar. Among the attractions of Acapulco for early tourists was the La Quebrada Cliffs and the divers who plunged off the iconic cliffs.
The same year "Acapulco 1922" became a regional hit, Elvis Presley's film Fun in Acapulco was released, featuring the Top Ten single "Bossa Nova Baby". Exterior filming in Acapulco took place in January 1963. A stunt double was used for Presley, whose own shots were later completed in March at the Paramount studios in Los Angeles. Presley was unable to travel to Mexico as he had been declared "persona non grata" by local authorities following two violent riots at the trendy 'Las Americas' cinema in Mexico City, during the openings of his previous films King Creole (El barrio contra mi) in 1959, and G.I. Blues (Cafe Europa) in 1961. In the film Fun in Acapulco, Elvis is cast as Mike Windgren who gets work as a lifeguard. He wins the grudging respect of the local lifeguards when he successfully dives off the 136-foot La Quebrada Cliffs. Variety magazine said in its review of the film that aside from Presley's "serviceable' performance of the songs in the film, "the main attraction may only turn out to be the Technicolorful scenery of Acapulco." Fun in Acapulco was the top-grossing movie musical of 1963.
"Acapulco 1922" climbed to #2 in Calgary (AB), #4 in Dayton (OH), #5 in Montreal, #7 in Seattle, #8 in Vancouver (BC), and #10 in Hamilton (ON).
In 1963 The Tijuana Brass covered Ben E. King's "Spanish Harlem" and had a minor hit with the tune in Vancouver (BC). Meanwhile, Alpert released one more single under the pseudonym Dore Alpert with "Dina", a Top Ten hit in Seattle. The single was released on a label Herb Alpert co-founded called A&M Records. In 1964 Herb Alpert's Tijuana Brass released "The Mexican Shuffle" from their South Of The Border album.
In the fall of 1965 Herb Alpert released "A Taste Of Honey" from his Whipped Cream and Other Delights album. The single peaked at #7 on the Billboard Hot 100 and #11 in Vancouver (BC). The album was the biggest seller for Herb Alpert and the Tijuana Brass. The album cover with model Delores Erickson covered in whipped cream was iconic. Alpert told the New York Times in 2013 that she was actually covered in shaving cream. Of course 'Shaving Cream and Other Delights' didn't have the same ring to it as the album title they went with. And in early 1966 Alpert and the Tijuana Brass had a double-sided Top Ten hit in Vancouver (BC) with "Zorba The Greek" and "Tijuana Taxi". Alpert and the Tijuana Brass continued to chart into the Top 20 in Vancouver with "What Now My Love", "Spanish Flea" and "The Work Song".
Over the years Herb Alpert produced Billy Riley, Chris Montez, Sergio Mendes & Brasil '66, Chet Atkins and others. In 1964 Lucille Starr, one half of the Canadian Sweethearts, recorded "The French Song". Starr sang the solo and backed by the Tijuana Brass. One of the recording engineers the Tijuana Brass worked with was Joe. B. Mauldin, a bass player with The Crickets. Alpert also co-wrote many songs including with Alison Dewar (aka Graham Turnbull) who wrote "Blue Ribbon Baby" for Tommy Sands.
In 1968 Herb Alpert returned to the recording studio to give his best vocal performance, far surpassing his previous attempts when billed as Dore Alpert or Herbie Alpert. His treatment of Hal David and Burt Bacharach's "This Guys In Love With You" took him to number one on the Billboard Hot 100, Vancouver (BC) and many other radio markets in the USA and Canada. Alpert knocked Simon & Garfunkel's "Mrs. Robinson" out of the top spot on June 22, 1968. It was ranked #7 for the year of 1968 by Billboard magazine.
Alpert was approached in the late 1970s by Gino Vanelli with a demo. It led to a promising career for the young recording artist from Quebec. In 1979 Herb Alpert returned to the pop charts with a number instrumental hit titled "Rise". Over the years Herb Alpert charted 22 singles into the Top Ten of the Billboard Adult Contemporary chart. He also had one number one hit on the Billboard R&B chart in 1987 titled "Diamonds", with Janet Jackson on vocals.
On his website it states "Broadway theatre is another arena in which Alpert has enjoyed success. His producing credits include the Tony Award/Pulitzer Prize-winning production of Tony Kushner's Angels in America, Jelly's Last Jam, Arthur Miller's Broken Glass, August Wilson's Seven Guitars and The Boy from Oz."
As of 2019 Herb Alpert has released 45 solo albums, plus numerous compilations. Alpert is currently on tour with over twenty engagements between November 2019 and May 2020. This includes a concert in Vancouver (BC) at the Chan Centre for the Performing Arts on April 9, 2020.
Alpert has won nine Grammy Awards and " In an interview a few years ago with the Chicago Tribune, Herb Alpert said "There's a certain magic that comes from creating. I love the mystery of art. You can't really put your finger on why you like a certain dancer or why you like a certain song that you hear on the radio. It touches, you know? And when it touches, it's meaningful to you."
November 15, 2019
Ray McGinnis
References:
"Herb Alpert Bio," Herbalpert.com.
"Herb Alpert Tour," Herbalpert.com.
Alan Clouthier, "The Lonely Bull – Herb Alpert & The Tijuana Brass," History of Music.ca, August 9, 2017.
"Herb Alpert at 80: Gently Upbeat," Chicago Tribune, September 29, 2015.
James C. McKinley Jr., "The Other Delights In a Trumpeters' Life," New York Times, March 3, 2013.
Kevin Delgado, Explorer's Guide Acapulco: A Great Destination (Explorer's Great Destinations), (Countryman Press, 2010).
"Fun In Acapulco", Variety, November 20, 1963.
"C-FUNTASTIC FIFTY," CFUN 1410 AM, Vancouver, BC, January 12, 1963.
For more song reviews visit the Countdown.