#311: Action by Sweet
Peak Month: March 1976
9 weeks on CKLG's Vancouver Charts
Peak Position ~ #2
Peak Position on Billboard Hot 100 ~ #20
YouTube: "Action"
Lyrics: "Action"
Brian Francis Connolly was born in Glasgow, Scotland, in 1945. He was left in the hospital where he was born by his mother who was teenager and a waitress. He was a foster child and by the age of 12 was living in London and attending school. In his mid-teens, Connolly joined the Merchant Navy. In 1966 Connolly replaced singer Ian Gillan (later of Deep Purple fame) in a band called Wainwright's Gentlemen, which included drummer Mick Tucker. Born in 1947 in London, Michael Thomas Tucker first developed an interest in drawing art as a boy. By fourteen he had changed his interest to the drums, influenced by Sandy Nelson, Buddy Rich, and Gene Krupa. Tucker's father offered him a drum kit but only if he would take drumming seriously. Hubert Tucker encouraged his son, even getting him his first gig, sitting in for Brian Bennett of Cliff Richard's backing band the Shadows at a local workingman's club.
Tucker joined Wainright's Gentlemen in 1967. But when Tucker was fired in January 1968 for being "too flamboyant", singer Brian Connolly said "I am leaving as well." The pair looked for new band-mates, and the formed a group in 1968 they named Sweetshop.
One of the new bandmates was Stephen Norman Priest. He was born in West London in 1948. He was influenced by Jet Harris of the Shadows, the Rolling Stones and the Who, and took up bass guitar.
In 1970, after several lineup changes, another member joined the band to establish the classic Sweet lineup. His name was Andy Scott. Andrew David Scott was born in 1949 in Wrexham, Wales, along the Welsh-English border. His first gig was at St Peters Hall in Wrexham with The Rasjaks in November 1963 and then with other bands in Wales such as Guitars Incorporated and 3Ds. Scott subsequently played with other bands including The Saints, The ForeWinds, and The Missing Links. In 1966 he joined The Silverstone Set (later shortened to The Silverstones), who won the TV show Opportunity Knocks five weeks running, and appeared in the all-winners show for Christmas 1966, losing to comedian, singer and actor, Freddie Starr. One of their further highlights was to open for Jimi Hendrix in Manchester in January 1967.
When The Silverstones split, Scott went on to form The Elastic Band, who recorded an album called Expansions of Life. With Sweet, the band's first charting single in the UK was "Funny Funny", a bubblegum tune that peaked at #13 on the UK pop chart. But the single climbed to #1 in South Africa, Denmark, Sweden and the Netherlands. As well, it peaked at #2 in Norway, #5 in West Germany and Finland, and #7 in Ireland.
Their followup hit single "Co-Co" was a shift into a glam rock sound. The single climbed to #1 in Belgium, Sweden, South Africa and West Germany. It also charted to #2 in Norway, New Zealand and the UK, and #3 in the Netherlands and Ireland. It also charted to #17 in Windsor (ON).
In the spring of 1972 Sweet broke into the Top 30 on CKVN in Vancouver with "Poppa Joe".
In May 1973 Sweet topped the Vancouver pop chart with "Little Willy". The single went to #1 in Denmark and West Germany, #2 in Finland and Switzerland, and the Top Ten in Belgium, Ireland, the Netherlands, New Zealand, Norway, South Africa and the USA. Then in September 1975, Sweet climbed to #2 on the CKLG pop chart in Vancouver with "Ballroom Blitz". The single climbed into the Top Five in 15 countries internationally, including to #1 in Australia, Denmark, Ireland, New Zealand and West Germany.
In 1974 Sweet had more Top Ten hits internationally that included "Teenage Rampage" and "The Six Teens". And the band had a number-one hit in Australia with a cover of the #1 hit by Joey Dee and the Starliters from 1962 titled "Peppermint Twist".
In January 1976 "Fox On The Run" peaked at #2 in Vancouver. The single was also a big international hit, climbing into the Top Five in over a dozen countries. It was the hit single from their album Desolation Boulevard.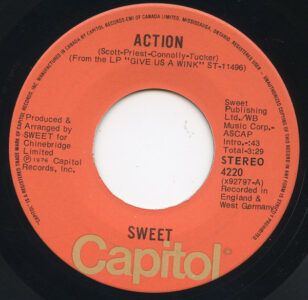 "Action" was written by all four bandmates in Sweet. "Action" was the debut single from the Sweet album Give Us a Wink. "Action" is a song about a struggle between two people. The narrator reveals "I was suicidal 'cause you was my idol." But the person they idolize has been taking "pieces" of him to satisfy their "intellectual need." Moreover, this idol has been "pushing" their fan/mentor around. Now that they've got more experience, the narrator realizes "I've got what everybody needs." Now they no longer need this person they admires. The narrator observes: "There was a time I would have walked the line
But you bled me dry with your insatiable greed."
"Action" climbed to #2 in Vancouver (BC), #4 in Milwaukee (WI), #5 in San Bernardino (CA), Tulsa (OK) and Reading (PA), #6 in Pawtucket (RI), Lincoln (NE) and West Palm Beach (FL), #7 in Salt Lake City and Easton (PA), #9 in Cleveland, Fresno (CA), Sioux Falls (SD) and Troy (NY), and #10 in Buffalo, La Crosse (WI) and Framingham (MA). In about 30 states across the USA, "Action" got chart action, while in about 20 states it got no airplay or little attention. This resulted in "Action" stalling at #20 on the Billboard Hot 100. Internationally, "Action" climbed to #2 in Norway, Sweden and West Germany, #3 in Austria and Denmark, #4 in Switzerland and Australia, #5 in Canada, #6 in the Netherlands, and #7 in Ireland. In their home country in the UK, "Action" stalled at #20 on the pop charts.
After "Action", Sweet experienced a decline in commercial success. While they did chart into the Top Ten internationally with their next single from Give Us a Wink, "The Lies In Your Eyes" just made the Top Ten in four countries. "4 July" didn't chart at all. "Lost Angels" cracked the Top Ten in just one nation, and "Fever Of Love" in three countries. While the next two singles in 1977 had little commercial success.
The debut single from the Level Headed album, "Love Is Like Oxygen", returned the Sweet into the Top Ten internationally in nine nations. But that was it. Subsequent album releases Cut Above the Rest (1979) and Waters Edge (1980) resulted in no more hit records. The ninth studio album by Sweet, ominously titled Identity Crisis, was only released in Mexico and West Germany. It was their second consecutive non-charting release on any album chart internationally.
Connolly left the group in 1979 to start a solo career and the remaining members continued as a trio until disbanding in 1981. From the mid-1980s, Scott, Connolly and Priest each played with their own versions of Sweet at different times. Connolly died in 1997 after a series of heart attacks, kidney failure and liver failure. Brian Connolly was 51 years old. Tucker had leukemia, and at the age of 54 died in 2002. Steve Priest died in 2020 at the age of 72 of natural causes. Andy Scott is still active with his version of the band. He had prostate cancer in 2009, but it went into remission.
Sweet have sold over 35 million albums worldwide.
May 7, 2021
Ray McGinnis
References:
David Cavanaugh, "Glam Rock Bottom: Why did it go so Sour for Sweet?," Guardian, September 23, 2010.
Pierre Perrone, "Obituary: Brian Connolly," Independent, February 11, 1997.
Jon Wiederhorn, "Mick Tucker of Glam-Rock Icons The Sweet Dies," February 15, 2002.
Alexis Petridis, "Steve Priest: the Outrageous Sweet Bassist who Presaged Heavy Metal," Guardian, June 5, 2020
"Vancouver's Official Music Survey," CKLG 730 AM, Vancouver, BC, March 9, 1976.
For more song reviews visit the Countdown.