#903: You Ain't Going Nowhere by The Byrds
Peak Month: June 1968
6 weeks on Vancouver's CKLG chart
Peak Position #6
Peak Position on Billboard Hot 100 ~ #74
1 week Hitbound ~ CKLG May 11, 1968
YouTube.com: "You Ain't Going Nowhere"
Lyrics: "You Ain't Going Nowhere"
Around 1963 a folk trio that named itself the Jet Set, consisted of Roger McGuinn on vocals and lead guitar, Gene Clark on vocals tambour and rhythm guitar and David Crosby on vocals and rhythm guitar. In 1964 the trio released a single that was a commercial failure and credited to The Beefeaters. They added bass (and mandolin) player Chris Hillman and drummer Michael Clarke and became The Byrds. They offered up a fusion of folk-rock and became an instant hit with two #1 hits in Vancouver and the Billboard Hot 100 in 1965: "Mr. Tambourine Man" and "Turn, Turn, Turn". The former was written by Bob Dylan and the latter by Pete Seeger. A single between their #1 hits was another Dylan tune titled "All I Really Want To Do". The Byrds were perennial favorites in Vancouver who consistently had better chart runs in Vancouver than back in their home country of America. Aside from their two #1 hits, they failed to chart other songs into the Billboard Hot 100. But in Vancouver they charted ten songs into the Top Ten.

Roger McGuinn was born in Chicago in 1942. When he was 13 years old he heard Elvis Presley sing "Heartbreak Hotel". Upon hearing the song he asked his parents to buy him a guitar. When he was 14 years old, he took a five-string banjo course from the Old Town School of Folk Music in Chicago. Soon after he began to play at coffee houses and got noticed by others in the folk scene. In 1958, McGuinn was hired to tour as a temporary member of the backing band for the Limeliters, the Chad Mitchell Trio and Judy Collins, which continued until 1962. He also provided backing vocals on a number of singles released by Bobby Darin from the late 50's until early 1963. Bobby Darin got ill and quit performing for a few years and founded TM Music out of the Brill Building in Manhattan. Darin hired McGuinn to write songs for $35/week. McGuinn also was a studio musician for both Judy Collins and Simon & Garfunkel.
Gene Clark was born in a small town of about 1,200 people called Tipton, Missouri, in 1944. He was the third of thirteen children and from his childhood began to play harmonica and guitar, after being taught to play by his dad. He started to compose songs by age eleven and at age 15 he was in a band called Joe Meyers and the Sharks. Clark was strongly influenced by The Kingston Trio and later founded a folk group in 1962 called the Rum Runners. Later that year, while playing with the folk group, the Surf Riders, in Kansas City, Gene Clark was discovered by the New Christy Minstrels. He got a place in their folk group in time to add his vocals to "Green Green", a Top 20 hit for the group in the summer of 1963. After he left the New Christy Mintrels and moved to Los Angeles, Gene Clark met Roger McGuinn at the Troubador Club.
David Van Cortlandt Crosby was born in LA in 1941. While growing up Crosby focused on drama, but developed an interest in music after graduation. In 1961 he and African-American singer, Terry Callier, sought a record deal in New York City. But there wasn't any interest in signing a record contract with a bi-racial folk duo in America in 1961. So, in 1962, Crosby became a member of Lex Baxter's Balladeers, a backing vocal group for band leader Les Baxter. Crosby was able to sign a recording contract in 1963 and release some material as a solo artist. In 1964 he met Roger McGuinn in Chicago while McGuinn was a sideman for Miriam Makeba while she was on tour in the USA.
Christopher "Chris" Hillman was born in 1944 in Los Angeles. His family grew up in rural San Diego County and when he was 16 years old, Hillman joined a bluegrass band named The Scottsville Squirrel Barkers who sang traditional tunes like "Home Sweet Home." When the folk group disbanded in 1963 after recording one album, Hillman moved to LA and formed a folk troupe named the Golden State Boys. The band soon changed their name to The Hillmen. Popular as The Hillmen were in the height of the folk music revival in the early 60's, they couldn't secure a record deal. Hillman left the band to join the Byrds, after McGuinn and Clark recruited him.
Michael James Dick was born in 1946 in Spokane, Washington. He ran away from home at that age of 17 and hitchhiked to California. He took on the surname of Clarke. Michael Clarke met David Crosby on a beach in northern LA while playing bongo drums. Crosby offered him a chance to audition and join The Byrds.
Ingram "Gram" Cecil Connor III was born in Winter Haven, Florida, in 1945. At age ten "Gram" saw Elvis Presley perform in concert in Waycross, Georgia, in February 1956. At the age of 12 "Gram" Conner III experienced the tragedy of his father's suicide. His mother remarried Robert Parsons, and the family took on the new surname. At the age of 15 Gram was playing in rock in roll bands the Legends and the Pacers at clubs in Florida. When he turned 16 he shifted his focus to folk music. He joined a folk group from Greenville, South Carolina, called the Shilos who performed at Florida's exhibition in the 1964 New York World's Fair. In the mid-60's he went on to study at Harvard and formed another folk group called The International Submarine Band, based out of Boston. In 1967 Chris Hillman and Gram Parsons met each other while waiting in line at a bank. In February, 1968, Parsons had an audition to become a member of The Byrds. At first they wanted him to be a jazz pianist but ended up having him contribute rhythm guitar and vocals. He was a member of the Byrds for just one year. During this time they recorded Sweetheart of the Rodeo.
Kevin Daniel Kelley was born in LA in 1943. He played drums in the Beverly Hills High School Band. After graduation he served with the U.S. Marine Corps for three years. He was stationed in Japan. In 1965 he joined a folk-rock group called the Rising Sons which included bandmates Ry Cooder and Taj Mahal. After the group split in 1967 Kelley got work at a clothing store. In early 1968, after David Crosby and Michael Clarke had left The Byrds, Chris Hillman met Kelley at the clothing store. After an audition, Kevin Kelley joined The Byrds in January 1968 as their new drummer. Kelley simultaneously drummed for the Texas rock group Fever Tree.
The Byrds quickly became known for their strong harmonies and their upbeat guitar sound. Gene Clark wrote a number of singles the band released in 1965-66 which went on to become Top Ten hits in Vancouver. They were "Set You Free This Time" and "I'll Feel A Whole Lot Better". Clark co-wrote "Eight Miles High" with McGuinn and Crosby. McGuinn wrote "Mr. Spaceman" and "So You Want To Be A Rock 'N Roll Star".
In 1966, the Byrds experienced controversy upon the release of "Eight Miles High," a song about flying into London, England, while on tour. Eight miles high/And when you touch down/You'll find that it's/Stranger than known….Rain gray town/Known for its sound/In places/Small faces unbound./Round the squares/Huddled in storms/Some laughing/Some just shapeless forms. When you fly eight miles high you are about 42,000 feet above ground. Lear Jets were flying that high in the 1960's and The Byrds often flew in Lear Jets. Gene Clark first thought of giving the song the title "Seven Miles High." But then he thought of The Beatles hit, "Eight Days A Week," and liked the sound of "Eight Miles High." However, some music critics and deejays thought the song must be about drugs and there was encouragement to ban the song. As a result "Eight Miles High" saw little or no airplay in Alaksa, Oregon, Nevada, Utah, Wyoming, Montana, New Mexico, Oklahoma, South Dakota, Arkansas, Louisiana, Alabama, Georgia, North Carolina, Kentucky, West Virginia, Maryland, Vermont and Maine.
In the midst of the controversy Gene Clark decided to quit the band. The Byrds final Top Ten hits in Vancouver were both penned by Bob Dylan, "My Back Pages" and "You Ain't Going Nowhere".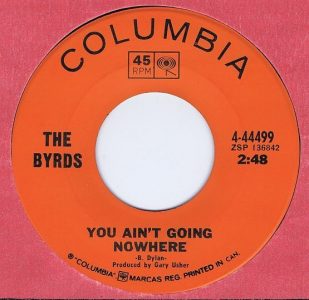 Bob Dylan wrote "You Ain't Goin' Nowhere" while he was living in Woodstock, New York. This was after his motorcycle accident on July 29, 1966. During his recovery, Dylan began a self-imposed exile from performing in public for ten years. But in 1967 he continued to write and record songs. His original title of the song had an apostrophe after the "n" in "going." The first recording of Bob Dylan singing "You Ain't Goin' Nowhere" was released on his 1971 album, Bob Dylan's Greatest its Vol. II. Though he'd recorded the song in 1967, performed by Dylan and The Band, it wasn't released until it appeared on his 1975 album, The Basement Tapes. The Byrds version of "You Ain't Going Nowhere" was a minor hit in the USA in 1968, where it peaked at #74 on the Billboard Hot 100. But in Vancouver the song climbed to #6. It's best chart performance was at #3 in Billings, Montana, and Sault Ste. Marie, Ontario. The Byrds single release of the song had a "g" at the end of "going."
The Byrds' version of "You Aint' Going Nowhere" is notable for being the first commercial release of the song, three years ahead of Dylan's own release in '71. The Byrds version was the debut single from their 1968 country rock album, Sweetheart of the Rodeo. The song was not as big a hit as their cover of Dylan's Mr. Tambourine Man. However, many music critics regard The Byrds' version of "You Ain't Goin' Nowhere" as their strongest cover of among their recordings of Dylan's material.
Before they went to the recording studio in March-April 1968, Columbia Records, sent The Byrds a number of demos from recording sessions Bob Dylan had recorded in Woodstock, New York. They Byrds chose to record two of these demos, "You Ain't Goin' Nowhere" and "Nothing Was Delivered", while in Nashville recording tracks for Sweetheart of the Rodeo. Having two covers of Bob Dylan songs on the album created a bridge with their earlier folk rock era, when they were recording covers of Dylan, Pete Seeger and others, relying less on their own songwriting abilities.
After The Byrds single release of "You Ain't Going Nowhere," there emerged some friction between the group and Bob Dylan. The controversy was described by Johnny Rogan in the liner notes for Sweetheart of the Rodeo in its CD release in 1997. Rogan notes that Dylan's original demo of "You Ain't Goin' Nowhere" had the lyric, Pick up your money, pack up your tent. By mistake, during the studio recording, The Byrds guitarist and singer, Roger McGuinn, changed the lyrics to Pack up your money, pick up your tent. Bob Dylan was unimpressed and in 1971 he recorded the song in the Basement Tapes for his compilation Bob Dylan's Greatest Hits Vol. II. Mocking the McGuinn's error, Dylan altered the lyric for his compilation album to Pack up your money, put up your tent McGuinn/You ain't goin' nowhere. In 1989 Roger McGuinn got in a dig at Dylan when the song was included in a new recording on the Nitty Gritty Dirt Band's album, Will the Circle Be Unbroken Volume Two. This time McGuinn sang Pack up your money, pick up your tent Dylan. The 1989 release of "You Ain't Going Nowhere" took the song to #6 on the Billboard Hot Country Singles chart.
"You Ain't Going Nowhere" is a song about circumstances in life that are immobilizing. When clouds are so swift the winds may be very strong, even hurricane force winds, there's no point in going out into the weather. Rains can be torrential and ice can freeze railings, therefore stay indoors. Another image of going nowhere is to send a lot of letters and get no reply. Whoever you're trying to communicate with, they're not putting any energy into the connection or relationship. So you might as well "strap yourself to a tree with roots," since nothing is going to happen. And when your bride is going to come it is very possible that you'll get married and have children. With the responsibilities of raising a family, you ain't going nowhere. Your days of being footloose and fancy free are over. Of course, the "tree with roots" you might be strapping yourself to could be a family tree, since you are meeting up with your bride and getting married and settling down.
In the tussle between the rendering of the lyrics of the song between The Byrds and Bob Dylan, does it matter if the lyrics are "pack up your money, pick up your tent" or "pick up your money, pack up your tent?" Dylan's original lyrics make more sense in conveying someone who is going nowhere. If you are picking up your tent, it might suggest more strongly that you are, in fact, going somewhere. If you're packing up your tent, it might suggest you are "packing it in" and letting go of any notions of rambling around.
But let's not take the song too literally. After all, this is a song whose lyrics include Now Genghis Kahn he could not keep, all his kings supplied with sleep. We'll climb that hill no matter how steep, When we get up to it. What is happening here? Dylan is testing the knowledge of the listener of the song. A person listening to the song might ask themselves "What do I remember about Ghengis Khan?" Back in 1968 they may have gone to the library to read a history book or encyclopedia about the Mongol ruler, Ghengis Khan, who began a series of conquests in 1206. He lived in what is present day Mongolia and was born in 1162 and died in 1227. He set his nation on a path of ever-expanding empire until the zenith of geographical power around into the 1290's and the death of Kublai Khan in 1294. Is this a sort of zen koan? Is this nonsense verse? There were squabbles in the family while Ghengis Khan was still alive about who would take over the throne once he died. "All his kings" were his offspring, at first babies, (possibly) keeping him up at night (though I suspect Ghengis Khan would have had attendants helping his queen with the children). Another possibility is that the urge to conquer and create an empire like the Mongol Empire eventually burns out. At some point, after the initial offspring of Ghengis Khan had their conquering days, the whole enterprise's days were numbered. The empire was no longer expanding but contracting until it came fragmented into many parts and was going nowhere after the death of Kublai Khan in 1294.
After its appearance on Sweetheart of the Rodeo, "You Aint' Going Nowehre" went on to become one of The Byrds most performed songs in concert. They Byrds made a new recording of "You Ain't Goin' Nowhere" in 1971 with Earl Scruggs, as part of the TV special, Earl Scruggs, His Family and Friends.
The Byrds split up in 1973. In March and April, 2018, Roger McGuinn has six tour dates across Florida, Rhode Island and New Jersey scheduled. Meanwhile, David Crosby performed in 23 concerts between November 4, 2017, and December 9, 2017, across Florida, Georgia, North Carolina, Tennessee, Maryland, Virginia, New Jersey, New York, New Hampshire, Connecticut, Vermont, Massachusetts, Maine, Indiana, Ohio, Pennsylvania and Quebec. Gene Clark died in 1991 from a bleeding ulcer. Michael Clarke died at the age of 47 due to liver failure after years of heavy drinking. Kevin Kelley died of natural causes at age 59 in 2002. Chris Hillman continues to perform in concert and has two upcoming concerts in January and February 2018.
Gram Parsons died at the Joshua Tree Inn in Joshua Tree, California, on September 19, 1973. Parsons was 26 years old. Ben Fong-Torres, in his book, Hickory Wind: The Life and Times of Gram Parsons, describes what was reported. "The circumstances of Gram's death were shrouded in mystery." The first press reports attributed Parsons' death to "heart failure" and also to "natural causes." Contradicting the initial reports, the death certificate signed by Dr. Irving Root stated that traces of cocaine and amphetamine were present in his urine and there was morphine found in his liver. It was stated that drug toxicity was the cause of death. However, Fong-Torres notes that there was no morphine found in Parsons' blood, a key indicator of drug toxicity. There was no presence of either drugs or alcohol found in Gram Parsons' blood. The presence of drugs in his urine and liver only indicated Parsons had been taking drugs for some time. There was no way to resolve the mystery of what actually caused his death as his body was stolen at Los Angeles International Airport, where it was destined for burial in New Orleans. The body was instead taken to Joshua Tree and burned to ash. The thief of Parsons cadaver at LAX was Phil Kaufman, road manager of the Flying Burrito Brothers and former prison yard mate of Charles Manson. Kaufman met Manson at the Terminal Island Correctional Institute in San Pedro, California.
January 24, 2018
Ray McGinnis
References:
Joe Bosso, "The Real Story Behind The Byrds "Eight Miles High," Music Aficionado, Beverly Hills, CA.
The Byrds Biography, The Byrds Fan Site.
David Crosby website, David Crosby.com
Dave Zimmer and Henry Diltz, Crosby, Stills & Nash: The Authorized Biography, (St. Martin's Press, 1984).
John Einarson, Mr. Tambourine Man: The Life and Legacy of the Byrds' Gene Clark. (Backbeat Books, San Francisco, 2005).
Chris Hillman website, Chris Hillman.com
Christopher Hjort, So You Want To Be A Rock 'n' Roll Star: The Byrds Day-By-Day (1965-1973), (Jawbone Press, London, UK, 2008).
Colin Larkin, The Byrds Biography, Encyclopedia of Popular Music. (Omnibus Press, London, UK, 2007).
Johnny Rogan, The Byrds: Timeless Flight Revisited, (Rogan House, London, 1998).
Ben Fong-Torres, Hickory Wind: The Life and Times of Gram Parsons, (St. Martin's Press, New York NY, 1998).
"Boss 30," CKLG 730 AM, Vancouver, BC, June 15, 1968.
For more song reviews visit the Countdown.