#550: Ain't Nobody Here But Us Chickens by 6 Cylinder
Peak Month: May 1980
9 weeks on CKLG's Vancouver Charts
Peak Position ~ #9
Peak Position on Billboard Hot 100 ~ did not chart
YouTube.com: "Ain't Nobody Here But Us Chickens"
Lyrics: "Ain't Nobody Here But Us Chickens"
6 Cylinder was a band from Vancouver (BC) that formed in August 1977. Its founding members were Wayne Bassett, Lorne Burns, Bob Popowich, Dan Smith and Carl Erickson. Bassett and Burns were former Nechako bandmates. With 6 Cylinder, Wayne Bassett played piano, fiddle, and was on vocals, while Lorne Burns was on drums, and vocals. Bassett and Burns were session musicians on the 1974 Buddy Knox album Buddy Knox Rocks! Former Just What The Doctor Ordered and Access Junction bandmates Bob Popowich and Dan Smith also joined 6 Cylinder. Bob Popowich played played bass and added vocals, while Dan Smith played guitar and also was a vocalist. Former member with both the Nocturnals and the Cement City Cowboys, Carl Erickson, played alto and tenor saxophone, as well as adding vocals. In January 1978, Ian Berry, formerly with Wildroot, Sweet Beaver and Cement City Cowboys, joined 6 Cylinder. Berry contributed keyboards, tenor saxophone and vocals. Prior to the formation of the classic lineup of 6 Cylinder, all six bandmates appeared in the recording studio on Cam Molloy's album Cam Molloy, released in 1977-78.
In 1946 Louis Jordan and his Tympanny Five recorded "Ain't Nobody Here But Us Chickens". It debuted on the Cashbox R&B singles chart at #3 on December 23. It spent four weeks at #1 in January 1947. But on the Billboard Race Record chart the song topped the charts for seventeen weeks. The song was recorded by numbers of other R&B singers.
6 Cylinder liked "Ain't Nobody Here But Us Chickens" and as it was a favorite in their live performances, they decided to do a cover and included it on their self-titled debut album in 1979. A single release soon followed.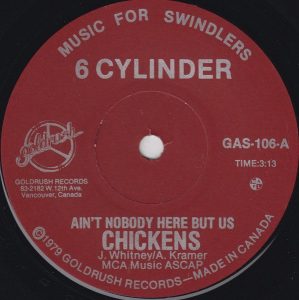 "Ain't Nobody here But Us Chickens" is a song written by Joan Whitney and Alex Kramer. Kramer was born in 1903 in Montreal. At age 17 he was hired as a pianist in a silent movie theater in Montreal. He traveled first to Palm Beach, Florida, joining the Meyer Davis orchestra, and then to Paris and Cannes, before returning to New York City, where he became a radio bandleader. He also worked as an accompanist in nightclubs and in vaudeville. One of his other musical activities was coaching vocalists in singing techniques. One of Alex Kramer's students was Joan Whitney. She later became his wife and songwriting partner. Their first hit as a songwriting team was "High on a Windy Hill," which in 1941 became the #43 song of the year for the Jimmy Dorsey Orchestra, and the #48 song of the year for Gene Krupa.
In 1941 Whitney and Kramer co-wrote "My Sister And I" with Hy Zarat which became a number one hit for In 1943 Whitney and Kramer co-wrote "It's Love, It's Love, It's Love" with Mack David which became a number one hit for two weeks in 1944 for Guy Lombardo. In 1945 Whitney, Kramer and David co-wrote a song titled "Candy" that was recorded by Johnny Mercer and the Pied Pipers, featuring Jo Stafford. It peaked at #2 on the Billboard pop chart. In 1947 Kramer and Whitney co-wrote "Love Somebody" for Doris Day and Buddy Clark which ended up being the #16 song of the year. And in 1948 Kramer and Whitney wrote "Far Away Places" which became a #2 hit for Bing Crosby & The Ken Darby Choir. It was also a #3 hit for Margaret Whiting and a #6 hit for Perry Como.
Joan Whitney was born in 1914 with the given name of Zoe Parenteau. In 1934 she was a showgirl in the musical based on Johann Strauss I and Johann Strauss II titled The Great Waltz. At the time she took the stage name Joan Whitney. She died at the age of 76 of alzheimer's in 1990. Alex Kramer died in February 1998 at the age of 94. He was inducted into the Canadian Songwriters Hall of Fame in 2008.
"Ain't Nobody Here But Us Chickens" is a novelty song about what the chickens in the henhouse have to say to Farmer Brown when he disturbs them in the middle of the night. Farmer Brown hears a noise from the henhouse in the night as he is locking up the barnyard. The chickens tell the farmer that they're trying to sleep. But his kicking up the dust in the barnyard, stomping around, shaking the ground and hobbling around is making it impossible. The chickens remind the farmer that in the morning they have ground to dig, worms to scratch, eggs to lay and chicks to hatch. They also ask the farmer to put his gun away.
"Ain't Nobody Here But Us Chickens" by 6 Cylinder was a local hit on CKLG in Vancouver (BC) where it peaked at #9.
6 Cylinder bandmate, Dan Smith, has written to let me know "Our circuit included included the American Hotel, Rohan's, Waterhole #3, The Spinning Wheel, The Savoy, (and) The Commodore. We also regularly played the Canada Hotel in Prince George, The Place Inn in Kamloops and Harpo' s in Victoria."
In early 1980, Carl Erickson left the band. Briefly, Geoff Hogg was a bandmate from September to December 1980. Stepping in to replace him was Peter Padden, a former member of the mid-sixties band from Victoria (BC) called The Coachmen, Padden joined 6 Cylinder on drums and vocals in January 1981. The band broke up in August 1981.
Dan Smith, Bob Popowich and Peter Padden formed an eight-piece band called Sweet Dick. Popowich also was in a band called Incognito. Ian Berry was a member of the Wildroot Orchestra, along with Peter Padden. Berry later became a session musician for John Lee Hooker and others. Berry died of lung cancer in 2008. Carl Erickson went on to play with the Muddy Fraser Blues Band. Erickson has continued to perform in concert into the 2010s. Lorne Burns was a member of Backseat Driver. He died in 2021.
October 9, 2019
Ray McGinnis
References:
"Alex Kramer bio," Canadian Songwriters Hall of Fame.
"Joan Whitney Kramer, Singer and Songwriter, 76," New York Times, July 21, 1990.
"Carl Erickson and Home Town Band playing at Creston's Sasquatch," Creston Valley Advance, Creston, BC, April 12, 2016.
Tony Montague, "Vancouver Folk Music Festival soundman Simon Garber remembered," Georgia Straight, June 6, 2013.
"6 Cylinder," Canadian Bands.com.
Buddy Knox, Buddy Knox Rocks!, Sweetwater Records, 1974.
"CKLG Top 20," CKLG 730 AM, Vancouver, BC, May 22, 1980.
For more song reviews visit the Countdown.