#1071: All I See is Your Face by Dan Hill
Peak Month: October 1978
6 weeks on Vancouver's CKLG chart
Peak Position #11
Peak Position on Billboard Hot 100 ~ did not chart
YouTube.com: "All I See Is Your Face"
Lyrics: "All I See Is Your Face"
Daniel Grafton Hill IV was born in 1954 in Toronto. He father, Daniel Hill, was s social scientist. Hill's parents moved to Canada before he was born to live in a less racially charged setting where their interracial marriage would not be met with intolerance. Hill would later write about his parents exit from the USA in his song "McCarthy's Day." While young Dan was in his teens he learned the guitar and started to compose songs. When he was just 18 years old he got a songwriting contract with RCA Records. In 1975 Hill released his first album, but it would be his third album, Longer Fuse, that got the attention of deejays and record buyers. His #1 hit single from the album, "Sometimes When We Touch", was co-written with Barry Mann, of Manhattan's Brill Building's songwriting fame. With the song came multiple Junos Awards: Composer, Male Vocalist, and Single of the Year. Hill also was nominated for a Grammy Award in 1978 for Best Male Pop Vocal Performance, losing out to Barry Manilow's "Copacabana".
"Sometimes When We Touch" was also recorded by many other performers. These include Lynne Anderson, Roseanne Cash, Cleo Laine, Barry Manilow, Olivia Newton-John, Donny Osmond, Rod Stewart, Tina Turner and Tammy Wynette. With the excitement over Hill's award winning appearance on the pop charts, music critics eagerly anticipated his next release. Frozen in the Night, yielded several pretty ballads. The first was "All I See Is Your Face" and the second was "Let The Song Last Forever". In both cases the singles failed to crack the American Top 40 on the Billboard Hot 100.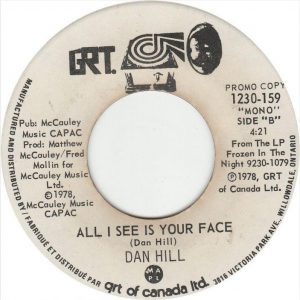 "All I See Is Your Face" is about a person who has been left by someone who broke off the relationship. The person left behind is not at peace with the separation, and Hill's character in the song is consumed with the person they drove away from their life. And it's a pretty bad case of the blues. With each and every phone call they pray it's their ex-partner on the phone. When they see a single person, like an old man "staring at the sea," they project their own grief onto the old man, hold him "like a broken doll" and ask "if he's lonely like me." (This could create some very awkward moments with total strangers). Nonetheless, Hill does capture the mood of what some people go through very intensely after a break-up. Neil Sedaka once sang "don't you leave my heart in misery" in his big hit in 1962, and again in 1975, "Breaking Up Is Hard To Do". Dan Hill's "All I See Is Your Face" was one of countless songs about being in misery and inconsolable in the aftermath of breaking up.
"Let The Song Last Forever" was the second single from Hill's album after "All I See Is Your Face". It peaked at #91 on the Billboard Hot 100 and #14 in Vancouver.
Dan Hill's star continued to fade as his next three albums, If Dreams Had Wings, Partial Surrender and Love In The Shadows failed to offer up any singles to crack the Billboard Hot 100 or the Top 40 on the Canadian RPM singles charts. Other than appearing on the Northern Lights' African relief single "Tears Are Not Enough" in '85, Hill fell off the radar. He mostly focused on family life and composing for other recording artists. Though, in 1987, Hill had one last Top Ten hit in a duet with Vonda Shepard called "Can't We Try".
In 1996 Dan Hill wrote a track for Celine Dion's album, Falling Into You. He was also diagnosed with diabetes in the mid 90's and understandably gave more attention to his health. He also wrote songs for other recording artists including Britney Spears, Tina Turner, Rod Stewart, Michael Bolton and The Backstreet Boys.
In 2007 Dan Hill went on tour with Stuart McLean and the CBC Radio comedy show The Vinyl Cafe. In 2008, Hill authored I Am My Father's Son, his intimate autobiography about his parents move from the USA to Canada, his son's involvement with a gang and his father's death in 2003.
Dan Hill was a lifelong friend of screenwriter, novelist, playwright and musician, Paul Quarrington. The two appeared in concert from time to time as a folk music duo billed as Quarrington/Hill. Dan Hill's brother is the award-winning Canadian novelist Lawrence Hill who authored The Book of Negroes.
June 8, 2017
Ray McGinnis
References:
Dan Hill, Black in Canada.com, November 25, 2010.
Dan Hill, Dan Hill.com
Hill, Dan. I Am My Father's Son. Harper Collins, Toronto, 2008.
Leslie Scrivener, My Father, My Self: The Journey of Dan Hill, Toronto Star, February 8, 2009.
Freedom Seeker: The Life and Times of Daniel G. Hill – The Children, Ontario Ministry of Government Services, 2001.
"Vancouver's Official Top Twenty," CKLG 730 AM, Vancouver, BC, October 26, 1978.
For more song reviews visit the Countdown.